What to expect: Michigan State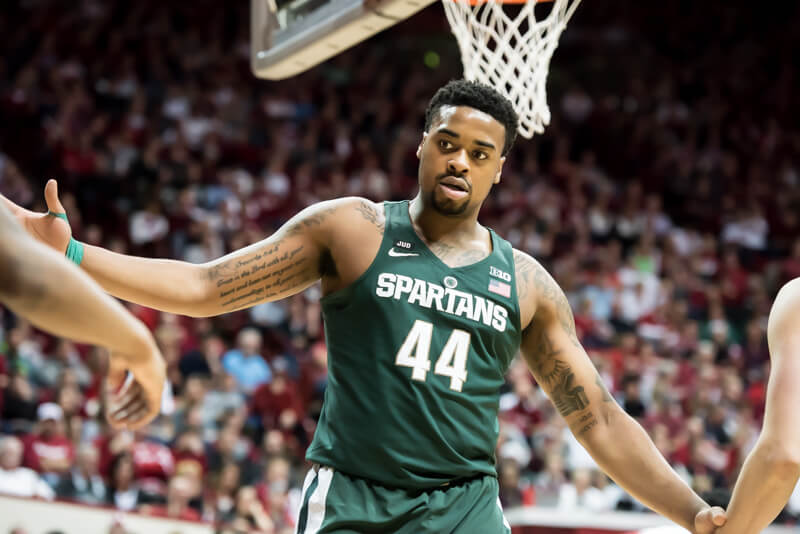 Indiana hasn't won a game since January 3 and the Hoosiers will travel to one of the Big Ten's toughest venues on Saturday, the Breslin Center. Michigan State is 18-3 overall, 9-1 in the Big Ten and legitimately in the discussion for a No. 1 seed in the NCAA tournament.
The game will be broadcast at 6 p.m. ET on ESPN with Dan Shulman, Jay Bilas and Maria Taylor on the call:
Indiana's January was a month to forget as the Hoosiers finished just 1-7 and fell to the bottom tier of the Big Ten standings. At the halfway point of conference play, Indiana is 3-7 with serious work to do to salvage any chance of an NCAA tournament appearance.
Six of IU's final nine regular season games will be played in Bloomington, but first, the Hoosiers have to travel north to take on a Michigan State team that is coming off its lone Big Ten loss so far.
Despite losing Jaren Jackson Jr. and Miles Bridges to the NBA, Michigan State is right in the thick of the Big Ten title race. The Spartans continue to win without their third leading scorer, Joshua Langford, who has missed the last eight games and has officially been ruled out for the remainder of the season.
MEET THE SPARTANS
Michigan State doesn't utilize a deep rotation, but the Spartans get productivity out of every player that sees the floor regularly.
Point guard Cassius Winston is firmly in the conversation for Big Ten player of the year and might be the favorite to win the award at the midway point of conference play. The Detroit native is averaging a team-best 18.5 points per game and has the nation's sixth best assist rate at 41.6 percent. He's shooting 45.5 percent on 3s, 51.4 percent on 2s and 79 percent from the free throw line. The 6-foot-1 junior can make opponents pay with his ability to set up teammates or torch the nets from deep. He's had five or more assists in each of Michigan State's last nine games.
Look for Michigan State to go inside early and often to establish junior Nick Ward with the intention of getting Juwan Morgan into foul trouble. Ward currently ranks in the top 12 of the league in offensive and defensive rebounding percentage and is fourth in the league in free throw rate (FTA/FGA). At 6-foot-9 and 245 pounds, Ward is a solid finisher in the paint with good hands and footwork that has improved over the course of his career.
Senior guard Matt McQuaid is a 41 percent 3-point shooter and a capable defender who will likely spend time on Romeo Langford. The majority of McQuaid's offensive production comes from the perimeter as 63 percent of his field goal attempts have come from behind the 3-point line.
Freshman Aaron Henry, a Ben Davis product, is making 70.6 percent of his 2-point field goal attempts in league play. That leads the conference. Henry has just one double figure scoring game this season, but is a solid defender for a freshman and a player who should develop nicely in the coming years in East Lansing.
Senior Kenny Goins is a relentless rebounder who has worked his way from a walk-on to a Big Ten starter. The 6-foot-7 forward is 13th in league play in offensive rebounding percentage and fifth in defensive rebounding percentage.
Junior Kyle Ahrens, a 6-foot-6 junior, has missed three of Michigan State's last five games with a back injury, but is expected to play on Saturday. He's shooting an ultra-efficient 75 percent on 2s this season.
Junior Xavier Tillman will see minutes off the bench in the frontcourt and like Goins and Ward, is another force to be reckoned with on the glass. Tillman is fifth in the league in offensive rebounding percentage and he's shooting 70.5 percent on 2s in Big Ten play. Freshman Gabe Brown, a 6-foot-7 forward, is also in the rotation and averages 2.7 points in just over eight minutes per game.
TEMPO-FREE PREVIEW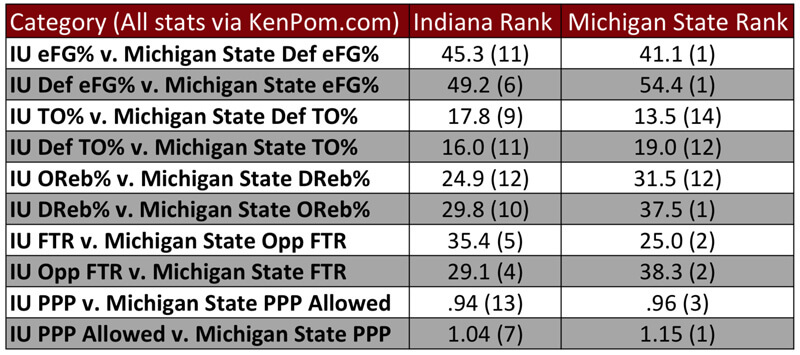 Michigan State currently owns the Big Ten's best offense and also the league's best effective field goal percentage defense. In addition, the Spartans are the Big Ten's best offensive rebounding team and they rank second in the league in getting to the free throw line.
For an Indiana team that is struggling with its confidence offensively, going into the hostile environment of the Breslin Center, which is hosting ESPN's College GameDay, is going to be a major test to say the least.
WHAT IT COMES DOWN TO
Michigan State is unbeaten at home this season and will be hungry after losing its first Big Ten game in West Lafayette last weekend. The Pomeroy projection is Michigan State by 17 and the Sagarin ratings like Michigan State by 14. The Vegas line was not out at the time of publication of this post.
Unless Indiana can match Michigan State's intensity and can avoid getting dominated on the glass, the Hoosiers will be hard pressed keep up with the Spartans.
Despite being without Langford, Michigan State has impressive depth up front and will be looking to attack the paint early and often. And with Indiana's limited size and experience up front outside of Morgan, the Hoosiers could have problems avoiding foul trouble and giving up second-chance points.
Filed to: Michigan State Spartans