News and notes from Archie Miller's radio show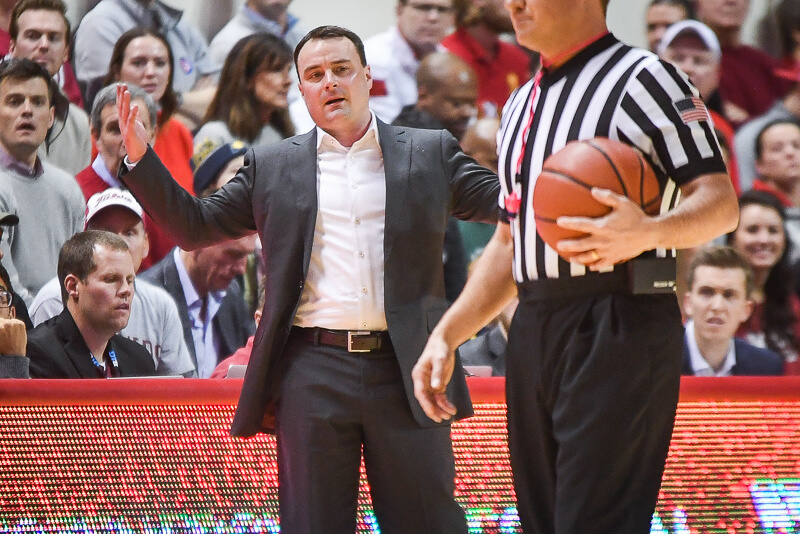 Inside IU basketball with Archie Miller was live on Monday night at the Holiday Inn in Bloomington for the first time in three weeks.
Indiana's second year coach sat down with Don Fischer to talk about the recent slide for the Hoosiers, Wednesday's game at Rutgers and much more. Here are some of the highlights from this week's show:
• Miller talked a lot about Indiana's lack of confidence right now as a major reason why the team has been struggling as of late. "You can get things back. It's hard. You can lose them faster than you can get them back at times. We have to just continue to work to get those things back for our group. The Big Ten season is so long. There's so many more games to be played. The back half of the league obviously comes back around where we can play a couple at home, then the next thing you know, one turns into two. That's what your hope is. But we're working toward that."
• On how this team's personality has changed in recent weeks: "The personality has changed just a little bit and a lot of it has to do with confidence. You know, winning obviously cures a lot of evils. Losing is something that brings a lot of other things to the table in terms of … you're not paying attention to as much when you're winning. You know, sometimes when you're winning it's, it's all good. But in reality you had some of the same problems. You were just a different attitude as a group, a different commitment level to the process. And that's what we have to focus in on is our process. How are we having great workouts? Are we getting better within the practices? Are we evaluating guys that are doing the right things right now? More so to give them confidence to get in the game and play because they've earned it."
• On IU's leadership right now: "It's up for grabs something and you don't have to be a senior at this point in time on our team to help grab leadership. All you have to do is lead by example, communicate, do the right things, be a positive teammate. At the end of the day, don't let anything bother you, don't let anything bother anyone else. And you know, you can kind of gravitate towards people like that. It doesn't need to be an older guy. But you know, I definitely think Juwan needs to step out in the forefront right now and have more of a disposition to dominate, not in the game but in practice. Let's go back to where we at in October, November when we had a group trying to prove themselves that they were worth something. So much of it becomes settling in and being comfortable and I think we got to get a little more uncomfortable every day."
• On going through a similar losing streak at Dayton: "That team found a way. They were older, we had a lot of guys contributing and amongst the players, they really took it upon themselves to step away from everything and create more of a positive practice environment, work hard, stay with it, see what happens and kind of knew that at some point in time you get one win. And one win, lo and behold, just lifted this weight of the world off of your back. You felt better about yourself and you're able to go on the road for a second one. And then you went on the road again and you found a way to win the third one, four, five, and six, and all of a sudden you were right back in the mix."
• On dealing with the mental side of things with this group: "That's an everyday job. You have to be able to communicate everyday with guys, show them film, talk to them after practice, before practice on the phone, whatever you got to do, but to got to make sure that they always understand there's a direct line of communication."
• The challenges Rutgers presents: "Well, they're a really hard playing team. Coach Pikiell does a great job. They're huge. I mean they're as big as any team in our league in terms of their size, their pressure defense. Especially at home, they're much, much harder to play against. They're very hard playing physical big team, they play big ball, they rebound the ball extremely well. Now they're young, but their guards have been very aggressive and Geo Baker has a green light to really let the ball go. Mathis as a freshman, it was a very aggressive guard who scores. Their bread's buttered with their defense and at home in particular, they've really given teams a hard time on the glass and it's going to be a very, very difficult game."
• An audience member asked Miller why he didn't take a timeout earlier in the Michigan game on Friday: "Yeah. You know, you go through the deal where you're trying obviously to, to pace it where you can early in the game, not blow one and try to get the game stopped right away and the media (timeout) is also coming. So you have to look at that clock and say, hey, we got one media coming here in 25 seconds or whatever. But without question, a timeout really early moving forward is something we got to address, even in the second half as you score the ball a little bit, call a timeout to obviously get your defense set. But you know, without question our concerns when things get going out of whack is to get it under control somehow form or fashion and a timeout definitely is a way to do it."
• Although Race Thompson is back, he missed Monday's practice because of an illness.
• Indiana is hopeful to have De'Ron Davis back at some point, according to Miller. Davis hurt his ankle in the Illinois game.
Filed to: Archie Miller