Big Ten Power Rankings: Purdue makes a push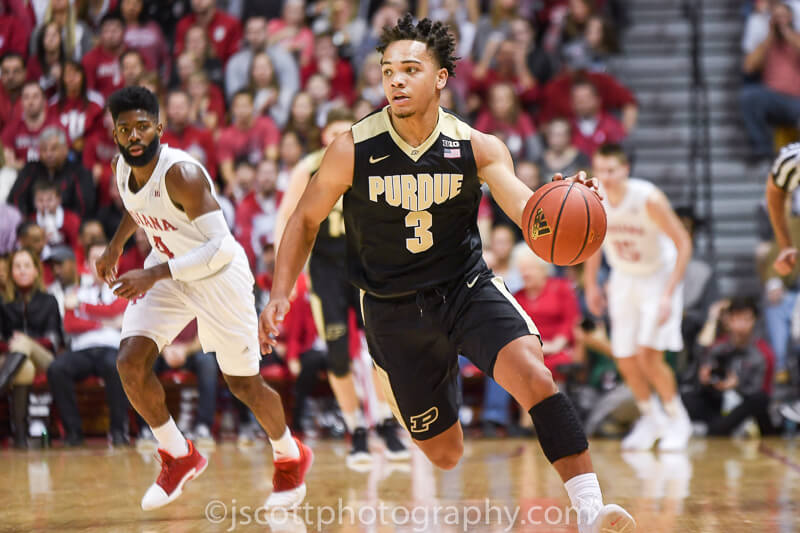 As the Big Ten schedule wears on, it becomes increasingly easy to identify qualitative differences between teams and separate them into tiers. Where there were once four teams at the bottom, a large middle class, and two title contenders, the shape of the conference has changed, if only slightly. Three teams sit firmly in the cellar, while clearer lines of stratification have formed among the middle of the pack. Teams like Purdue and Maryland are steadily creeping toward Michigan and Michigan State, while Indiana and Nebraska have taken steps back.
Let's explore these points of separation more fully:
14. Penn State (0-9, .91 PPP, 1.032 PPP allowed)
The Nittany Lions remain winless in Big Ten play despite having the eight-best defense in the conference, a relatively high mark given their lack of success. This offense is just so ineffective. Lamar Stevens is posting solid box score numbers, but on low efficiency, and no one on the team has the ability to create efficient offense. With two games left against Illinois and one against Rutgers, that smothering defense should eventually net Penn State a win, even if it isn't a pretty one.
13. Illinois (2-7, .986 PPP, 1.053 PPP allowed)
Illinois picked up a big neutral-court win over Maryland on Saturday, but it wasn't enough to move the Illini out of the bottom two in these rankings. Much like Penn State, this team has no reliable creators of efficient offense, no singular talent that can bail out lost possessions – of which there are many for Illinois. Nearly every shooter on the roster has seen his percentage dip in conference play, as inflated statistics from a soft non-conference schedule are finally balancing out. Their win over Maryland will likely mark the high point of the Illini's season, though three remaining games against Penn State and Rutgers could be chances to pick up more conference wins.
12. Rutgers (3-6, .952 PPP, 1.078 PPP allowed)
It speaks to how awful Rutgers has been since joining the Big Ten that a 3-6 conference record and minus-12.6 efficiency margin rating are garnering golf claps of approval from the rest of the conference. Rutgers is still clearly a bottom-three team in the Big Ten, even as Indiana continues to sputter. Still, the Hoosiers ought to be wary of their matchup against the Scarlet Knights in Piscataway this Wednesday. Rutgers has wins over Ohio State and Nebraska, and Indiana, well…
11. Indiana (3-6, .945 PPP, 1.05 PPP allowed)
The Hoosiers are spiraling, risking seeing their season slipping away altogether. IU has the third-worst offense in the conference, and having lost six straight, it's tough to make a convincing case that they're better than any of the 10 teams ranked ahead of them right now. Juwan Morgan and Romeo Langford have simply run out of space, and their teammates haven't been able to make defenses pay for leaving them so wide-open. This team isn't qualitatively much different than Rutgers or Northwestern. The difference is that the Hoosiers had far loftier expectations.
10. Northwestern (3-6, .929 PPP, 1.027 PPP allowed)
Only Penn State has a less efficient offense than the Wildcats, who have yet to string together a winning streak longer than three this season. They get the slight nod over Indiana because they haven't lost six games in a row. There was some flukiness to their win over the Hoosiers, and I still trust Indiana's upside more than I do Northwestern's. Vic Law has come back to earth after shooting the lights out to start the year, and only Ryan Taylor seems to be able to consistently make shots. Still, I will continue pounding the drum that some smart NBA team should draft Law, who, while overextended this season, has rounded out his game and has the tools of a 3-and-D wing.
9. Nebraska (3-6, 1.045 PPP, 1.053 PPP allowed)
The Cornhuskers have floundered since blowing out Indiana, losing three straight to Michigan State, Rutgers, and Ohio State. Losing Isaac Copeland hurts, and could cause Nebraska to plummet in these rankings in the coming weeks. He was the most accurate shooter on the team and a solid interior defensive partner with Isaiah Roby. Roby and James Palmer Jr. will have a lot on their shoulders from here on out, and in this conference, I don't quite buy that they can handle it.
8. Ohio State (3-5, 1.015 PPP, 1.03 PPP allowed)
If we're going to penalize Indiana for its long losing streak, we must do the same for Ohio State. The Buckeyes are still trying to recover from a nightmarish stretch that included five straight losses to Big Ten opponents. A win over Nebraska gave them a lift emotionally, but not in these rankings. Some version of the team that began the season 12-1 probably still exists. We just need to see it again before we buy into it.
7. Minnesota (5-4, 1.041 PPP, 1.053 PPP allowed)
A 27-point loss to Illinois will be a tough stain to remove for the Gophers, who have two All-Conference-level talents in Amir Coffey and Jordan Murphy, but little else beyond that. Even recent wins over Penn State and Iowa have been shaky, and Minnesota's nonconference résumé isn't quite convincing enough to vault them ahead of any team ahead of them on this list. Their upcoming contest against Illinois presents an opportunity to build momentum before entering Mackey Arena on Sunday.
6. Iowa (5-5, 1.112 PPP, 1.118 PPP allowed)
I don't feel especially comfortable ranking Iowa ahead of Ohio State and Minnesota (or even Nebraska, for that matter), but none of the latter teams have been particularly impressive as of late. All four have negative efficiency margins. Iowa borders on elite offensively, even if they do have the worst defense in the conference to boot. They play fast, smart, and efficiently, and allow their opponents to do the same. Tyler Cook is having another great season, even if he hasn't stretched his range in the way some of us hoped he would.
5. Maryland (7-3, 1.064 PPP, 1.015 PPP allowed)
Here is where we begin our next tier of teams. The Terrapins, who are legit, dropped both of their games last week – including one to Illinois – which was just enough to drop them below Wisconsin this week. Still, Maryland ranks fourth in the conference in both offensive and defensive efficiency; their team 3-point percentage in conference play is just a hair out of first; Anthony Cowan and Bruno Fernando are a mean two-man combo. The race for the third and fourth seeds in the conference between Maryland, Wisconsin, and Purdue may be the most fascinating to track from here on out.
4. Wisconsin (6-3, 1.024 PPP, .934 PPP allowed)
The Badgers have an elite defense and the best player in the conference. That combination has propelled them to a three-game win streak (with two close losses to Purdue and Maryland immediately preceding it), and a massive victory over previously unbeaten Michigan. D'Mitrik Trice leads the conference in 3-point percentage, with Brad Davison not far behind. No Big Ten team has shot a better percentage from behind the arc in conference play. Losses to Western Kentucky and Minnesota may look bad by the end of the season, but the Badgers should be considered just a rung below the Big Ten's elite teams.
3. Purdue (7-2, 1.113 PPP, 1.017 PPP allowed)
Unpopular take: Purdue is really fun to watch. The Boilermakers are absolutely rolling right now. They avenged an 18-point loss to Michigan State earlier in the month with a convincing win over the Spartans on Sunday, extending their win streak to five games. Purdue plays with an edge and toughness that, as IU fans can attest, makes quick easy work of opponents who can't match it. They boast the second-best offense in the Big Ten, and their defense has climbed into the top five. Matt Painter's offense is imaginative and perfectly tailored to the talents of his best players, while Carsen Edwards is an All-Big Ten lock.
2. Michigan State (9-1, 1.148 PPP, 0.96 PPP allowed)
Michigan State and Michigan remain in a tier of their own at the top of the conference (though Purdue is threatening to enter this group). The Spartans had won 13 in a row before losing to Purdue and might have two first-team All-Conference players in Nick Ward and Cassius Winston. They lead the Big Ten in offensive efficiency and rank third in defensive rating. MSU's bread and butter is their physicality and interior play, yet they rank 30th in college basketball in 3-point percentage. Indiana's trip to East Lansing on Saturday could prove their toughest challenge of the season.
1. Michigan (8-1, 1.054 PPP, 0.902 PPP allowed)
While Michigan State has made a convincing case for the top spot in these rankings, Michigan clings to it after a 2-0 week. The Wolverines made easy work of the Hoosiers, and while their loss to Wisconsin proved their vulnerability, there is no team in college basketball that isn't vulnerable. Michigan has the best defense in the Big Ten by a comfortable margin. They rank fifth offensively, but can score with virtually anyone when they're on. John Beilein remains the conference's best coach, and Michigan its best team.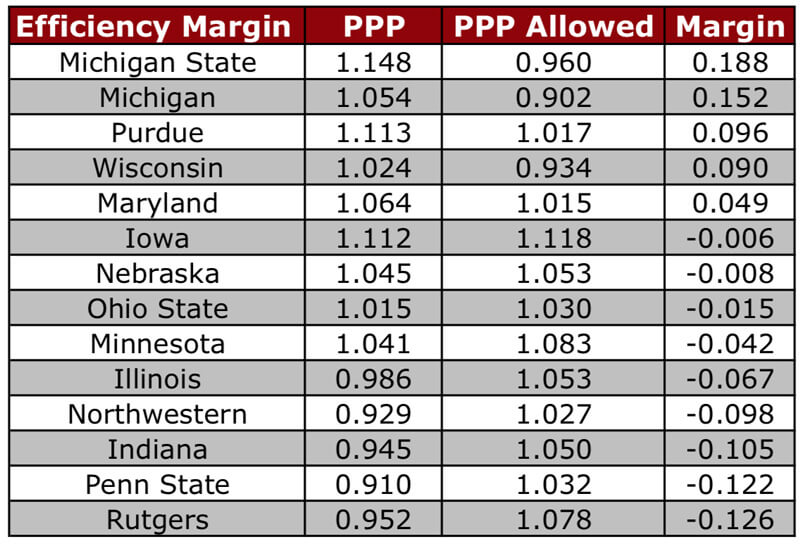 Filed to: Big Ten Power Rankings