Five takeaways from Indiana's loss at Purdue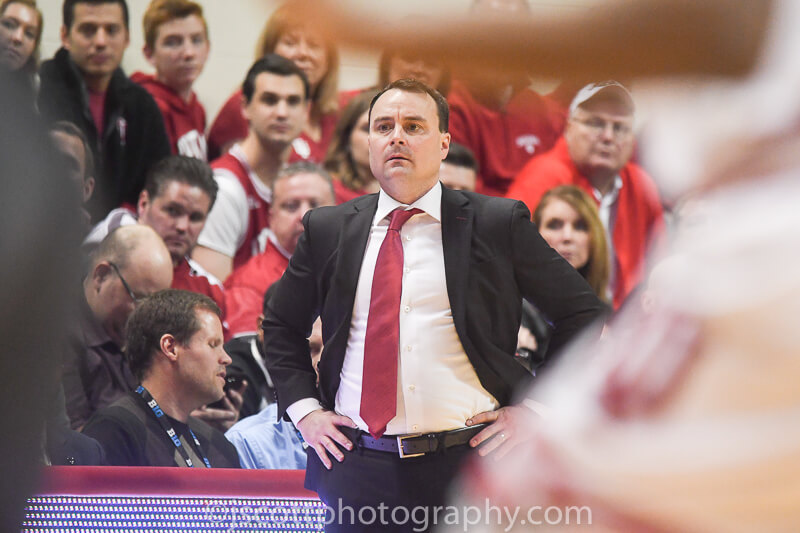 Indiana's midseason malaise continued on Saturday afternoon as it never challenged Purdue in a 70-55 loss at Mackey Arena. The loss dropped the Hoosiers to 12-6 overall and 3-4 in Big Ten play.
Here's a look at five takeaways from the loss to the Boilermakers:
• The backward slide continues: Indiana's losing streak reached four games on Saturday and many of the problems remain the same.
The Hoosiers have become predictable offensively and easy to guard because of a lack of perimeter shooting. Beyond Juwan Morgan and Romeo Langford, Indiana doesn't have a consistent scoring threat.
Defensively, Indiana has been exposed over the past four games. Purdue was the latest team to score over a point per possession against the Hoosiers. The Boilermakers scored 1.1 points per trip in their 15-point win and with seven Big Ten games completed, Indiana's offense is now 10th in the conference.
Are either of these problems fixable?
The defense is the more alarming problem right now because Archie Miller's system is built with an emphasis on getting stops. Indiana won a ton of close games early in the season on the strength of its defense, but the Hoosiers haven't been able to stop the upper tier teams in the league. Until that changes, Indiana will continue to struggle.
• Romeo Langford starts slow, posts worst game of his young career: Freshman Romeo Langford had been one of Indiana's two reliable sources of offense entering Saturday's game.
But two quick fouls sent Langford to the bench at Mackey Arena.
A rhythm player offensively, Langford was never able to get comfortable in Saturday's loss and the result was four points on just 2-for-10 shooting. He missed all four of his free throw attempts.
Moving forward, Indiana needs to find a way to get Langford more engaged early in games. He is capable of going on scoring runs like few players in college basketball, but is not going to force the issue himself by trying to take over.
On a team with limited scoring outside of Langford and Morgan, the Hoosiers should be looking to establish both players as the priority on every offensive possession.
• Purdue's dominance of rivalry shows how far IU has to go: Miller has laid a solid foundation with his first two recruiting classes in Bloomington.
But IU still has work to do to catch up to Purdue on the court.
The Boilermakers have dominated the rivalry with the Hoosiers since the 2013-14 season. Purdue has won seven of its last eight against Indiana and the only win in that time span for IU came by three in Bloomington back in 2016.
Before Indiana can get back to the national relevance that its fanbase so desperately craves, it first must climb the hierarchy within the Big Ten itself. Seven games in to this year's Big Ten schedule, Indiana doesn't have a win over a league opponent that carries any weight. Its three conference wins have come over teams with a combined 3-18 league record.
• Eastern gives IU major trouble: Rivalry games are often decided by unlikely heroes. As good as Carsen Edwards was at times for Purdue, it was Nojel Eastern who helped set the tone in the win.
On Saturday, Eastern stepped up in an important spot for Purdue.
He was terrific on both ends as he guarded Langford for a large part of the game and scored 10 points and grabbed 10 rebounds in 33 minutes.
It was the kind of contribution from a third or fourth scoring option that Indiana has been lacking this season. The stellar play of Eastern was a major reason that Purdue won comfortably despite shooting just 7-for-22 on 3s.
• Defensive breakdowns lead to easy buckets: The film of Saturday's loss isn't going to be kind to Indiana's defense.
The Hoosiers had several breakdowns that led to easy opportunities for Matt Haarms and Trevion Williams. Haarms finished 6-for-8 from the field and Williams was 3-for-3.
Because of its ability to shoot from the perimeter and Indiana's need to account for that, Purdue was able to generate easy offense in the paint. Purdue shot 20-for-33 on 2s for 61 percent.
Once a strength for the Hoosiers, 2-point field goal defense has become a problem in league play. Big Ten opponents are now shooting 52.7 percent inside the arc against Indiana. That ranks 12th in the conference.
Filed to: Purdue Boilermakers