Notebook: Purdue exposes IU's lack of 3-point shooting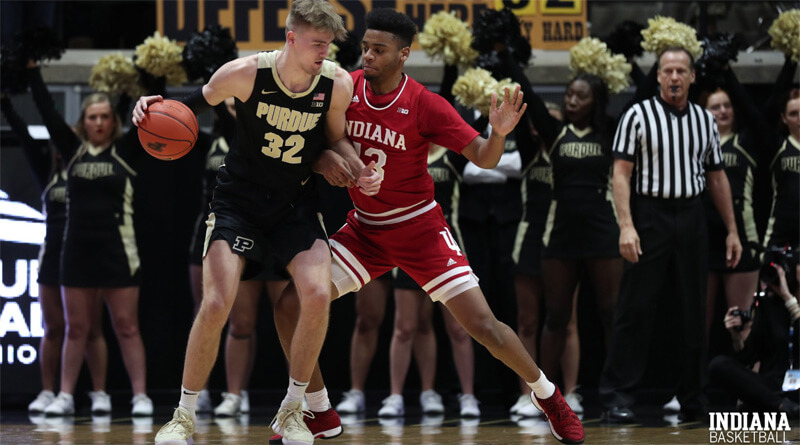 WEST LAFAYETTE, Ind. — The IU-Purdue game featured teams that are polar opposites offensively. Purdue excels at shooting the 3 while Indiana prefers to play from inside.
While the Boilermakers didn't have their best 3-point shooting game, they exposed the Hoosiers' tendencies and came out with a 70-55 win Saturday at Mackey Arena.
Purdue often double-teamed the post, knowing that Indiana isn't a 3-point shooting team and has lacked sufficient frontcourt depth in recent games. It's a strategy IU has continually run into in its four-game losing streak and has yet to find an answer for.
"Maryland, obviously, kept bigs in the paint," IU head coach Archie Miller said. "I think Nebraska, obviously, ran guys into the paint. I think these guys here today had a concerted effort. We're a team that gets fouled a lot. We're a team that plays inside out. And teams obviously try to take that away. So we have to adjust to it in some form or fashion."
Indiana shot 4-for-20 from 3-point range in Saturday's loss. Purdue, meanwhile, went 7-for-22 from downtown. IU defended Purdue's 3-point looks well in the first half, but the Boilermakers heated up from deep in the second half to put the game away.
By Carsen Edwards' standards, a 20-point game is quiet. But he matched his season-high with seven assists, which helped Purdue's role players such as Nojel Eastern, Matt Haarms and Trevion Williams enjoy solid performances.
Despite Indiana's recent woes on both ends of the floor, Miller is leaning on an improved effort level in this game moving forward.
"We have to continue to play really hard," Miller said. "We have to continue to find a way to continue to develop our depth. And we have to find a way to keep banging away on that rock and crack it back open so we can get ourselves feeling good again just in terms of our morale. Right now, it's a team that competes, it's a team that's struggling just a little bit and going through a hard time. There's nobody to blame but, obviously, ourselves. We've got to get the job done."
Romeo Langford struggles
For the first time in his IU career, Romeo Langford was a non-factor. He picked up two fouls in the first three minutes, which forced Miller to sit him for 13:50 in the first half.
The second of those two fouls was a charge, which Juwan Morgan felt impacted Langford's aggressiveness when he briefly returned to the court in the first half.
"I think he was trying to play conservative a little bit," Morgan said. "I know, myself, if someone takes a charge on me, I'm kind of conservative to make sure nobody's down there before I go. So I'm pretty sure he was doing the same thing."
Langford was more aggressive in the second half, but his shots just weren't falling. The freshman finished 2-for-10, including 0-for-4 from the free-throw line and 0-for-3 from 3-point range, for four points. Purdue's defensive strategy of loading the box was effective against Langford, who gets most of his points on drives to the rim.
Miller isn't worried about how Langford will respond to the down game.
"Every player has their games, every once in a while, where it's not their day," Miller said. "…it's tough. Everything was at the basket. They've got great size, and they made things hard on him for the most part. He wasn't at his best today, but he'll be fine. He's a bounce-back guy."
(Photo credit: IU Athletics)
Filed to: Purdue Boilermakers