Five takeaways from Indiana's loss to Nebraska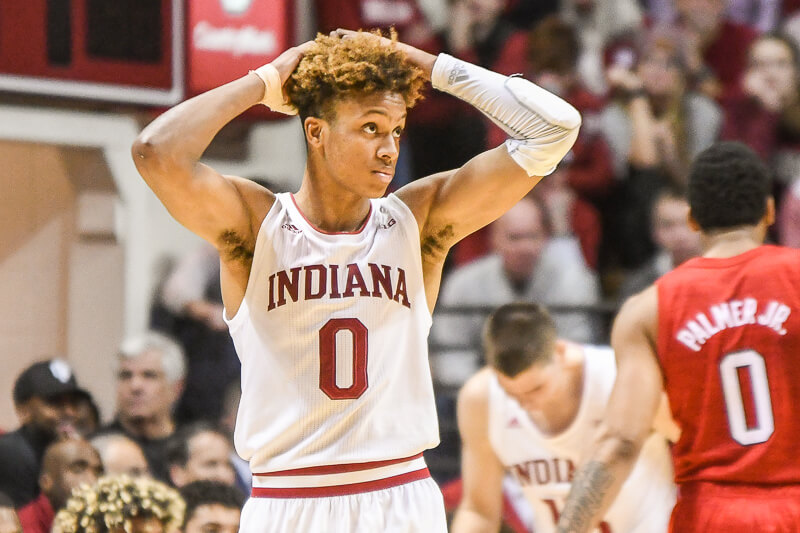 Indiana dropped its third straight game on Monday night as it fell 66-51 to Nebraska at Simon Skjodt Assembly Hall. With the loss, the Hoosiers fell to 3-3 in Big Ten play.
Here's a look at five takeaways from the loss to the Cornhuskers:
• Indiana looked lifeless at the start: Slow starts have been a theme all season for the Hoosiers. And it doesn't seem like the coaching staff or upperclassmen have a clear strategy on how to fix the problem.
On Monday, Indiana fell behind 9-0 before Archie Miller called for a timeout. And by late in the first half, the Hoosiers trailed by as many as 18.
It was an alarming lack of urgency from a team coming off consecutive losses on the road that left Miller searching for answers in the aftermath.
"We didn't have any energy, any pop, either end of the floor," Miller said. "And we've been able to hang our hat on playing hard and playing tough and having a lot of guys in there contributing, and that wasn't the case here tonight. I didn't think that we played with near enough energy to compete in this league."
Early in the season, Indiana's slow starts were somewhat justifiable because of injuries and a slew of new players on the roster.
But it's now January 15 and this group has played in enough games and different situations to be past this problem. Until the Hoosiers find a solution, inconsistent results will continue to follow.
• Indiana is becoming too easy to guard: In his postgame comments, Miller admitted he knew that Nebraska would play 1-3-1 zone.
It was a defense designed to keep Indiana out of the paint and it worked. The Hoosiers moved the ball around the perimeter aimlessly and didn't attack. And without any perimeter shooters to bust open the zone or a concerted effort to get the ball into the middle, Nebraska really only had to focus on Juwan Morgan and Romeo Langford.
Indiana's inability to develop a third or fourth scorer beyond Morgan and Langford really showed up in the loss. Players not named Morgan or Langford shot a combined 6-for-23 from the field.
In many games earlier in the season, Indiana's big two was productive enough to lift the Hoosiers to wins. But against the Big Ten's upper echelon, the offense has been exposed as below league average through six games.
• Moore makes a strong case for more minutes: Sophomore Clifton Moore hasn't played much this season, but as Evan Fitzner continues to struggle, he's making a case to take on a bigger role.
Moore played just five minutes in the loss and still had a few breakdowns defensively, but he had five points and three rebounds.
He'll certainly have his share of growing pains as his minutes increase, but Moore looks like a better option than Fitzner right now.
"We probably gotta continue to work that front court depth," Miller said. "With De'Ron (Davis) not being able to really go right now, we're sort of searching, and I thought Cliff did a pretty good job when he was in there. He's got to rebound the ball, but he had a couple good plays in there, and I think as things stand right now, we're going to have to continue to kind of fire guys in there and see what they can do."
• Another game, another injury: It's no stretch to declare that injuries have defined Indiana's season so far and on Monday, the program suffered another setback as Al Durham Jr. suffered a leg injury in the first half.
Durham Jr. only logged six minutes in the first half and after hobbling to the locker room before halftime, he didn't return to the bench in the second half.
"From what I can tell, it was some type of a kick or some type of a collision in the back of his leg," Miller explained. "I was told at halftime he wasn't coming back. We'll kind of see where that one goes."
• Hunter will not play this season: Although it has been a foregone conclusion for weeks, the news that freshman Jerome Hunter will redshirt became public on Monday.
Speaking with Don Fischer on pregame radio, Hunter revealed that he would not play this season.
"Physically he's not able to play right now," Miller said. "It didn't matter about the time (missed so far). It's all about his recovery, and it's about the process of moving forward for him. He's not able to play right now."
Details of Hunter's condition have not been released publicly, but the situation required surgery at the Cleveland Clinic. Hunter has been with the team since undergoing surgery in November.
Filed to: Nebraska Cornhuskers