News and notes from Archie Miller's radio show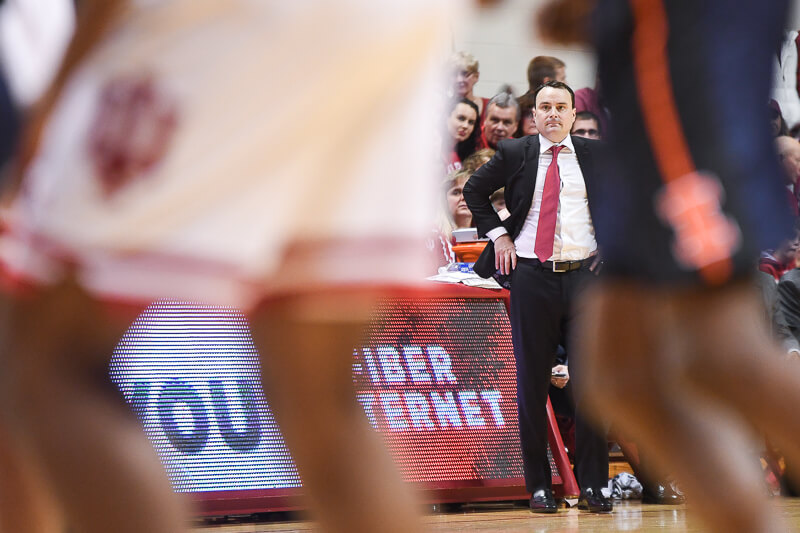 On the heels of a tough road loss to Michigan, Archie Miller sat down with Don Fischer on Monday night at the Holiday Inn Bloomington to discuss his team's recent play, the state of Indiana's roster, and IU's upcoming game against Maryland.
Here are some of the highlights from this weeks' Inside IU Basketball with Archie Miller:
• Miller saw both positives and negatives from Indiana's 74-63 loss to Michigan on Sunday, citing the team's strong second half as an encouraging sign. "We had a really efficient second half," he said. "Offensively, we only turned it over twice, and they came late. We pretty much got great shots and didn't finish as well as we usually had yesterday around the basket – we had some ones that didn't go down – but we got good shots."
• On the other hand, Indiana lacked tenacity and efficiency in the first half, something Miller sees as a season-long problem. "I think you see the identity of our team for 25 or 30 strong minutes, and it's all the way until the end, but it's never the full 40," Miller said. "And really, how we start the race, we're not running fast enough. We're not running hard enough at the start of the race, and then we're playing catch-up. We have to come out of the gates a little bit tougher defensively, and we also have to come out of the gates more disciplined on offense."
• Miller identified "freelancing" as a main detriment to Indiana's offensive efficiency, saying that a lack of connectivity leads to turnovers, forced shots, and "off-kilter offensive possessions." He added that he wants to see his team play with more structure and a tougher mindset earlier in the game, imposing their will from the start. "We just aren't smart enough and sharp enough at the start, offensively," Miller said. "When you don't get quality possessions, you're going to have to go up against the grain."
• Against teams like Michigan, a few minutes of confusion or staggering can be costly. "Give them credit," Miller said. "They were on their game too down on the other end. We struggled to defend them in the pick and roll. We've got to be better. We'll have them in a couple more weeks, so it will be fresh on our minds."
• Before dropping their third contest of the season on Sunday, the Hoosiers had won seven straight, with impressive wins over Penn State, Butler, and Louisville. Miller says his team learned some important lessons from that stretch, but won't dwell on the past as Big Ten play heats up.
• "I can't even remember it now," Miller said. "We had some really good wins in that stretch. We basically hadn't lost a game since we played in Cameron Indoor at Duke, and I think at the time they were ranked just about the same as Michigan. So I think we probably bookended two of the better teams in the country."
• Prior to the loss against the Wolverines, Indiana pulled out a 73-65 win over Illinois thanks to a late-game push to secure the win. Miller said he expects to play more games of that style, and was proud of how his team got back into the game. "There's going to be so many games that are that contested," Miller said. "Being down 10 with I think 10 minutes to go in the first half and then being up 15 with about another 10 minutes to go, that was a heck of a 20 minutes there, and we were able to pull it out and get our third Big Ten win."
• Indiana will travel to take on Maryland on Friday – another test in what Miller called "the deepest league in the country." Miller offered a glowing assessment of Maryland's talent and what coach Mark Turgeon has done with it, saying that the Terrapins' size and guard play could prove difficult to stop: "Maryland's a really young team, but they're extremely talented," Miller said. "I think they have a chance to continue to really get better as the season goes because they're so young."
• Juwan Morgan has been at the forefront of IU's recent success, averaging 17.1 points, 7.4 rebounds, and 2.5 assists over his last eight games. In Miller's eyes, Morgan has been one of the best players not just in the Big Ten, but in the entire country.
• "If you're watching our team play and you don't think that guy is an All-American candidate or a potential Big Ten player of the year or first team All-Conference – you name the accolade – he's played at that level," Miller said. "Because he does it on both ends of the floor. He does it with a very unselfish approach. He can score. He scores when we need him to score. He rebounds. He shares the ball, he passes the ball. He does just about everything for us, and then when you add him on defense, the activity level that we're asking him to play with, the bigger guys that he has to guard, at times really anchoring a defense with his eyes in the back."
• Miller also emphasized multiple times the importance of Morgan setting the tone for the rest of the team as it searches to become more consistent in its effort and its overall play. "Setting the tone, to me, starts with your upper-class players," Miller said. "And to me, we're going to have to look at Juwan from this point forward and say, 'Start setting the tone for our basketball team to start the game by demanding the ball, running good offense, communicating a little bit more.'"
• "It starts and stops with him and it filters into the other guys," Miller continued. "I think that's part of the slow starts, too. I think that's part of what we need to figure out, and maybe what he needs to figure out a little bit more. That mentality that he played with in the second half – if he starts that race playing like that, I think we have a better chance of maybe getting some better opportunities in those first four, six, eight minutes of the game."
• Though Morgan had 25 points and eight rebounds against Michigan, Miller still saw significant room for improvement – a testament to the standard Morgan has set. "He didn't play that well," Miller said. "And he'll be the first to tell you that he didn't play as well as he needed to. It's not just scoring – he just wasn't as sharp, I didn't think, defensively on some things. He had a couple of silly fouls. When you can get 25 and eight on the road at Michigan and coach comes back and says, 'Boy, I thought he could have played a little bit better,' you're probably getting a little bit greedy."
• Morgan has needed to play at a superstar level for Indiana to win, in part because of how thin injuries have made the team over the last month. Rob Phinisee has missed the last three games with a concussion as Race Thompson and Jerome Hunter remain unavailable, while Zach McRoberts is still banged up with a sore back.
• "For us, right now, the bench is just a little bit thinner than we would like, but I thought the guys came in yesterday and when they had their opportunities they played hard," Miller said. "We've missed guys for games. That's really hard. It's been hard on our guards all November and December just based on having one or two out consistently… But you kind of stare forward and control what you can control."
• With so many injuries plaguing the Hoosiers, there is a greater need for the bench players that are available to contribute in more meaningful ways, and Miller said more experimentation could be on the horizon to find production. "I think we'd like to start to see some guys do some different things," Miller said. "And I think with our depth problems right now, we can fire as many guys in there as we can."
• Miller mentioned Evan Fitzner and Damezi Anderson specifically as candidates for more playing time, though also said that Clifton Moore looms as a backup center option should De'Ron Davis miss extended time.
• Meanwhile, Romeo Langford was named Big Ten Freshman of the Week for the third time, and has taken on more ball-handling responsibility as he's grown more comfortable and Phinisee has missed time. "Just learning the game, learning our team. Rob's out, so you lose another ball-handler, so I just felt like, just in general, Romeo needs to be more of a primary ball-handler for us at times in the halfcourt," Miller said. "And I think it's been a positive for our team, giving him opportunities to play high on the floor against teams that have to guard him in pick-and-rolls or just guard him in general from north-south rather than east-west."
• "He's just got an amazing even-keel about himself," Miller added. "He doesn't get too low, he doesn't get too high, and I thought he was very good in the second half for us on both sides of the floor."
• Miller said he has been impressed with how Justin Smith has played since conference play began, noting his improvement as a defender and growing comfort level on offense. "He's playing a lot smarter," Miller said. "He's as improved as a defender as I may have coached… He has really learned how to play defense the way that we've taught it."
• Though the coaching staff is still trying to figure out how to put Smith in better position to attack on offense, Miller credited him for finding spots where he can be successful within games and focusing on what the coaching staff has told him to do (though he did not specify what those things were).
• Indiana will face nary a cupcake for the rest of the season, and Miller says he expects a gauntlet of a Big Ten schedule, with as many as 10 teams from the conference making the NCAA tournament. "I think there's a few teams in this league that, quite frankly, probably could see themselves having a chance to maybe win it all," he said. "You're looking down the barrel, quite frankly, of teams that have aspirations to compete for, obviously, the league championship, but also aspirations to play deep in March. That's going to prepare you, or us, to play against anybody at any time."
• Because of the brutal and unforgiving nature of the conference, Miller says it is imperative to take the season a game at a time, not falling prey to the trap of looking ahead at the slew of great teams approaching. "If you start to look down the line, you can really play some mind games with yourself in terms of just being positive," Miller said. "There's going to be some rough waters, and you just have to navigate through them and find a way to keep getting better."
Filed to: Archie Miller