Big Ten Power Rankings: Middle of the pack tight as conference play resumes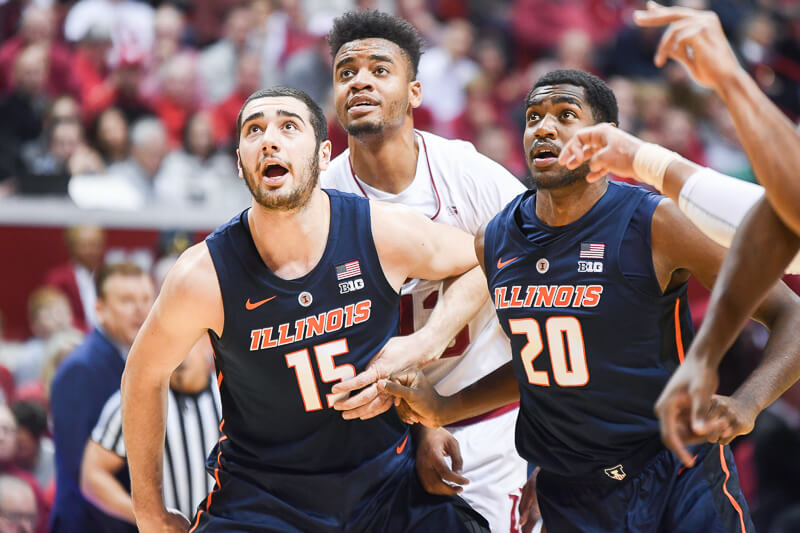 Big Ten play resumed last week with several marquee matchups. The conference has gotten a lot of national love for its overall strong performance in non-conference play and is in good shape to have at least half the league earn NCAA tournament bids in March.
Here's how the teams stack up after the first week of 2019.
14. Rutgers (0-3, 0.98 PPP, 1.13 PPP allowed)
Rutgers fell to Maryland in its only Big Ten game so far in the new year. It's early in conference play but Rutgers needs to improve both offensively and defensively to have realistic chances in games against even middle-tier Big Ten teams. The Scarlet Knights take care of the basketball (they have the third-best turnover percentage in the conference at 13.1 percent), but that's the only positive offensively. Rutgers will also need more out of Geo Baker to win games, as Baker's averaging 9.3 points per game in conference play while playing over 30 minutes per game in those contests. Rutgers is 12th in the Big Ten in defensive efficiency. The Scarlet Knights host Ohio State on Wednesday and visit Minnesota on Saturday.
13. Illinois (0-4, 0.92 PPP, 1.04 PPP allowed)
Illinois climbs out of the cellar after hanging in with Indiana and Northwestern last week. The Illini had a chance to win at the buzzer at Northwestern but couldn't get an open look. Their offense has been really bad; they have the second-worst offensive efficiency in the conference and the worst turnover percentage in the conference at 22 percent. Trent Frazier is averaging 12.7 points per game in Big Ten play. Even though that mark leads the team, Brad Underwood will need more out of Frazier if Illinois is going to improve. Illinois faces Michigan at home on Thursday.
12. Penn State (0-4, 0.85 PPP, 1.00 PPP allowed)
The non-conference win over Virginia Tech continues to look like more of an outlier for Penn State, as that success hasn't been replicated against a quality team. PSU hung in with Michigan on Thursday, but that got overshadowed by Pat Chambers shoving Myles Dread in a huddle and getting a one-game suspension for it. The Nittany Lions have the worst offense in the Big Ten. They're only shooting 19.7 percent on 3s, by far the worst percentage in the conference. Penn State's defense has been solid, but it won't matter if its offense doesn't improve. Lamar Stevens is having a nice season, averaging 16 points and 9.3 rebounds per game in Big Ten games. The Nittany Lions play Nebraska on the road on Thursday and host Michigan State on Sunday.
11. Northwestern (1-3, 0.92 PPP, 1.03 PPP allowed)
Three of the Wildcats' games have been one-possession finals: the losses to Indiana and Michigan in December and its win over Illinois on Sunday. If they can improve their offense — ranked 12th in the Big Ten in efficiency — this could be a decent team throughout conference play. Northwestern's defense isn't great but isn't terrible, so good offensive nights will win games. Dererk Pardon is averaging 21 points per game in conference play. Northwestern hosts Iowa on Wednesday before facing Michigan in Ann Arbor on Sunday.
10. Iowa (1-3, 1.07 PPP, 1.20 PPP allowed)
Iowa's defense has been dreadful in conference play. Its lone Big Ten win came over Nebraska on Sunday, and the Hawkeyes still gave up 1.11 points per possession in the win. You won't win many Big Ten games at that rate, no matter how good your offense is. The Hawkeyes' offense is solid, fifth in the conference. That'll win them some games. But unless the defense improves, Iowa may be closer to falling into the bottom four in the standings than climbing into the top half. The Hawkeyes have Northwestern on the road on Wednesday and Ohio State at home on Saturday.
9. Minnesota (2-1, 1.02 PPP, 1.05 PPP allowed)
Minnesota's an interesting case right now: its conference resume would suggest it should be ranked higher (home win over Nebraska, road win over Wisconsin, road loss to Ohio State), but the efficiency stats don't back that up. The Gophers are ninth in the conference in offensive efficiency and 10th in defensive efficiency. But, as Al Davis famously said, "Just win baby." Amir Coffey has been awesome in conference play, averaging 24 points per game. Minnesota hosts Maryland on Tuesday and Rutgers on Saturday.
8. Nebraska (1-3, 1.12 PPP, 1.11 PPP allowed)
Nebraska's offensive efficiency is one of the best in the Big Ten. James Palmer Jr. has been electric, averaging 20 points per game in conference games — he's averaging over 20 points per game overall. But the defense needs a lot of work, as the Huskers are ahead of only Iowa in defensive efficiency. It's a dangerous game to hope your offense can offset any damage done by your defense. Nebraska's perimeter defense needs to improve — opponents shoot 43.7 percent from 3-point range against the Huskers, the worst defensive mark in the Big Ten. This has the making of a solid potential NCAA tournament team, but it'll be tough to navigate conference play to get there without defensive improvements. Nebraska hosts Penn State on Thursday.
7. Purdue (2-1, 1.07 PPP, 1.07 PPP allowed)
Purdue's only Big Ten game since conference play resumed is an 86-70 win over Iowa at home.The Boilermakers' points per possession increased massively from facing Iowa's bottom-ranked defense. The Boilermakers have some work to do defensively, Carsen Edwards is one of the frontrunners for Big Ten player of the year, and he's averaging 20 points per game in Big Ten games. Purdue has two good road tests this week, at Michigan State on Tuesday and at Wisconsin on Friday.
6. Wisconsin (3-1, 1.02 PPP, 0.94 PPP allowed)
Wisconsin's defense has been excellent. The Badgers are second in the Big Ten in defensive efficiency behind Michigan. But Wisconsin's offense could stand to improve, as its offensive efficiency is in the middle of the pack at eighth. Although, Wisconsin does boast the top turnover percentage in the conference at 12.8 percent. The Minnesota loss is an example of how wide open the middle of the standings could wind up being this year. Ethan Happ is among the favorites for Big Ten Player of the Year and he leads Wisconsin in every major category in Big Ten play. The Badgers face Purdue at home on Friday.
5. Indiana (3-1, 1.01 PPP, 1.00 PPP allowed)
Indiana's win over Illinois and loss to Michigan saw both its offensive and defensive efficiency ratings rise. The Hoosiers fell into an early hole in Ann Arbor and, despite second-half improvements, couldn't dig themselves out. They have several tougher games coming up that will be a good litmus test for this team. Indiana will go as far as Juwan Morgan and Romeo Langford can take it, along with several other solid but inconsistent contributors that make the Hoosiers a solid threat in the conference. When healthy, the potential is there for this to be a dangerous team. IU only has one game this week, a road contest at Maryland.
4. Ohio State (2-1 W: Illinois, Minnesota L: MSU; 1.10 PPP, 1.00 PPP allowed)
The Buckeyes' loss to Michigan State shouldn't be too discouraging. Ohio State played pretty well in that game and hung on until the end, when the Spartans pulled away. Kaleb Wesson has been one of the top players in the conference this season, averaging 17.7 points and seven rebounds per game in three Big Ten games. The Buckeyes are the top team in the conference at defending the 3 so far andtThere are building blocks for a solid season in Columbus. Ohio State has road games at Rutgers on Wednesday and at Iowa on Saturday.
3. Maryland (3-1, 1.04 PPP, 0.96 PPP allowed)
Maryland's win over Nebraska was an important one for Mark Turgeon's squad. After falling short in opportunities for marquee non-conference wins against Virginia and Seton Hall, Maryland's path to March Madness will require a successful Big Ten season. Beating a solid Nebraska team in a close game is a good way to get the ball rolling. Jalen Smith hit the game-winning floater in that Nebraska game, and he played well in that contest and in Maryland's win over Rutgers. Bruno Fernando can be the best player on the court on any given night, regardless of opponent. Anthony Cowan is reliable, and Eric Ayala should improve. The Terps face Minnesota on the road on Tuesday and host Indiana on Friday.
2. Michigan State (4-0, 1.23 PPP, 0.98 PPP allowed)
In the most high-profile Big Ten game so far, Michigan State outlasted Ohio State on Saturday despite Joshua Langford's ankle injury. Nick Ward and Cassius Winston were monumental in the Spartans' victory, combining for 46 points. MSU's defense improved in the Ohio State and Northwestern wins, and the Spartans still enjoy the largest efficiency margin in the Big Ten. Langford's ankle injury is something to watch, as Tom Izzo has been non-committal about how much time he'll miss beyond acknowledging it will be at least a couple weeks. But if the Ohio State game was any indication, the Spartans may be able to hold up without Langford. MSU hosts Purdue on Tuesday and visits Penn State on Sunday.
1. Michigan (4-0, 1.11 PPP, 0.93 PPP allowed)
Michigan kept on rolling in the last week with two home wins over Penn State and Indiana. The Wolverines are one of the top defensive teams in the country and that's how they're winning games, but their offense has been underrated in comparison. Despite not having a lot of depth, Michigan has so many guys that can step up and cause problems for opponents. Ignas Brazdeikis is having a great season and is averaging 17 points per game in Big Ten play, Jordan Poole is one of the top 3-point shooters in the conference, Charles Matthews is a capable scorer, and if you focus too much on those three, Zavier Simpson can hurt you as well. The Wolverines play at Illinois on Thursday and rematch Northwestern at home on Sunday.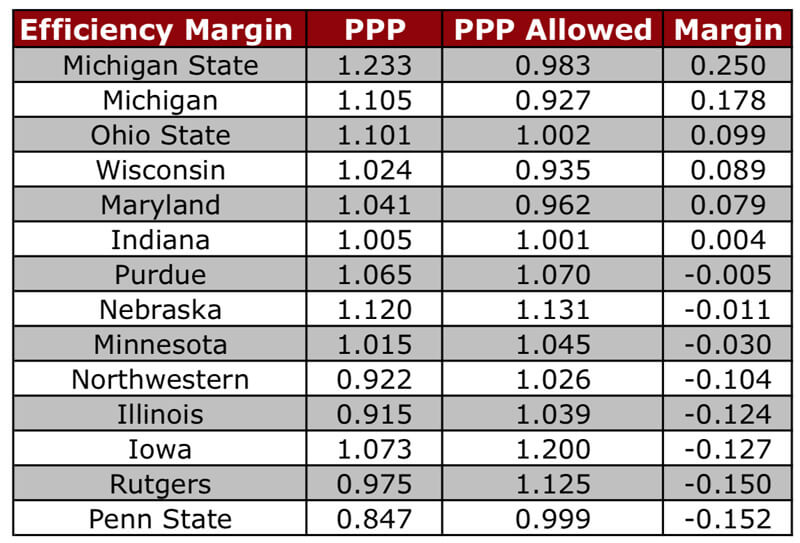 Filed to: Big Ten Power Rankings