Five takeaways from Indiana's loss at Michigan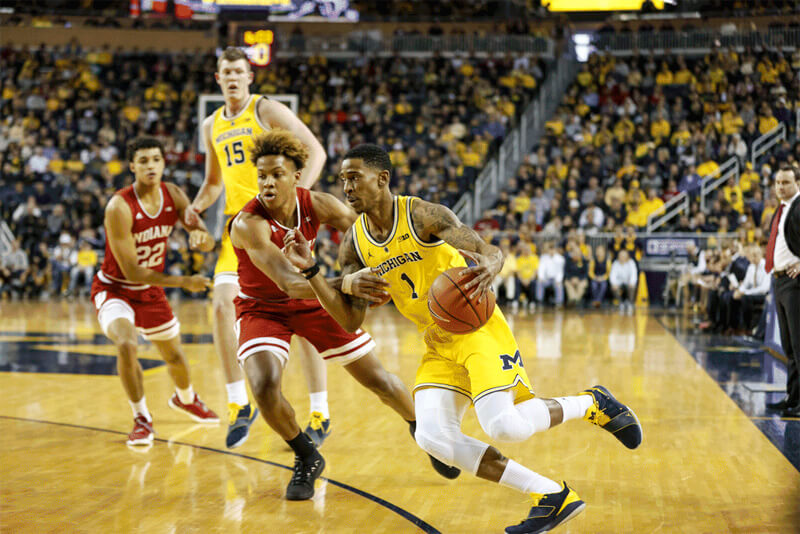 ANN ARBOR, Mich. – Indiana's seven-game winning streak was snapped on Sunday as the Hoosiers fell 74-63 to Michigan at the Crisler Center.
Here's a look at five takeaways from the loss to the Wolverines:
• Another slow start finally catches up to Indiana: In many ways, Indiana had been playing with fire over the last month with its poor starts to games.
The Hoosiers were able to overcome it against lesser teams like Butler, Louisville, Northwestern and Illinois, but not against one of the nation's elite in Michigan.
Less than 12 minutes in, Indiana was already down 19 points and the Hoosiers played from behind throughout the contest. In his postgame comments, Archie Miller cited a lack of toughness as a primary reason for Indiana's slow starts this season.
"We're trying to find a way to be able to start the game better," Miller said. "Part of that, to be honest with you, we got to be a little bit tougher. We're starting games not tough enough. I can go back as many games as we've played, whether it's been at home against Central Arkansas or Jacksonville, or back to UC Davis. We're not tough enough starting games. We're not ready to be tough at the start of games."
On the bright side of things, Indiana didn't fold after digging a major hole to start the game. The Hoosiers got the deficit all the way down to seven in the second half and outscored Michigan after halftime, 34-30.
• IU turns in worst defensive performance of the season: The Hoosiers had been winning games on the strength of their defense in recent weeks, but on Sunday, Michigan had its way offensively.
The Wolverines carved up Indiana for 1.44 points per possession in the first half and 1.26 for the game. The 1.26 points per possession allowed was a season-high for an IU opponent.
Credit Michigan's Jordan Poole and Charles Matthews for the offensive explosion inside Crisler Arena. Matthews finished with 18 points on 7-for-15 shooting while Poole also had 18 on a more efficient 8-for-13 line.
And two guys who normally don't provide much offensively for Michigan – Zavier Simpson and Brandon Johns Jr. – also had big games. Simpson had 12 points, his third highest scoring output of the season and Johns Jr. had eight, a career-high.
• A less efficient Juwan Morgan: Indiana senior Juwan Morgan had another big offensive game, but Michigan made him work hard to get it.
Morgan finished with a game-high 25 points, but took 25 shots and eight free throws to get there.
"I've got to give credit to Michigan. They made it really tough just to get catches," Morgan said. "It was really, I'm not saying tired legs, but it was tough to get those catches, and every time I touched it, they were hounding me, they were hounding the catches. Posting up was a hard thing to do. I've got to give credit to Michigan on those."
The 6-foot-8 forward, who had one of the nation's top 2-point field goal percentages entering the game, shot just 7-for-17 on 2s in the loss.
• Hoosiers had little trouble scoring on Michigan's defense: The Wolverines entered the weekend with the nation's second best adjusted defensive efficiency, according to KenPom.
But Indiana had little trouble scoring against Michigan, particularly in the second half. The Hoosiers posted a stout 1.08 points per possession against the Wolverines, the second highest total allowed by Michigan this season.
Indiana shot just 42.6 percent in the game, but turned it over a total of just seven times for a season-low turnover percentage of 11.9. Through 15 games, Indiana's turnover percentage as a team is at 19.8, but has been trending downward in recent weeks.
• Without Phinisee and Davis, IU's depth takes a major hit: Indiana was without starting point guard Rob Phinisee for the third straight game and De'Ron Davis missed Sunday's loss with a foot injury. Davis warmed up, but was unable to play.
As a result, Indiana played a total of just eight players and none of the three reserves who logged minutes – Clifton Moore, Zach McRoberts and Evan Fitzner – scored.
The lack of a consistent third scorer didn't matter as much on Sunday as Morgan posted a game-high 25 points and Romeo Langford added 17 points, but IU's lack of options surrounding its big two is still a question mark.
Getting Phinisee back into the lineup will help tremendously, but Indiana still needs Justin Smith, Devonte Green and Al Durham Jr. to contribute offensively on a more consistent basis. It's also troublesome that McRoberts, who played 22 minutes, hasn't scored since the Duke game in November.
(Photo credit: UMHoops)
Filed to: Michigan Wolverines