A player-by-player breakdown through 13 games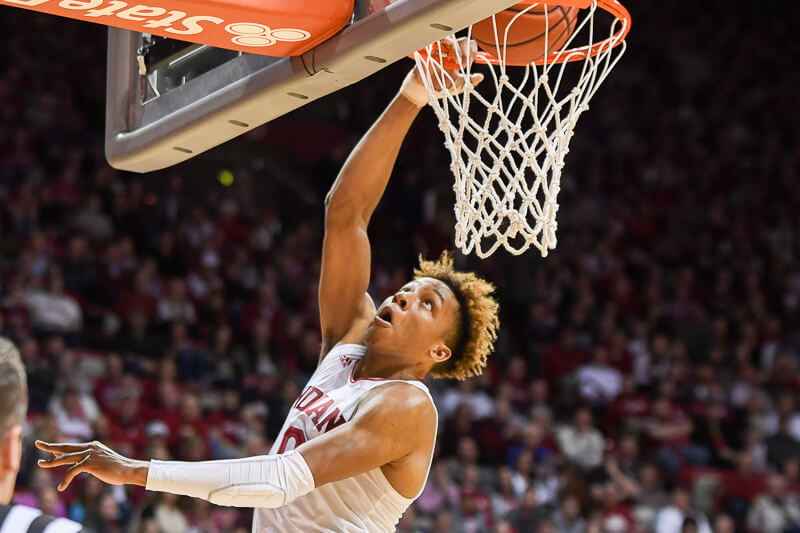 The non-conference portion of IU's schedule is complete and the Hoosiers are 11-2 heading into Thursday's game in Bloomington against Illinois.
Here's a player-by-player look at how each Hoosier has performed through Indiana's first 13 games:
Romeo Langford (13 games) – 17.5 ppg, 5.7 rpg, 2.6 apg, 1.1 bpg, 53.4 effective field goal percentage in 32.9 minutes per game
It's rare that a freshman can actually live up to enormous expectations, but Langford has been mostly successful in doing so through Indiana's first 13 games.
He's Indiana's leading scorer and has scored in double figures in every game. Langford is also IU's second leading rebounder and is logging a team-high 32.9 minutes per game. There's still another level that Langford can hit offensively and it's likely just a matter of time before he explodes for 30 or more points like he did regularly at New Albany. He's scored 20 or more five times already, but hasn't topped 22 points yet in a game. Defensively, Langford has used his length and athleticism to blossom into an above average defender.
If there's been anything disappointing about Langford's freshman season so far, it's been his subpar 3-point shooting. He's hitting just 21.3 percent of his shots from behind the arc, which is concerning. His free throw shooting (69.1 percent) is another area he can improve upon, but he's been much better from the line in recent weeks.
Juwan Morgan (13 games) – 16.2 ppg, 7.5 rpg, 2.9 apg, 1.5 bpg, 74.4 effective field goal percentage in 28.3 minutes per game
He's still being overlooked nationally, but Morgan is in the midst of a terrific senior campaign. His stellar efficiency – he's currently fifth nationally in effective field goal percentage – is unmatched on the roster.
Morgan is shooting 75.8 percent on 2s and is hitting 46.4 percent of his 3s. Both numbers will come down once the meat of the conference schedule arrives, but Morgan is one of the nation's premier frontcourt players right now. He's already had a breakout game on a national stage (35 points against Butler) and a triple-double.
Morgan's free throw shooting is still an issue (56.8 percent), but it's hard to find any other fault in the game of IU's senior leader right now.
Justin Smith (13 games) – 8.8 ppg, 3.6 rpg, 56.8 effective field goal percentage in 22 minutes per game
Much was expected of Smith entering his sophomore season in Bloomington and his performance has been up and down through 13 games.
There were some rough moments early for Smith like his second half benching at Arkansas, but his role has become better defined in recent weeks. And as a result, he's shined at times with his defense and ability to finish plays with his athleticism.
He's shooting a solid 56.6 percent on 2s, but his turnover rate (24.4 percent) and free throw shooting (61.1 percent) are two clear areas for improvement. Indiana is still trying to find a consistent scorer or two beyond Morgan and Langford and Smith is one of the guys who the Hoosiers need to be able to rely on consistently.
Al Durham Jr. (12 games) – 8.5 ppg, 1.7 apg, 1.4 rpg, 56.6 effective field goal percentage in 25.1 minutes per game
Durham was solid as a freshman, but he's taken a step forward as a sophomore. His 3-point shooting percentage is currently at 41 and if he can continue to knock down perimeter shots regularly, it will only open up the floor more for Morgan and Langford.
One of the primary strengths of Durham's game in high school was his ability to get fouled and knock down free throws. His free throw rate (FTA/FGA) was very good as a freshman (48.7 percent), but it has taken a dip so far this season (27.6 percent).
While he's not going to be a go-to guy this season, finding opportunities to get Durham the ball in a position where he can drive and make a play would be beneficial for IU's offense.
Devonte Green (9 games) – 8.1 ppg, 3.7 apg, 3.3 rpg, 1.7 spg, 48.4 effective field goal percentage in 22.8 minutes per game
Green entered the season as the presumptive starter at point guard, but an early season injury and stellar play from Rob Phinisee moved him to the bench.
While he is one of Indiana's better defenders and passers, Green isn't a natural point guard and is best suited coming off the bench once Phinisee returns to full health. Whether he starts or comes off the bench, Green is another guy who is capable of stepping into that third scorer role and when he plays under control, he can make others around him better with his passing.
Rob Phinisee (12 games) – 7.3 ppg, 3.5 apg, 2.8 rpg, 1.2 spg, 53.5 effective field goal percentage in 26.1 minutes per game
Phinisee's numbers don't stand out, but for a freshman being thrust into a significant role from day one, he's been very solid.
He's already hit several big shots in wins over Penn State, Louisville and most notably, Butler, and already looks the part of the long term answer at point guard. His free throw shooting (64.3) and turnovers (21.4 TO%) must improve, but Phinisee is an important piece of the puzzle for this season and beyond in Bloomington.
Evan Fitzner (13 games) – 5.2 ppg, 3.3 rpg, 61.7 effective field goal percentage in 15.1 minutes per game
Fitzner is an elite floor spacer because of his shooting ability, but has struggled to get on the floor at times because he doesn't offer much beyond that.
When he's hitting perimeter shots – the Marquette game is the best example so far – Fitzner is a weapon worth deploying. But when he's not, his inability to defend in the post makes him a liability.
By all accounts, Fitzner is an excellent locker room guy and his experience should help Indiana's younger players navigate the rigors of a tough Big Ten schedule, but don't expect much of a change in his role the rest of the way.
De'Ron Davis (12 games) – 4.8 ppg, 2.2 rpg, 62.9 effective field goal percentage in 11.7 minutes per game
Davis has been a pleasant surprise thus far in limited minutes after missing the second half of last season with an Achilles injury.
He's Indiana's best back to the basket player not named Juwan Morgan and should continue to find his way onto the floor because of that.
Jake Forrester (6 games) – 3.8 ppg, 1.5 rpg, 66.7 effective field goal percentage in 4.7 minutes per game
All of Forrester's minutes have come in mop-up duty and it's probably unrealistic that his role will change much the rest of the season. Forrester has been aggressive offensively in his limited opportunities thus far, but it may be next season before he cracks the rotation.
Damezi Anderson (9 games) – 3.4 ppg, 1.8 rpg, 51.7 effective field goal percentage in 14.8 minutes per game
Anderson played heavy minutes early due to injuries, but fell out of the rotation when the Hoosiers got healthy. He was back on the floor the last two games, but his minutes will likely depend on the health of Zach McRoberts moving forward. Anderson has taken 20 of his 30 field goal attempts from behind the 3-point line and he's shooting 35 percent from distance.
Clifton Moore (7 games) – 1.7 ppg, 2.6 rpg, 71.4 effective field goal percentage in 5.3 minutes per game
Moore provided Indiana with some solid minutes in a win earlier this month at Penn State, but has rarely played otherwise.
There still appears to be some long term potential to be unlocked with Moore, but in a crowded frontcourt rotation, his minutes are likely to be sparse the remainder of the season.
Zach McRoberts (8 games) – 1.4 ppg, 3.0 rpg, 1 apg, 68.8 effective field goal percentage in 16 minutes per game
McRoberts has been in and out with a back injury and his latest setback resulted in him missing IU's non-conference finale against Jacksonville.
The redshirt senior hasn't looked like himself when he has played this season which has cast some serious doubt as to how effective he can be the rest of the way. If healthy, McRoberts is a valuable rotation piece because of his defense and willingness to move the ball.
Filed to: Aljami Durham, Devonte Green, Justin Smith, Juwan Morgan, Robert Phinisee, Romeo Langford