Five takeaways from non-conference play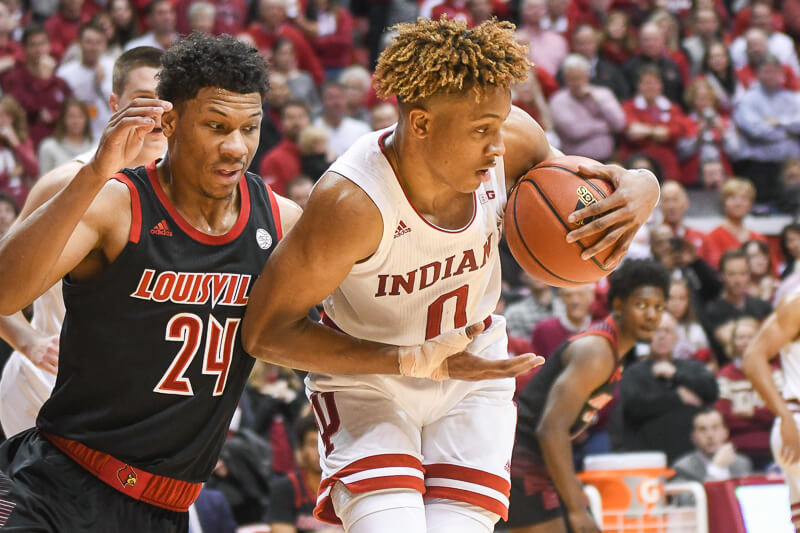 Indiana closed out non-conference play on a hot streak. The Hoosiers are taking a six-game winning streak (which includes two Big Ten wins) into the conference slate, and the team is ranked No. 23 in the AP Poll, No. 25 in the USA Today Coaches Poll, No. 16 in the NET ratings, and No. 22 in Kenpom. An 11-2 record heading into January should be considered successful.
Here are some takeaways from non-conference play:
• Indiana's defense is markedly improved from last season: The Hoosiers are giving up .93 points per possession (per KenPom's adjusted defensive efficiency numbers), good for fifth in the Big Ten and 24th in the country.
At this point last season, IU was giving up 1.04 points per possession, which was 168th in the country. At the end of last season, IU finished at .99 points per possession — 65th in the country. After a full year in Archie Miller's system, the returning players have shown continual improvement on the defensive end, and the freshmen have played solid defense within the system.
• Indiana has established itself as one of the best 2-point shooting teams in the country: The Hoosiers currently boast the second-highest shooting percentage in the country on all field goals at 52.9 percent and on 2-pointers at 60.4 percent. That success is largely due to Juwan Morgan's efficiency.
Morgan is first in the Big Ten and 18th in the country in shooting percentage at 69.3 percent. IU isn't as bad as you might think at 3-point shooting in terms of percentage, coming in at 63rd in the country at 37 percent. The main struggle has been finding consistent 3-point shooters. IU has room to improve efficiency-wise, scoring 1.11 points per possession. That mark could be higher if not for Indiana's turnover struggles, but the high shooting percentage provides hope that IU's efficiency would increase if the turnovers are reduced.
• Romeo Langford has been as good as advertised: He can get to the rim seemingly at will, regardless of the defensive assignment or alignment, and if he's not scoring on those possessions he's drawing fouls. He's flashed his underrated passing ability and continues to show improvement on defense.
He leads IU in scoring at 17.5 points per game and is shooting a stellar 50.3 percent from the field. He's done all that despite not having dominated a game yet, creating a perception among some that he can reach an even higher level. His one area of weakness has been 3-point shooting: the freshman is only knocking down 21.3 percent of his shots from deep. Much like his teammates, he could also stand to improve at the free-throw line. But despite those struggles, he's off to an outstanding start to his IU career.
• Juwan Morgan hasn't missed a beat since last year: The senior has been outright dominant at times, most notably in his career-high 35-point performance against Butler and in his triple-double against Jacksonville, only the second in program history.
His passing from the post is impeccable — he's third on the team in assists at 2.9 per game, only behind point guards Rob Phinisee and Devonte Green. His only limitation has been his tendency to get in foul trouble, which has improved in recent games. Morgan can take over a game if needed but he's also able to impact as a second or third option in a contest. He's just an invaluable player. If he continues at this pace he may find his NBA Draft stock rising.
• The Hoosiers don't have a consistent third scoring option… But they have a slew of players capable enough to be that option on any given night that makes up for the lack of consistency.
Between Justin Smith, Devonte Green, Rob Phinisee, Evan Fitzner and Al Durham (who would win a "Most Improved Hoosier" award so far), Indiana has plenty of guys who can step up. A more consistent option would likely ease some long-term concerns, but there isn't a shortage of options on this team.
Back to Durham: He's one of the better 3-point shooters on the team at 41 percent, and that has been key in several games. His confidence is on another level compared to last year, and it's no surprise his role has increased in turn. He's putting up 8.5 points per game, and that includes his two-game scoreless slump in the Louisville and Butler contests. Outside of those games, he's scoring in double digits. He's been a revelation for the Hoosiers this year.
Filed to: Juwan Morgan, Romeo Langford