What to expect: Central Arkansas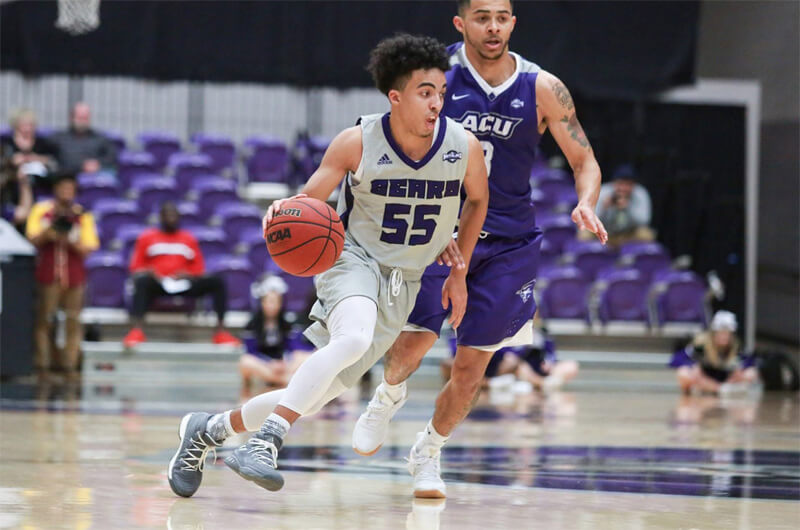 Indiana returns to Simon Skjodt Assembly Hall on Wednesday for the first of a three-game homestand. The Hoosiers will host Central Arkansas, which is 4-6 and is coming off of an 82-70 loss at New Mexico.
The game will be broadcast at 7 p.m. ET on BTN with Kevin Kugler and Shon Morris on the call:
After four straight wins decided by three points or less, Indiana may finally get a breather this week.
The Hoosiers will conclude the non-conference portion of their 2018-19 schedule with games against Central Arkansas and Jacksonville on Branch McCracken Court. And neither opponent figures to put up a major fight.
First up is Central Arkansas, which has two wins over Little Rock (home and away) and two wins over non-Division I opponents. The Bears are 1-6 in true road games and those six defeats have come by an average of 19.2 points.
MEET THE BEARS
Central Arkansas had its best season ever as a Division I program in 2017-18 as the Bears won 18 games and played in the CBI, a third tier postseason tournament.
This season, however, is looking like a step back following the graduation of Jordan Howard, the older brother of Marquette guard Markus Howard. Over four seasons at Central Arkansas, Howard scored 2,524 points and he averaged 25.1 points last season as a senior.
While Central Arkansas is likely to take plenty of lumps this season, Russell Pennell has a young roster that could blossom as a contender in the Southland Conference in the coming years.
The Bears are playing two freshmen and three sophomores heavy minutes and are led by 5-foot-11 guard DeAndre Jones. He's one of three players averaging double figures (13.9 ppg) and is a career 40.5 percent 3-point shooter on 131 attempts. Jones is currently 54th nationally in assist rate (33.1 percent) and may pose a challenge similar to the one Indiana got from 5-foot-9 guard TJ Shorts of UC Davis last month.
While Jones is undersized, the rest of the Central Arkansas lineup is not.
The team's third leading scorer is 7-foot center Hayden Koval, who averages 10.7 points and six rebounds in 25.7 minutes per game. As a freshman, Koval had the nation's 11th best block percentage, but he only has 11 blocks through 10 games as a sophomore.
Freshman Eddy Kayouloud missed two games recently (Little Rock and Louisville), but returned for the 12-point loss at New Mexico on Dec. 16. A native of Paris, France, Kayouloud is 6-foot-7 and 220 pounds and played at Oak Hill Academy last season. He scored 19 points in the season opener at Missouri and had 30 points at Troy. He's shooting 57.6 percent on 3s and 43.3 on 3s.
Senior Thatch Unruh provides experience for Pennell on the wing, but is just a career 31.6 percent 3-point shooter. Freshman Khaleem Bennett, a native of Ontario, has started all 10 games for the Bears and is averaging 8.7 points on 55.4 percent shooting.
TEMPO-FREE PREVIEW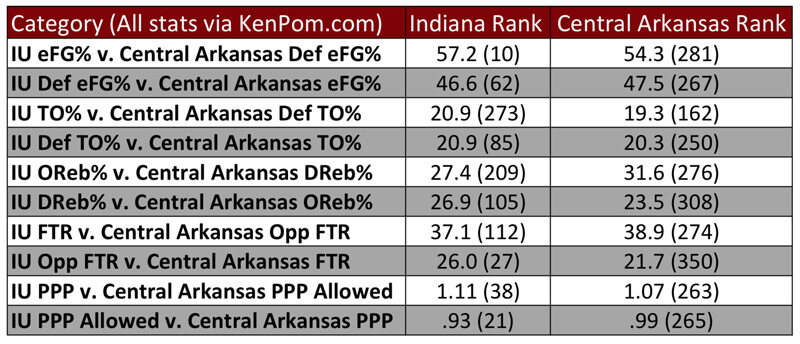 The tempo-free numbers for Central Arkansas are ugly across the board.
The Bears are one of the bottom four teams in the country in generating free throw attempts and are heavily reliant on the 3-point shot to score.
Central Arkansas is scoring 40.1 percent of its points on 3s and is shooting 35.5 from distance. That mark is respectable in that it ranks 128th nationally, but when the Bears have been cold from distance, they've been incapable of finding other ways to generate points. In a 45-point loss at Louisville, Central Arkansas was just 5-of-24 on 3s and only took seven free throws.
One area where Central Arkansas has been at least average is at forcing turnovers. The Bears rank 162nd nationally in defensive turnover percentage. Indiana, as has been well documented, has struggled to take care of the ball, so we'll be keeping an eye on the turnover totals and percentage for the Hoosiers.
WHAT IT COMES DOWN TO
The Ken Pomeroy projection is Indiana by 22 with a 98 percent chance of victory for the Hoosiers. The Sagarin ratings project Indiana to win by 26.
After a couple of closer than expected non-conference games to last month at home against UT Arlington and UC Davis, the IU staff is probably hoping that it can give its starters some well deserved rest in the later stages of this week's games. That would also provide the opportunity to get guys like Damezi Anderson, Clifton Moore and Jake Forrester some minutes before conference play resumes early next month.
While the results haven't always been pretty, Indiana is sitting in a great spot at 9-2 overall and a great chance to go to 11-2 before Big Ten play resumes in the new year.
Filed to: Central Arkansas Bears