Notebook: Down one of its best players, IU's other takes over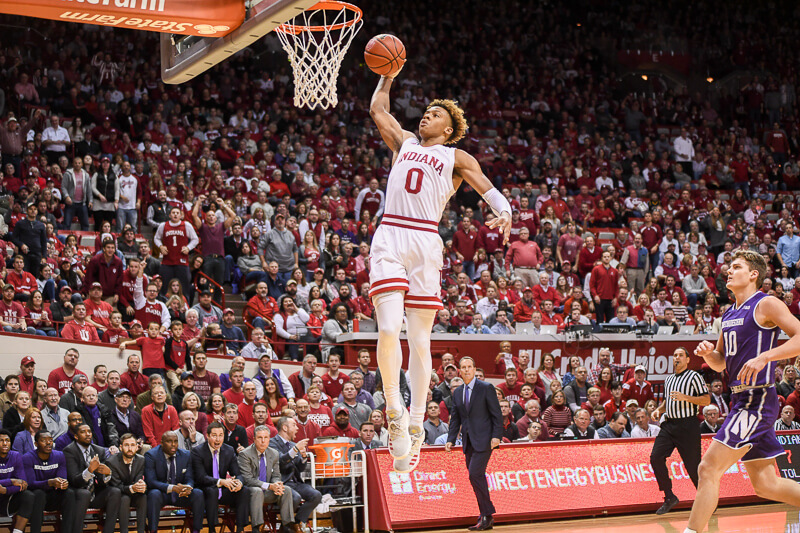 After Juwan Morgan limped off the floor with three minutes and 30 seconds to play in Indiana's win over Northwestern, Archie Miller pulled Romeo Langford aside near the IU bench and delivered words of motivation to his star freshman.
Though Langford doesn't recall the exact conversation – such things can be forgotten in the heat of a close conference game – he clearly got the message.
Langford played arguably his best game as a Hoosier on both ends of the floor – totaling a team-high 20 points on 13 shots to go with five rebounds, two steals, and two blocks – and Indiana needed every ounce of that production.
Prior to Morgan's exit, Langford had been picking his spots, spotting up and cutting for easy baskets and attacking when he had matchup advantages; Morgan's game accommodates that sort of play from his teammates. Even with Zach McRoberts in the game, Langford defended Vic Law for much of the second half and did so capably, taking away easy lanes to the basket and contesting every jumpshot. Save for losing track of Ryan Taylor for a 3-point attempt midway through the first half, Langford was as dialed in defensively as he has been all season.
Morgan, meanwhile, played his usual stalwart game inside, posting 17 points, 12 rebounds, three assists, two blocks, and two steals with a shooting line identical to Langford's. He carved Northwestern up as a roll man and vexed its bigs with an array of hooks, spins, and passes that kept the Wildcats guessing for the 36 minutes he was on the floor. In little time he wasn't, Langford sensed the opportunity to take over.
"I just felt like that was already stated without saying anything," Langford said.
Immediately out of the media timeout, the freshman zoomed around a screen for a layup, which he followed up with a rejection of Law's putback layup attempt on the following possession. With under a minute to play, he lofted a driving floater over Northwestern's defense to give Indiana a two-point lead, a margin that would hold through the final buzzer.
"Romeo obviously had a couple big finishes for us in the last couple minutes," Miller said. "[He] stepped up and made big plays."
Indiana will need more of them if it is to survive any prolonged stretch of time without Morgan, who is, at present, Indiana's most important player – if not its best player, full stop. His versatility stabilizes Indiana on both ends of the floor and provides a failsafe when things go awry. If any gap needs filling, odds are Morgan is up to the task. He is unselfish, but has no issue taking on a star's scoring mantle.
When Langford heats up, he can step into a secondary role. If the offense bogs down, he'll give it a jolt. Those two are still learning one another's games, and Miller is still learning how best to deploy them. Saturday is as close as Indiana has come to finding perfect balance, and still the margin of victory was a single bucket.
Langford is no complementary scoring option, but alongside Morgan, he has the option to be one. The nature of Morgan's injury is still unknown, but if it proves significant, sequences like the final four minutes of Saturday's game must become more regular occurrences for Indiana's star freshman.
In appreciation of Vic Law
In last Tuesday's postgame email over at The Assembly Call, I used 200 words to reflect on the wonders of watching Zion Williamson play basketball, and I'd like to do the same for Northwestern's Vic Law, who quietly posted 16 points and nine rebounds against Indiana on Saturday.
Law has long been one of the best 3-and-D players in the Big Ten, having earned all-defensive honors in Northwestern's magical 2017 season and shot better than 38 percent from deep in each of the last three seasons. This season, he's added to his game in meaningful ways as a passer and ball-handler for a team thin on perimeter creation, and drastically improved his efficiency despite a much more substantive role.
Even Langford, a talented, multifaceted scorer, struggled to create separation against the long arms (and quick feet) of Law, who drilled contested shots over IU's best defenders on the other end of the floor. His lofty early-season numbers may not hold, and it's unclear if he has a long-term future at the next level, but some NBA team should give him the chance to find out.
Filed to: Juwan Morgan, Northwestern Wildcats, Romeo Langford