Five takeaways from Indiana's win over Northwestern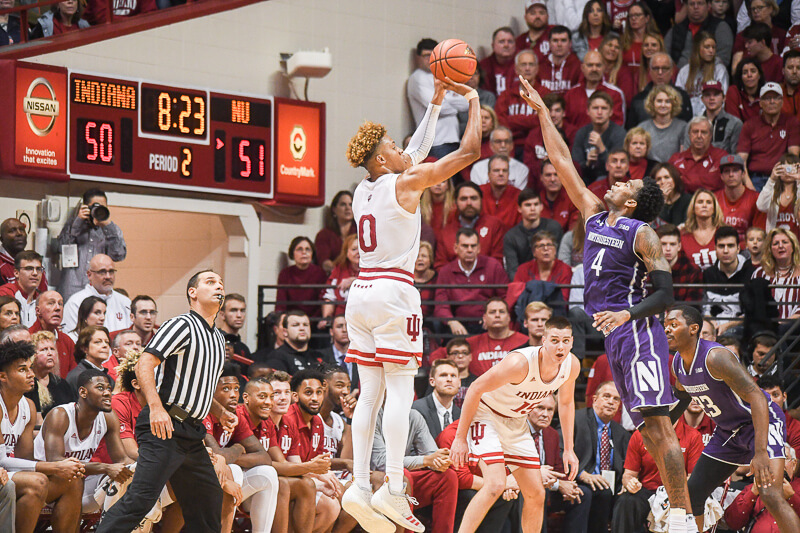 Indiana earned a hard fought 68-66 win over Northwestern on Saturday afternoon at Simon Skjodt Assembly Hall. The win improved the Hoosiers to 6-2 overall and 1-0 in conference play.
Here's a look at five takeaways from the win over the Wildcats:
• Indiana again finds a way to win a close game: In late November, Indiana was unexpectedly challenged in non-conference home games against UT Arlington and UC Davis.
Those hard fought wins may have paid off on Saturday afternoon.
Indiana found itself in a nip and tuck affair on its home floor and once again, the Hoosiers found a way to prevail. Even more impressive about the way Indiana finished was that it did so without its senior leader in Juwan Morgan.
When Morgan exited with a right leg injury at the 3:30 mark of the second half, Indiana trailed 61-58. The Hoosiers responded with a Romeo Langford bucket and a pair of Devonte Green free throws to grab the lead with 2:43 to play. After Vic Law scored on a baseline out of bounds lob play, the Hoosiers tied the game when Justin Smith hit one of two free throw attempts.
From there, Langford hit a tough shot from just outside the lane to put IU ahead by two and the lead stretched to four on a Smith layup. The Hoosiers never relinquished their lead despite a Ryan Taylor heave at the buzzer that would have won it for Northwestern.
It was a closer than expected result, but another example of Indiana gutting out a shorthanded win.
• Turnovers improve down the stretch: Indiana wasn't perfect in terms of taking care of the ball on Saturday, but the Hoosiers made significant improvement from Tuesday's performance at Duke.
Indiana finished with just 13 turnovers in the narrow win for a turnover percentage of 19.1. More importantly, the Hoosiers didn't commit a turnover in the final 7:08.
Indiana still has a long way to go – the Hoosiers rank 271st nationally in turnover percentage as of Saturday afternoon – but Archie Miller believes the improvement will come as his team continues to get more reps together.
"When you play and you're in long stretches with certain groups, you kind of know how to play off of guys," Miller said. "You know who to trust. You obviously know who to pass the ball to when at times. I think when you're unfamiliar with the lineup or a group, maybe that pass that you're willing to make to somebody isn't the pass you're willing to make to this guy because you don't really know.
"I think it all comes with time. We're getting completely tested right now. We're learning on the run. And this is a great film, obviously, with great opportunity for us to continue to kind of show how we have to play."
• Free throws continue to linger as a major issue: If Indiana hadn't come through with a win on Saturday afternoon, its performance from the free throw line would have been a major reason why.
The Hoosiers did nothing to improve their standing from the foul line with an 11-of-19 performance from the stripe against Northwestern.
Through eight games, Indiana is shooting 62.4 percent from the line as a team. In a Big Ten that looks more competitive than expected in the preseason, it's a glaring deficiency that could hurt Indiana in close games.
• Langford takes over when it counts: Langford scored 11 of his team-high 20 points in the second half with seven of the points coming the game's final 8:20.
The most important of those buckets came when Langford gave Indiana the lead for good on a runner just outside the paint with 39 seconds remaining.
"Juwan went down, got injured," Langford said. "We just knew that it was crunch time and we still gotta do what it takes to win, and coach drew a play up and we executed."
• Hoosiers have no answer in the post for Pardon: In his postgame press conference, Northwestern coach Chris Collins admitted that his plan was to go right at Indiana's Juwan Morgan in the post with Dererk Pardon.
The 6-foot-8 senior delivered in a major way for Collins as he scored a game-high 24 points and hit 11 of his 15 2-point attempts.
"We knew they were going to go at him (Pardon) so I mean when Morgan plays at the center position you know they feel they have a mismatch pretty much every night at that spot, and they do," Collins explained. "But we felt we had to go back at him and keep him honest. You know, he's a four man playing the five. We wanted to attack him the same way they were attacking our big man."
Filed to: Northwestern Wildcats, Romeo Langford