What to expect: Northwestern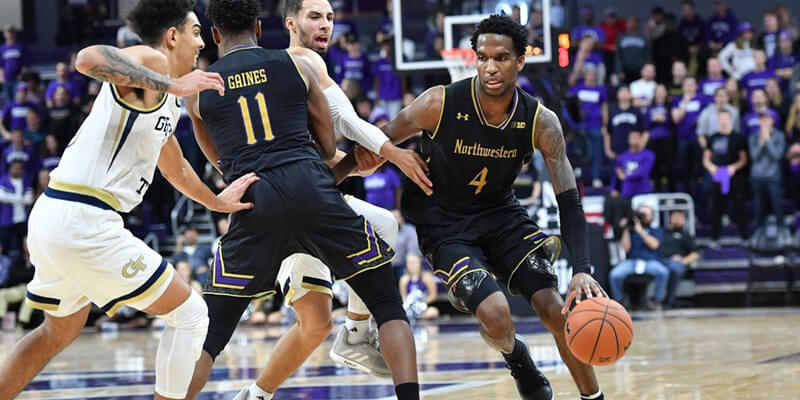 Indiana opens Big Ten play this weekend as the Hoosiers host Northwestern on Saturday at Simon Skjodt Assembly Hall. The Wildcats are 6-1 and are coming off a 67-61 win over Georgia Tech in the Big Ten-ACC Challenge.
The game will be broadcast on BTN at 1 p.m. ET with Brandon Gaudin and Robbie Hummel on the call:
Indiana must quickly move past Tuesday's 90-69 beatdown at Duke as an important four-game stretch begins Saturday afternoon in Bloomington.
In a span of 15 days, Indiana will host Northwestern, travel to Penn State, host Louisville and play Butler at Bankers Life Fieldhouse in the Crossroads Classic. How the Hoosiers emerge from this upcoming stretch could set the tone for the remainder of the season.
Archie Miller owned the disappointment at Duke because it is his job to do so, but IU's lackluster performance has to be a rallying cry for the players on the roster. In many ways, Indiana beat itself with careless ball handling and an overall lack of focus. With three full days to prepare, will the Hoosiers be ready to bounce back?
MEET THE WILDCATS
After a 2017 run to the NCAA tournament round of 32, Northwestern regressed last season and missed the postseason altogether.
The Wildcats graduated backcourt stalwarts Bryant McIntosh and Scottie Lindsey, but have an interesting mix of wings on this year's roster.
The first thing that stands out when examining the Northwestern roster is the size of its most frequent lineup. The Wildcats go 6-foot-4, 6-foot-6, 6-foot-6, 6-foot-7 and 6-foot-8 and have solid length at almost every position.
Senior Vic Law is Northwestern's best player and is off to a very good start in his final season. The Chicago-area native is averaging a team-best 17.9 points per game and is shooting 44.1 percent from deep. Per Synergy, Law has been effective in spot-up situations (1.21 points per possession) and as the ball handler in pick-and-roll situations (1.63).
He's also the team's best defender and has publicly declared that he's ready to take on the challenge of guarding Romeo Langford. "(I am) just going to guard him like normal," Law said this week, according to The Daily Northwestern. "I'm athletic too. I hope he's ready."
Joining Law on the wing for Northwestern are junior A.J. Turner and graduate senior Ryan Taylor.
Turner, a transfer from Boston College, sat out last season, but is averaging 10.1 points through seven games. After shooting 37 percent on 3s as a sophomore at Boston College during the 2016-17 season, Turner was expected to bring a solid shooting touch to Evanston. So far, it hasn't materialized as he's shooting just 16.7 percent on 3s and is scoring just .66 points per possession in spot-up situations, per Synergy.
Taylor was a major get for Northwestern on the grad transfer market, but has struggled with his efficiency so far at the high major level. The Evansville transfer is shooting just 39.1 percent from the field, but is second on the team in scoring at 14 points per game. Over 65 percent of Taylor's field goal attempts have come from behind the 3-point line.
Sophomore Anthony Gaines is playing the majority of the point guard minutes with freshman Ryan Greer and senior Jordan Ash serving as backups. Gaines has been turnover prone (30.9 TO%), but is averaging a respectable 5.1 points and 3.6 rebounds per game.
A pair of 4-star freshmen, 6-foot-10 Pete Nance and 6-foot-7 Miller Kopp, are earning backup minutes at the forward and wing spots. Kopp is shooting 46.2 percent on 3s while Nance is hitting 35.7 percent from deep.
Senior Dererk Pardon is the anchor in the frontcourt for Northwestern and is averaging close to a double-double. Pardon's 12.3 points per game are third on the roster and his 9.6 rebounds per game lead the team. At just 6-foot-8, Pardon doesn't play above the rim, but he's a very good offensive rebounder (18.5 OR%) and gets to the foul line a lot (83.3 free throw rate). Given Juwan Morgan's tendency this season to pick up early fouls, that will be a matchup to watch early in the game.
Junior Barret Benson is Pardon's backup and is averaging three points and 4.3 rebounds in 10.3 minutes per game.
TEMPO-FREE PREVIEW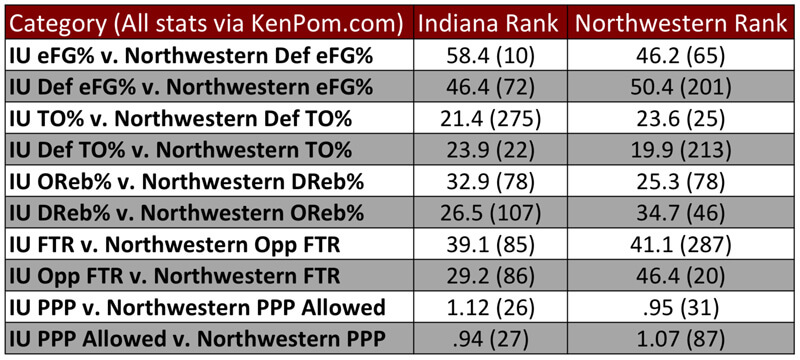 Until Indiana proves it can take care of the ball reliably, turnovers are at the top of the list of keys for the Hoosiers. Both teams are turning their opponents over while also struggling to take care of the ball. After allowing Duke to score 19 points off turnovers in the first half on Tuesday, improved ball handling is a must for Indiana.
Free throws are also likely to be a key factor as Northwestern is just 287th nationally in opponent free throw rate. Indiana is going to get to the line in this game, but will that be a good thing? The Hoosiers are shooting only 62.9 percent from the line.
Northwestern, meanwhile, generates a lot of its offense from the foul line. According to KenPom.com, 25.2 percent of Northwestern's points are coming from free throws. That's the 17th highest percentage in the country. Through seven games, Indiana is only allowing opponents to generate 16.4 percent of their points from the foul line, so this is a key stat to monitor on Saturday afternoon.
WHAT IT COMES DOWN TO
Pomeroy likes Indiana by 7 and the Sagarin ratings like the Hoosiers by 9.5. If Indiana is going to contend in the Big Ten this season, the Hoosiers must take care of business on their home court, particularly against the teams projected to finish in the bottom half of the conference.
Archie Miller didn't mince words after Tuesday's loss at Duke and drove home the point that the Hoosiers would quickly get back to work to improve on their deficiencies.
With more players available than in their last home game and three full days to prepare, Saturday provides IU an opportunity to get off to a positive start in league play and to get some momentum heading into State College on Tuesday.
(Photo credit: Northwestern Athletics)
Filed to: Northwestern Wildcats