Notebook: Turnovers still an issue in IU's loss to Duke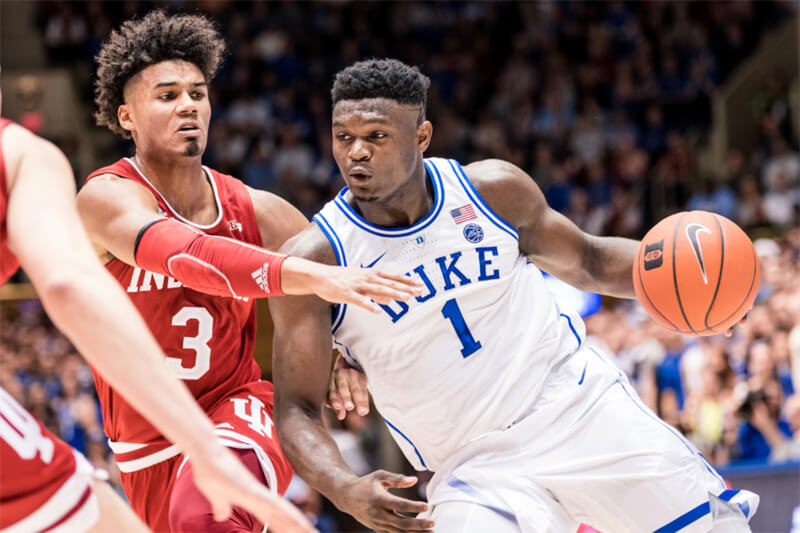 DURHAM, N.C. – Turnovers have become an alarming problem for Indiana, and the trend continued in its 90-69 loss to No. 3 Duke at Cameron Indoor Stadium on Tuesday.
The Hoosiers committed 20 turnovers — their highest mark of the season — including 13 in the first half. And the cause of the turnovers continued to be concerning, as many errors were unforced.
The play that will get much of the attention is Rob Phinisee's bad pass that was stolen by Zion Williamson and promptly windmill dunked on the other end, but Duke scored 24 points off of turnovers. That's significant in a 21-point loss. Archie Miller said the Hoosiers must correct those mistakes going forward.
"We've got to get better at handling the ball," Miller said. "We really do. You cannot play turning the ball over like that. And it's not just one guy right now. We have a lot of guys. So we've got to kind of look and see if we can put some guys maybe in some better positions. And that's on us, as a staff, as a coach, you've got to put your guys in better positions to be successful, and we have to do that moving forward."
Justin Smith was perhaps the sloppiest of the bunch, committing five first-half turnovers which led to the sophomore only playing four minutes in the second half. Phinisee finished with four, and Devonte Green had three in his return to action.
Juwan Morgan suggested the hostile environment was a factor in the turnovers.
"That was just lack of concentration," Morgan said. "We have to be dialed in, we have to be sharper with the ball, we have to make our cuts and we have to be sure of our passes. I don't think guys were really doing that, and I think we let the crowd get to us."
After a promising start to the season in the turnover department, the Hoosiers have averaged 17.8 turnovers per game in their last four games. Carrying that over into Big Ten play would make most games an uphill battle.
Hoosiers had no answer for Zion Williamson
The highly-touted Williamson is a matchup nightmare at 6-foot-7 and 285 pounds. He's built like an NFL tight end. Most teams won't have a good counter for a player like that, and Indiana was no different.
Williamson was able to get basically whatever he wanted in the paint. He shot 11-for-15 for 25 points with six rebounds, two blocks and two steals. He treated the rim as if it was giving him dirty looks all night, and the Hoosiers did precious little to prevent that from happening.
Smith was tasked with guarding him to start the game, but he quickly proved no match for Williamson's size and agility. When IU switched different defenders on him, the result was the same. Morgan acknowledged the difficulty of defending a player like Williamson.
"It's pretty tough," Morgan said. "He's a freak athlete. He knows how to get to his spots, as all great players do. And as a defender, I try to pride myself on defense, and it's tough to take a guy like that, especially when he has size on you. But it doesn't matter. If it doesn't get done, it doesn't get done, and I think, again, I'll take that on my shoulders for not getting it done on that side of the ball."
Romeo's first stumble
Even when he hasn't been the star of the game, Romeo Langford had been effective and important for the Hoosiers in every game. But with three star freshman on the other sideline in Williamson, RJ Barrett and Cam Reddish, Romeo had his least efficient game of the season.
While he still managed to lead the team in scoring with 13 points, he shot just 3-for-15. Most of his points came at the free throw line, where he shot 7-of-10. He was 0-for-4 from 3-point range, and he committed two turnovers.
Duke's size caused Langford a lot of problems when he drove into the lane, and the issues worsened as the game went on — he actually started the game shooting 2-for-3. While he certainly didn't appear rattled by the tough environment, the Hoosiers needed a better outing from their star freshman.
However, Miller isn't concerned about Langford going forward.
"They didn't have [Langford] out of stride," Miller said. "They're big. They're long. There's very few guys that are his size or bigger than can keep him in front, and he had a lot of opportunities at the basket that were challenged. They got great size and length, you know you're not going to get much in terms of easy calls, and they made him work for things. Times that we did have opportunities or at the rim, we just didn't convert. I'm not real worried about that."
(Photo credit: Duke Athletics)
Filed to: Duke Blue Devils