What to expect: Duke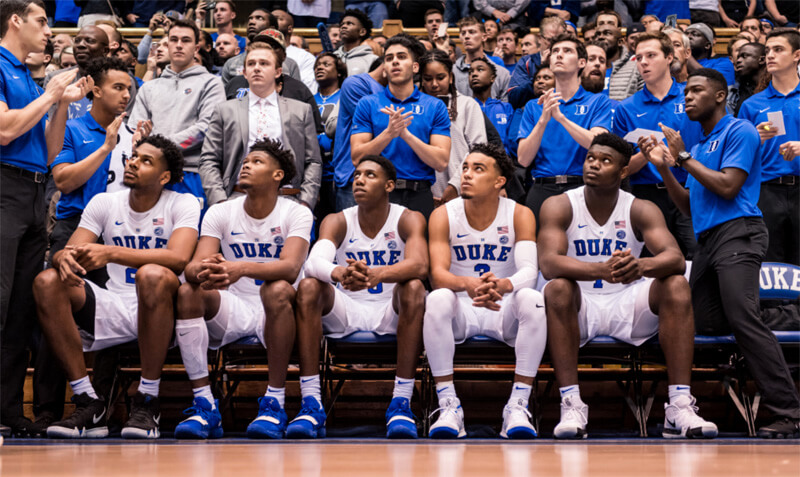 Indiana is back on the road Tuesday night as the Hoosiers travel to Durham to face No. 3 Duke in the Big Ten-ACC Challenge. The Blue Devils are 5-1 and are coming off a loss to Gonzaga in the Maui Invitational final.
The game will be broadcast at approximately 9:30 p.m. ET on ESPN with Dan Shulman, Jay Bilas and Allison Williams on the call:
Is Indiana getting healthy? The answer to that question could go a long way in determining just how competitive tonight's game at Cameron Indoor Stadium will be.
Injuries have set the Hoosiers back substantially this month as Devonte Green, Zach McRoberts, De'Ron Davis, Race Thompson and Jerome Hunter have all missed varying amounts of time.
It's no excuse and Archie Miller hasn't made it one, but it is reality for a team that had to limp through a pair of tougher-than-expected games last week because of limited depth. Now, it appears that a return from Green and McRoberts is imminent just as the schedule gets much tougher.
Indiana enters tonight's game as a double-digit underdog against one of the nation's best teams, but it's an opportunity for the Hoosiers to get another valuable experience on the road with the start of Big Ten play looming this weekend.
MEET THE BLUE DEVILS
Unlike last season's dysfunctional Duke team that had poor point guard play, a few selfish superstars and limited depth, this version of the Blue Devils is the favorite to cut down the nets in Minneapolis.
Mike Krzyzewski has assembled a collegiate big three that includes RJ Barrett, Zion Williamson and Cam Reddish and he's also made a significant upgrade at point guard with Tre Jones. Unlike last year's Duke team, this group doesn't seem to care who gets the shots or the attention, which says a lot about the maturity of each of the freshmen.
The Blue Devils steamrolled Kentucky in the season opener in Indianapolis before beating Auburn by six in the Maui Invitational semifinals and then falling to Gonzaga in the Maui Invitational final.
Williamson has deservedly garnered a ton of national headlines through the first few weeks of the season, but Barrett is the likely No. 1 pick in next June's NBA draft.
The 6-foot-7 Canadian forward is Duke's leading scorer at 22.8 points per game through six games. Barrett is shooting 44.8 percent on 2s, 31.6 percent on 3s and 62.2 percent from the line while using 33.5 percent of Duke's possessions.
Williamson, meanwhile, is firmly in the mix in the early season national player of the year conversation.
A ridiculous physical specimen at 6-foot-7 and 285 pounds, the South Carolina native has scored 21 or more points in four of Duke's six games. He's shooting 70.1 percent on 2s and when Williamson gets a straight line drive to the basket, he's unstoppable. Beyond the raw physical power, he's also in the top 70 percent nationally in block percentage and is in the top 40 in offensive rebounding percentage.
Reddish is Duke's "third" option offensively, but is averaging a stout 15.7 points per game and is shooting 43.2 percent on 3s. At 6-foot-8, he has the perfect size to be a two or a three in the NBA.
Jones, the younger brother of Tyus, is the perfect point guard for this group because he doesn't need a lot of shots to be effective. The steady play and composure of Jones is a big reason why Duke's turnover percentage as a team is so low (14.5 percent) and he acts as a perfect facilitator for Duke's big three.
Four other Blue Devils are in the rotation, but none of them average more than 7.7 points per game.
Juniors Marques Bolden and Javin DeLaurier split time at the five while junior Jack White and sophomore Alex O'Connell both play backup minutes on the wing. White is hitting 37.5 percent of his 3s and O'Connell is a career 48.3 percent shooter from distance.
TEMPO-FREE PREVIEW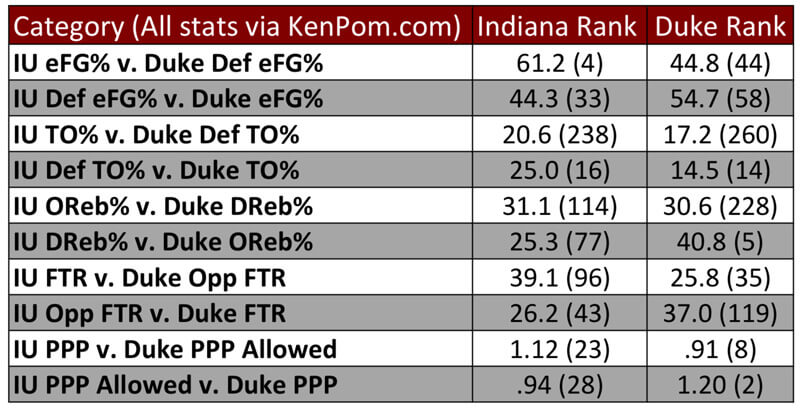 The first number that immediately stands out when examining Duke's profile is just how well they take care of the ball. Despite being in the bottom 10 in KenPom's experience metric, the Blue Devils have the 14th lowest turnover percentage in the country.
The Blue Devils are also relentless on the offensive glass as they are grabbing 40.8 percent of their missed shots. The Hoosiers have been solid on the defensive glass through six games, but haven't had to deal with an opponent anywhere close to the caliber of Duke to this point.
If Indiana is going to keep this game within striking distance, the Hoosiers have to stay competitive in second chance points and points off turnovers. Duke has been a poor defensive rebounding team so far and doesn't force many turnovers, so Indiana has to produce a solid performance in both areas to have a chance.
WHAT IT COMES DOWN TO
In a pure grab for TV ratings, this is the third time that ESPN has matched Indiana and Duke up in this event in four years. All three meetings have tipped at 9:30 p.m. or later. Two of the meetings have been in Durham and IU's last trip to Durham went poorly as the Blue Devils won by 20. You can be sure tonight's broadcast will be filled with references to where Barrett, Williamson, Reddish and Romeo Langford fit in on the World Wide Leader's most recent mock draft on ESPN +.
The Vegas line opened with Indiana as a 13-point underdog and as of Tuesday morning, sits at Duke by 15. The KenPom projection favors Duke by 11 (84 percent chance of a Duke win) and Sagarin likes the Blue Devils by 10.
There's really no downside for Indiana in this game from an NCAA tournament resume perspective as a loss isn't going to hurt and a win would sit atop the resume for the duration of the season.
Historically, teams haven't been great in their first time out following a trip to Maui, but that isn't likely to be an issue for this Duke team. The Blue Devils will be hungry to get back in the win column following a disappointing loss to Gonzaga and Indiana doesn't have a great matchup defensively for either Williamson or Barrett.
(Photo credit: Duke Athletics)
Filed to: Duke Blue Devils