News and notes from Archie Miller's radio show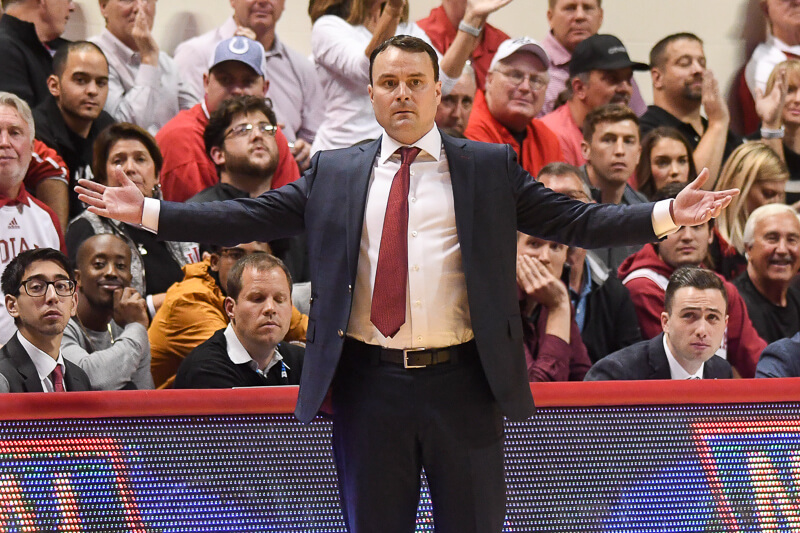 Monday night's edition of the Archie Miller radio show included reflections on a week that included an IU win over Marquette and a nail-biting loss to Arkansas. Miller discussed his impressions of the team four games into the year, the freshmen making an early impact, injuries, and much more.
Here are the highlights from Miller's discussion with Don Fischer:
• Miller was pleased with the way his freshmen, namely Romeo Langford and Rob Phinisee, played in the Marquette game. Langford and Phinisee were plus-28 and plus-23, respectively against the Golden Eagles, and each was instrumental in keeping Indiana's offense humming. "You could tell that when those guys were on the floor, they had something good going on," Miller said.
• He also noted that both players played far too many minutes against Arkansas, and that the Razorbacks' full-court press and all-out defensive intensity wore IU's freshmen down a bit. "I thought both of them looked tired at times," Miller said. Unfortunately, IU didn't have the option of giving them much rest, as Zach McRoberts and Devonte Green were unavailable due to injury. Still, Miller was impressed with Langford and Phinisee. "Romeo kept us alive in the first half," he said. "Rob got better in the second half."
• The loss to Arkansas marked the first road test and the first dose of adversity for the Hoosiers. Miller said that the environment in Fayetteville was a difficult one to play in, and that Arkansas' pressure sped Indiana up and made the Hoosiers play out of character. Rather than taking advantage of the advantages the full-court press allowed, Indiana became hurried instead. "I thought their defense really pushed our offense out," Miller said.
• When asked about Indiana's 18 turnovers and just 13 assists, Miller was quick to expound upon his team's offensive woes. He felt his team "wasn't tough-minded" and "didn't have poise" when it needed to. "We were a soft offense in general in the halfcourt," Miller said. "You can't play with 18 turnovers and win, especially on the road against good teams."
• Still, the head coach liked the way his team responded to adversity over the final eight minutes of the game, and said that the combination of Juwan Morgan and De'Ron Davis allowed Indiana to climb back into the game. It wasn't enough, however, and Miller made no excuses for a one-point loss despite the silver linings of the result. "We just weren't good enough on either end to make winning plays in those last four minutes," Miller said. "I thought our team was really starting to gain some momentum and some confidence… But you have to move on."
• In particular, Miller felt that Davis was pivotal in IU getting back into the game on Sunday, and the big man has been making strides toward full health. The last two games have been Davis' highest minute totals of the young season, and Miller felt that he was the team's best screener in those contests. He also noted Davis' defensive performance on Daniel Gafford and unselfish play on offense as highlights of the Arkansas game.
• Davis has cut down on fouling this season, and while part of that is due to reduced playing time, Miller also sees improvement in the way Davis is defending. The coaching staff emphasized staying vertical while contesting shots and remaining disciplined throughout possessions, and Davis, so far, has responded.
• In addition to McRoberts and Green, Jerome Hunter appears set to miss extended time with a lower leg condition. The program is still waiting on a definitive time table for Hunter, who is still at the Cleveland Clinic and will have more information once he leaves the hospital. The coaching staff flew to Cleveland after the game against Arkansas to check in on Hunter, and Miller is hopeful that the freshman will rejoin the team on Wednesday. "Hopefully this is one of the humps that he overcomes," Miller said.
• Green and McRoberts are both day-to-day, while Race Thompson will be out for the foreseeable future as he goes through concussion protocol. Miller described Green and McRoberts as "vital" to IU's success, and emphasized the importance of depth as a means of additional production and keeping players fresh. "We're only going to be as good as our deepest team can be," Miller said.
• Indiana officially picked up a big recruit last week, as Indiana guard Armaan Franklin signed with the Hoosiers on Wednesday. Miller is thrilled with what Franklin will offer next season, and feels that IU's commitment to player development helped draw in the Cathedral High School star. He added that Franklin's talent and character could allow him to make an impact as a freshman. "He really fits the style of player that we want to recruit on the court and off the court," Miller said. "He embodies, I think, everything that's about the good in college basketball."
• While no other players officially inked commitments to become Hoosiers, Miller and the coaching remain active on the recruiting scene and have several other players in their sights for 2019. "Recruiting never stops," Miller said. "The class will keep evolving and our needs will keep evolving."
• On IU's 55.6 percent shooting from the field, the third best mark in college basketball: "We just continue to try to harp on getting good shots," Miller said, adding that an inside-out approach predicated on dribble penetration, kickout passes, and transition scoring has led to high shot quality. While IU's halfcourt offense can occasionally bog down, having go-to scorers like Langford and Morgan has helped smooth any rough edges.
• Miller also feels that Indiana can remain an elite three-point defense. The Hoosiers currently rank second in the nation in that category, and Miller says it begins with staying in front of the ball and preventing catch-and-shoot looks as a result of liberal help defense and contesting every shot. "Making shots challenged is always the goal for our defense," Miller said.
• Speaking of which, Indiana held Markus Howard to a relative off night last Wednesday, which Miller attributed to making the guard feel pressure as soon as he crossed halfcourt, preventing him from gaining a head of steam toward the basket or pulling up for three. Durham and Phinisee were crucial in that endeavor, and Miller was proud of how those guards took on that challenge. After the first few minutes of the game, Miller felt IU was able to establish its presence on defense and take away some of Howard's confidence.
• Finally, Miller briefly previewed IU's matchup with UT Arlington on Tuesday. He expects the Mavericks to play similarly to Arkansas, applying heavy ball pressure, denying passing lanes, switching screens, and playing extremely hard for the duration of the contest. Arlington has plenty of skilled guards, and Miller says he looks forward to the challenge of stopping them.
Filed to: Archie Miller