What to expect: Montana State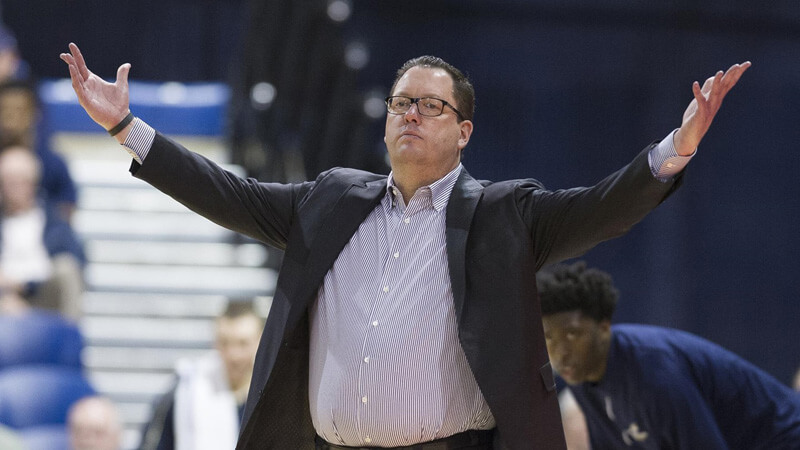 Indiana is back in action on Friday night at Simon Skjodt Assembly Hall in the first of four games in the Hardwood Showcase. The Hoosiers will host Montana State, which lost its season opener to Utah State, 101-71.
The game will be broadcast at 8 p.m. ET on BTN with Mike Monaco and Stephen Bardo on the call:
Tuesday's season opener against Chicago State taught us little about Indiana and it appears Friday's opponent, Montana State, has little chance to give the Hoosiers a challenge.
The Bobcats, members of the Big Sky Conference, lost by 30 in their opener on their home court to Utah State. For a team picked in the middle of its conference, it was not an inspiring debut.
Montana State allowed Utah State to score 1.31 points per possession and gave up a 37-point outburst to Aggie guard Sam Merrill. This is Indiana's final tuneup before Wednesday's showdown against Marquette in the Tipoff Games, which should be the first real opportunity to learn where this group of Hoosiers stand.
MEET THE BOBCATS
Montana State is led by Seymour native Brian Fish, who served as an assistant at Marshall, Kansas State, Creighton, TCU, San Diego and Oregon before taking over in Bozeman in 2014.
This is Fish's fifth season at the helm and the Bobcats had their best season in 2016-17 with a 16-16 finish.
The clear headliner on the roster is Tyler Hall, a 6-foot-5 senior guard who averaged 17.5 points last season and scored 15 in the opener. Hall is a career 40 percent 3-point shooter and is just 160 points shy of becoming the program's all-time leading scorer. He's also very good from the free throw line at 86.9 percent for his career.
Hall is flanked in the Bobcat backcourt by junior guard Harald Fray, who averaged 13.5 points, 3.2 assists and 3.1 rebounds last season. Hall, a native of Norway, can also knock down the 3 (38.4 percent for his career).
Russell Daniels, a 5-foot-11 guard, started in the season opener alongside Hall and Fray in the Montana State backcourt. He's a junior college transfer from Southwest Florida Community College and scored six points in 22 minutes against Utah State.
Keljin Blevins, the team's third leading scorer last season, also returns. The 6-foot-6 forward wasn't very efficient last season as a junior after transferring from Southern Miss as he shot just 45.5 percent on 2s and 24.3 percent on 3s.
Joining Blevins in the frontcourt is 6-foot-11 Devin Kirby, who redshirted last season. Kirby played limited minutes in 2016-17 as a freshman and averaged 1.3 points and 1.5 rebounds per game.
Three other potential impact players for Montana State are 6-foot-11 senior Usman Haruna, 6-foot-5 junior Ladan Ricketts and 6-foot-7 senior Sam Neumann. Haruna, who transferred from East Carolina, had nine points off the bench in the opener and Neumann was the team's second leading rebounder last season.
TEMPO-FREE THOUGHTS
On his radio show earlier in the week, Archie Miller said he expects Montana State to play some matchup zone, but the numbers say the Bobcats are unlikely to offer much resistance defensively.
After finishing last season 302nd nationally in adjusted defensive efficiency, Montana State was torched for 101 points in their opener.
Two things that Montana State's team did well a season ago is take care of the ball and get to the foul line. For the most part, Fish's teams at Montana State have been very good at taking care of the ball as the Bobcats have posted a turnover percentage of 17.3 percent or lower the past three seasons.
"They're coming in with a philosophy that is very similar to Oregon," Miller said on Monday. "A former staff member at Oregon, he's brought that Dana Altman style of play which we'll see later in the year when we play Illinois."
WHAT IT COMES DOWN TO
The Pomeroy prediction is Indiana by 24 with a 98 percent chance of victory and Sagarin likes Indiana by 28 on its homecourt.
One of the key storylines entering the game is Indiana's health. Devonte Green returned for the season opener, but the Hoosiers were without Race Thompson, Al Durham Jr. and Jerome Hunter. With two tests on the horizon next week, Indiana's depth is a bit thinner than expected. Thompson and Hunter both missed the exhibition last week as well as the season opener, but little has been disclosed in terms of a timetable for their returns.
Regardless of who is available, this is an opponent that Indiana should handle easily. After some defensive lapses against Chicago State, the Hoosiers have plenty to clean up in this game with a showdown against a potent Marquette offense looming next week.
Filed to: Montana State Bobcats