Big Ten's top 25 players for 2018-19: 20-16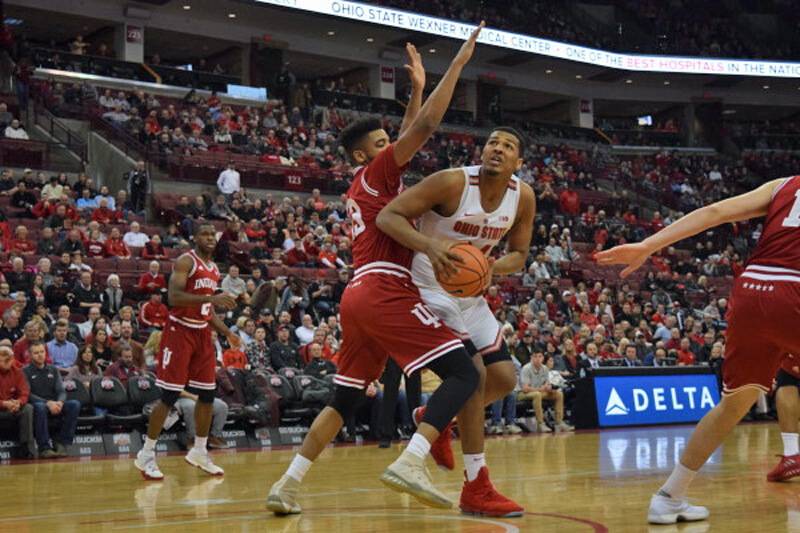 With the official start of practice quickly approaching, UMHoops and Inside the Hall have again partnered to bring you a preseason breakdown of the top 25 players in the Big Ten for the 2018-2019 season.
Our selection process involved much deliberation to arrive at a list we hope will provide plenty of reaction and debate. The series will be broken into five parts and our second installment of players 20-16 is available below (Previously: 25-21):
20. Kaleb Wesson, Ohio State (6-foot-9, center, sophomore)
A traditional back to the basket big man, Wesson was highly productive as a freshman under Chris Holtmann. He was the Big Ten's second best offensive rebounder in conference play and had the third best offensive rating in league games. With his size – 270 pounds – Wesson is a matchup problem in the post and he was excellent at getting to the line as a freshman (64.8 percent free throw rate). The challenge for Wesson as a sophomore will be duplicating his success without Big Ten player of the year Keita Bates-Diop alongside him in the lineup. He's now the clearcut go-to scoring option in the Ohio State frontcourt. Conditioning is also a question for Wesson after he averaged just 20.7 minutes per game in his first season.
19. Joshua Langford, Michigan State (6-foot-5, guard, junior)
Only one of the 18 prospects who were ranked ahead of Langford in the 2016 recruiting class is still in college. Langford spent most of his first two years as a peripheral option for the Spartans, but will likely shoulder a more significant workload without Miles Bridges and Jaren Jackson. The 6-foot-5 junior averaged 11.7 points and 3 assists per game while shooting 40.4% from 3-point range last season. His efficiency was dragged down by the shots he didn't take behind the line as he shot just 44% on 2-pointers due to his old school love for the mid-range jump shot.
18. Bruno Fernando, Maryland (6-foot-10, forward, sophomore)
Fernando flirted with entering the NBA draft in the offseason before ultimately deciding to return for his sophomore season. The Angola native showed flashes of potential in his debut season as he ranked in the top seven in Big Ten play in both offensive and defensive rebounding percentage. His decision to return to school, however, appears to be a good one given the NBA's continued shift toward small ball lineups and a continued emphasis on big men being able to stretch the floor. Fernando showed only limited ability to step out as a freshman and that will remain a question mark in his game until he proves otherwise. Given the dearth of big men in the Big Ten, Fernando will be a problem in the paint on most nights.
17. Jordan Poole, Michigan (6-foot-5, guard, sophomore)
Poole made the shot of Michigan's season to knock Houston off at the buzzer and now faces the expectations of being John Beilein's next breakout sophomore star. The 6-foot-5 sophomore played limited minutes last year (36.4% of Big Ten minutes) but he shot 50% on 2s and 42% on 3s in league games. He's one of Michigan's most dynamic playmakers with the ball and he should have ample opportunity to create out of ball screens as he steps into Muhammad-Ali Abdur-Rahkman's spot in the rotation. Poole needs to become more consistent with his defense and decision making, but if he's able to earn Beilein's trust he could easily play his way onto an All-Big Ten team by season's end.
16. Brad Davison, Wisconsin (6-foot-3, guard, sophomore)
In a 2017-18 season that didn't have many positives in Madison, Davison was a bright spot. The sturdy guard had a 30-point outburst late in the season against Michigan State and averaged 12.1 points over 33 games. And he did so while playing through a left shoulder injury that required surgery in March. Davison is now fully healthy and is expected to be a major part of what should be a much improved Wisconsin team in 2018-19. While he doesn't measure up in terms of athleticism or ability to finish above the rim to some of his peers, Davison appears to be the next in line of Wisconsin guards that have frustrated Big Ten opponents with grit and hustle.
Filed to: 2018-2019 Big Ten preview