Around the Hall: Oladipo and USA Basketball, July evaluation period updates, more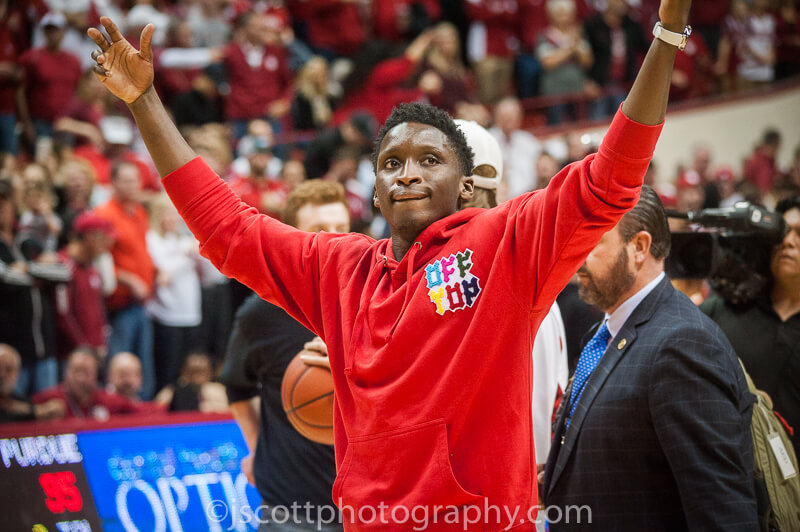 Around the Hall is recommended reading from the Inside the Hall staff:
· Sports Illustrated lays out its picks for the 2020 USA Basketball Olympic team and lists Victor Oladipo as one of the 17 names that should be considered:
ALTERNATE NO. 3: VICTOR OLADIPO (AGE 28 IN 2020)

Among potential USAB newcomers, Oladipo is arguably the most intriguing name. The 2018 Most Improved Player would be a natural face of the 2019 FIBA World Cup team, and it's possible to envision him on the 2020 Olympic team if Westbrook, Irving and/or Paul decide not to go. Oladipo's motor, playmaking, and physical defense could make him a nice bit player if Popovich's 2020 roster has unexpected holes.
· Indiana watched 2019 guard James Bouknight on Wednesday night, according to Eric Bossi of Rivals.com:
Joining Anthony on the loaded PSA squad are Rivals.com ranked Ismael Massoud, Maxwell Lorca-Lloyd, A.J. Hoggard, James Bouknight and Richard Springs.

…

From where I'm sitting it's impossible to see all of the coaches but so far I've spotted head coaches from Colorado, UMass, Iowa, Georgetown, Syracuse, East Carolina, Georgia Tech, Auburn, Seton Hall, Washington, Wake Forest, North Carolina, Miami and Utah plus assistants from Cincinnati, Arizona, Creighton, Providence, Kansas, Texas, Tennessee, Georgia, Virginia, Michigan State, Marquette, Indiana, Charlotte, UConn, Virginia Tech, Illinois, Rhode Island, VCU, Wichita State, Harvard, Sacred Heart and I'm sure at least another 30-40 schools are here at the moment.
· Class of 2019 guard Anthony Harris talked to The Indianapolis Star about his interest in Indiana:
Indiana offered Harris on June 12 and, now that D.J. Carton is off the board, it can pursue him much more earnestly. Harris said Archie Miller is recruiting him as a point guard.

"We talk a lot, he calls me, speaks with me about recruiting. He talks about my play — just to make me better," Harris said. "Just to get me more confident with the ball. Just being more active. We've both got the same kind of mindset. He's an aggressive coach, I'm an aggressive player. So we can be together a lot."
· According to reports from Jody Demling and Dan McDonald, Archie Miller started out the third July evaluation period in Orlando:
Archie Miller also here along with assistants from Kansas and Illinois. https://t.co/Z6AtX7nikn

— Dan McDonald (@DMcDonaldRivals) July 26, 2018
Chris Mack, Archie Miller, John Beilein, Kevin Keatts, Dan Hurley, Scott Drew and Dennis Felton among the head coaches here at the Milk House for R.E.A.C.H Legends against Boo Williams in the AAU Super Showcase.

— Jody Demling (@jdemling) July 26, 2018
· From earlier in the week, Mike Miller of The Herald-Times provided updated base salaries for IU coaches from a variety of sports, including men's basketball.
· Jeff Borzello of ESPN.com has everything you need to know about the nation's top freshmen, including Romeo Langford:
With Langford's commitment, though, come heightened expectations in Year 2 for Miller at Indiana.

"From a perception point, it was big," a coach said. "To come up short would have been pretty crushing. From a basketball perception, he's a really good player. If you can eliminate some of the trappings of being Romeo Langford and playing at Indiana, and just focus on being as good as he can be, he's going to have a really good freshman year. Archie won't be into the sideshow stuff. I think he's picked a good coach to do those things."
· BTN and Comcast are at odds and it could impact your ability to watch the network this fall and winter, writes Yahoo! Sports:
BTN president Mark Silverman used his time at Big Ten Media Days Tuesday to disparage the television provider for its decision to drop the Big Ten Network from customers' channel lineups outside of Big Ten markets. That decision, Silverman said, could be the start of a bigger push by Comcast.

"Unlike the usual scenario in these carriage disputes, there is no economic benefit to Comcast at all to do this and removed BTN from their systems outside the Big Ten area, which begs the question: Why did they do this?" Silverman rhetorically asked.

"Well — within the Big Ten footprint — Comcast systems are also the primary cable provider. In fact, 10 of the 14 schools in the Big Ten are markets where Comcast is the leading cable provider. Basically everyone except for Ohio State, Wisconsin, Nebraska, and Iowa. Every other school Comcast is the leading cable provider."

"Unfortunately, my fear is the removal of BTN in the outer market may just be the first step in Comcast's plan to remove BTN from their systems everywhere, including the Big Ten home markets."
Filed to: