The Inside the Hall Mailbag: July 2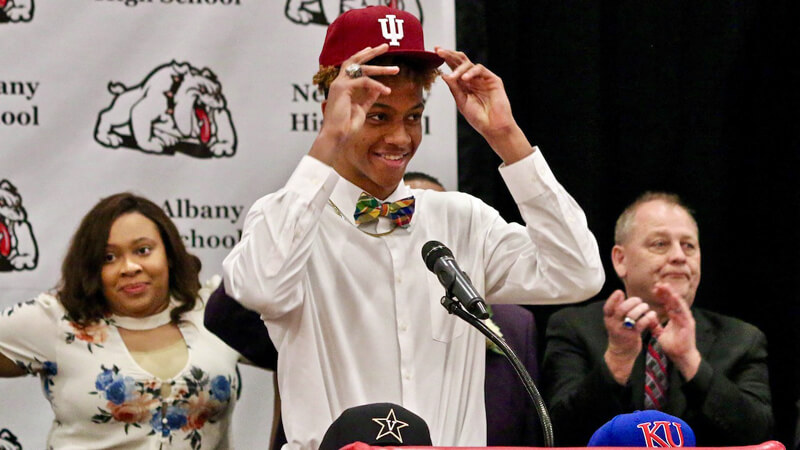 The Inside the Hall Mailbag is a collection of questions tweeted to us via Twitter (@insidethehall), via email, submitted on our premium forum and sent to us via our Facebook page. Submit your questions and we'll answer as many as we can.
Kyle Spalding on Facebook writes: Will the Big Ten tournament come back home in the near future? Or rather closer to the midwest at least? Is IU vs Arizona still a possibility? Thoughts on the future of one and done?
Kyle, you've come out firing with questions. I have good news in regards to the Big Ten tournament. It's in Chicago in 2019, Indianapolis in 2020, Chicago in 2021 and Indianapolis in 2022. So for the foreseeable future, it's back in the center of the Big Ten footprint. A schedule has not been announced beyond that, but it sounds like the stops in Washington D.C. and New York will be more of the exception than the norm in the years to come.
As for a series between Indiana and Arizona, the earliest that would start would likely be the 2019-2020 season. Nothing has been confirmed, however, but it wouldn't be a surprise if that series does indeed happen in the future.
On the one-and-done, it sounds as if it is going to be a thing of the past in the not too distant future. In mid-June, several outlets reported that the NBA sent a league wide memo that the rule could be changed by 2021.
TroutyB on the premium forum writes: Who gets more minutes next season, Clifton Moore or Race Thompson?
Race Thompson is the safe answer here despite the fact that Clifton Moore has added significant weight since arriving on campus a year ago. Thompson was the more decorated high school prospect of the two and also the more polished of the two players. He also spent last season in the program where he practiced with the team despite taking a redshirt season. Thompson was banged up in terms of injuries when he arrived last summer, but the year off has helped him to become healthy and also improve his game. I would expect him to have the bigger role.
As for Moore, I still believe he possesses the long term potential to make an impact in Bloomington. However, he's going to have to prove himself in what looks like a crowded frontcourt rotation on paper.
Jonathan Sims on Facebook writes: Would any of the other freshman not named Romeo be considered a one-and-done?
That's extremely unlikely. Besides Romeo Langford, it's going to be hard for any of the other freshmen to crack the starting lineup with regularity. Jerome Hunter is a very talented kid and a potential pro down the line, but I can't see him being a one-and-done.
Beyond that, the rest of the freshmen (Robert Phinisee, Damezi Anderson, Jake Forrester and Thompson) project to be three or four year players who can help you win and build a culture long term.
Bearswind on the premium forum writes: It's been over a year since Archie's taken the helm. Since his hire a year ago, what do you see as the single biggest difference between the current regime and the last one and what implications do you think that has on Indiana basketball's future?
The biggest thing I can point to is better organization and more stability. In terms of what I mean by stability, there's no doubt as to who will be leading the program in the years to come. In the latter years of the Tom Crean era, the hot seat question seemed to pop up almost every season.
Crean did some great things in Bloomington, but the inconsistencies from season to season never allowed him to get fully entrenched. Given Miller's early success on the recruiting trail, he's already brought that feeling of stability within the program.
The organization aspect also seems to be a major change. From talking to people close to the program over many years, one of the biggest complaints during Crean's time was the inconsistencies with the day-to-day schedule. Things are far more organized now under Miller, which is a positive change.
It's still to be determined how these changes will translate to the court, but the program seems to be headed in the right direction for the long term.
@noxley33 on Twitter writes: Is it a bad sign or a good sign if McRoberts gets less playing time this year as opposed to last year?
That's an interesting question and there are several ways to look at it. My personal opinion is that Zach McRoberts is going to have a significant role on Indiana's team as a senior. He is a hard nosed defender who makes winning plays. He's been below average offensively through his first two seasons in Bloomington, but his defense has more than made up for it.
If he's playing less next season, I would probably call it a good sign for the team's success. Here's why: Archie Miller isn't going to make sacrifices defensively. He has no tolerance for guys that don't guard. I watched games up close last season and if someone wasn't playing the right way defensively, he took them out of the game immediately. So if someone is going to take minutes from McRoberts, it means that player is good enough defensively to warrant those minutes. And in all likelihood, that player is probably going to contribute more than McRoberts offensively.
WAFY82 on the premium forum writes: The DeAndre Ayton year at Arizona was successful from a draft/elite 5 star prospect point of view. He helped himself with his year there. What does a successful Romeo year look like?
The biggest thing for Romeo, in my opinion, is to continue to play as he has throughout his career. As someone who watched Romeo Langford up close for the majority of his final high school season, I can tell you that I never once felt like he was hunting shots or playing selfishly. He let things come to him and when he didn't have a play to make, he found a teammate.
If he continues to play that way, he's going to make Indiana better just with his presence on the floor. He's an elite talent offensively and he has the potential to be very good defensively. If he makes Indiana a lot better in terms of wins and plays efficiently, the NBA decision makers are going to take note of that. It's difficult to put a projection on how he contribute statistically, but I think if he continues to improve and makes others around him better, he will be successful and so will Indiana.
@scottbush8 on Twitter writes: Jerome Hunter feels surprisingly a little off the radar when discussing key rotation players next season. In your opinion what role to you see him filling and where will he be in the rotation?
You are right that he does seem to be flying under the radar and a lot of that has to do with the fact that Juwan Morgan is back and a sophomore leap from Justin Smith is likely to happen.
I've heard good things about him thus far since he arrived on campus and I will be surprised if he's not in the rotation as a freshman. Do I view him as a potential starter? Probably not. But he can play and guard multiple positions, which is a huge positive. Had Romeo Langford chosen to go elsewhere, there would be a lot more discussion surrounding Jerome Hunter. He's going to be a very good player in Bloomington. And that could happen right away.
[email protected] about IU on the premium forum writes: The FBI investigation seems to be stalled or quiet. I thought more stories of wrong doing would come out. What are your thoughts?
I would not look at the lack of information on the FBI investigation in recent months as evidence that things have stalled. The FBI isn't going to let these things play out publicly. That's not how a federal investigation works. If you remember back to when the investigation was first announced last September, no one knew it was coming. It will probably be the same when more information comes to the surface.
In a lot of ways, the NCAA is currently handcuffed when it comes to dealing with the schools mentioned in the investigation because it has to let the FBI finish before it decides whether to assess its own punishments. There's really no way of knowing what is going on with the investigation on a day-to-day basis, so don't interpret the lack of information in recent months as a surefire sign that things have stalled.
Meyer68 on the premium forum writes: Any idea when the new roster will be updated?
The new roster will be updated on the first day of the fall semester, which is Monday, August 20. Until then, we're left to speculate on heights, weights and jersey numbers for the 2018-2019 season.
iugradmark on the premium forum writes: Can you summarize the differences between what happens at an official visit versus an unofficial one?
Here's how the NCAA summarizes this:
Any visit to a college campus by a college-bound student-athlete or his or her parents paid for by the college is an official visit. Visits paid for by college-bound student-athletes or their parents are unofficial visits.
During an official visit the college can pay for transportation to and from the college for the prospect, lodging and three meals per day for both the prospect and the parent or guardian, as well as reasonable entertainment expenses including three tickets to a home sports event.
The only expenses a college-bound student-athlete may receive from a college during an unofficial visit are three tickets to a home sports event.
As a side note here, a prospect can take an unlimited number of unofficial visits but is limited to five official visits.
Filed to: Twitter Mailbag