Recruiting roundup: Newman visit, updated ESPN rankings, more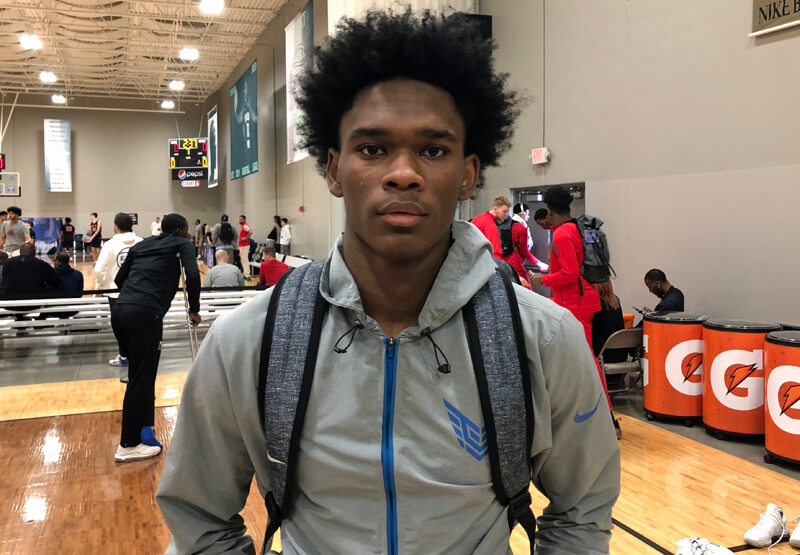 Indiana is expected to have one of the state's top rising seniors on campus today.
Class of 2019 Valparaiso guard Brandon Newman, a core Indiana junior all-star, is scheduled to make an unofficial visit to Bloomington today.
It will be the second unofficial visit this calendar year for Newman to Bloomington, who was also on campus in January for Indiana's blowout win over Northwestern.
The 6-foot-3 guard has scholarship offers from Ball State, Creighton, DePaul, Florida State, Kansas State, Purdue, Valparaiso and Xavier, according to 247Sports.
Update: Newman was offered a scholarship today on his visit:
Indiana is the latest to offer 2019 Brandon Newman

— N.D. Kendrick (@NDkendrick) June 25, 2018
Newman averaged 18.3 points this spring for Illinois-based Meanstreets on the Nike Elite Youth Basketball League (EYBL) circuit. Meanstreets qualified for the EYBL Finals at the Peach Jam next month in North Augusta, South Carolina.
Indiana has offered scholarships to four in-state players in the class of 2019: La Lumiere's Isaiah Stewart, Center Grove's Trayce Jackson-Davis, Fort Wayne North Side's Keion Brooks Jr. and Cathedral's Armaan Franklin.
ESPN updates class of 2019 rankings
ESPN.com updated its class of 2019 recruiting rankings late last week and several Indiana recruiting targets are in the top 100.
Here's a rundown:
– Isaiah Stewart, No. 5
– Matthew Hurt, No. 6
– Jalen Lecque, No. 11
– Trayce Jackson-Davis, No. 15
– Trendon Watford, No. 17
– Keion Brooks Jr., No. 25
– D.J. Carton, No. 28
– Jahmius Ramsey, No. 29
– Zeke Nnaji, No. 32
– Kira Lewis, No. 44
– Oscar Tshiebwe, No. 55
– Anthony Harris, No. 84
ESPN also released an early top 25 for the class of 2021 and Fort Wayne Blackhawk Christian forward Caleb Furst is the lone in-state prospect ranked at No. 21 overall.
Carton set for two official visits this week
Class of 2019 Bettendorf (Iowa) point guard DJ Carton is expected to take his first two official visits this week.
Carton will see Michigan first before traveling to Indiana this weekend.
HawkeyeNation.com conducted a lengthy video interview with Carton recently that covers a ton of ground with the top 30 prospect.
Here are a few of the more notable quotes from Carton from the interview:
Q. I think outsiders think they know where you're going but it seems like you're still trying to figure out which place is best for you. Is that the case?

DJC: I've seen articles before saying that I already know where I want to go. My mom showed me one about me not going to the Hawkeyes. I have them on my Top 6 list for a reason. If I knew where I wanted to go, I'd commit already or I'd have a Top 2 or Top 3. All six of these teams, they interest me. I'm just trying to find ways to have each one separate itself and find which one best fits me and my family.

Q. It seems like you like the coaches, the programs and the schools at all of them. Are you know trying to find something that separates one from the group?

DJC: Yeah, and what's going to separate them is how comfortable I am around the players and coaches and how when I get there on my visit how comfortable I feel in that environment. Like my mom was saying, when I get the feeling when I'm there it will be a gut feeling. So, I'm just trying to go through that process and waiting for that gut feeling and find where I can be myself.

Q. What do you want to study in college and how big are academics in this process for you?

DJC: Academics are a huge thing. That's No. 1. I'm going to college to get my degree. I still want to go to the NBA, whether that's after four years or whatever the journey is for me. I want to study journalism and communications. I want to be a broadcaster, analyst for sports, basketball. I want to stay around the game of basketball and be able to give my take on things and be able to watch young players.
Filed to: Brandon Newman, DJ Carton