Roundup: Langford projected as a lottery pick in early 2019 mock drafts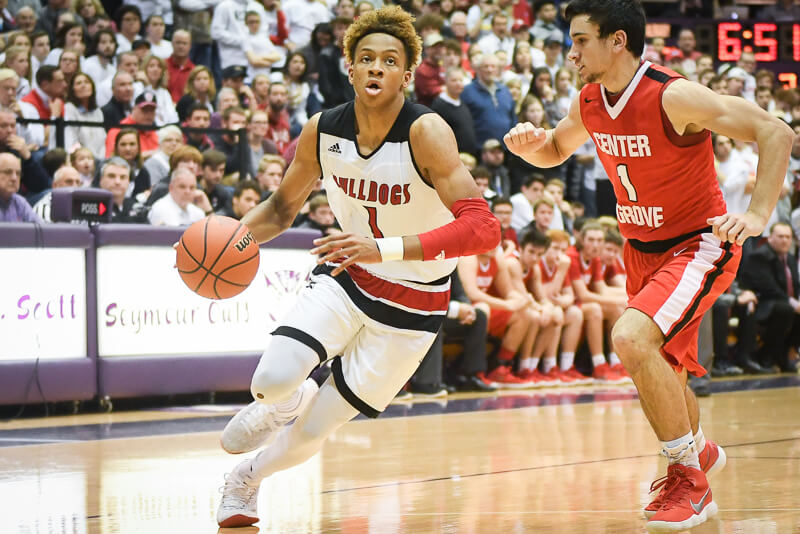 The 2018 NBA draft is now complete, which means it is time for those who cover the draft to begin making projections for next June.
While most Indiana fans had little interest in this year's draft as no Hoosiers were even on the radar for selection, that could change next year.
Mock drafts for 2019 have already started to trickle out and Indiana freshman Romeo Langford is being slotted in as a lottery pick in all of them. Here's a roundup of all of the early 2019 mock drafts released today:
ESPN.com, Jonathan Givony ($) – Langford at No. 5
The 2019 crop is considered to be fairly shallow at the moment, with many NBA teams privately expressing frustration about the lack of elite prospects that have emerged, particularly from the graduating high school senior class. While likely more serious of a concern in this instance than in the past, this is not an uncommon refrain at this stage. After all, new prospects emerge suddenly every year seemingly out of the blue, while others improve drastically, which will add much-needed star power and depth to a group that is currently lacking in both departments.
CBSSports.com, Gary Parrish – Langford at No. 6
Langford is one of the most decorated players in Indiana high school basketball history. The 6-5 guard was the prize of Archie Miller's recruiting class.
The Big Lead, Jason McIntyre – Langford at No. 5
He's the type of wing the NBA loves, and if he consistently hits from deep for the Hoosiers, he could be taken in the Top 5.
NBCSports, Rob Dauster – Langford at No. 8
Langford has all the hype. An Indiana high school basketball legend that chased another Indiana high school basketball legend's state scoring record, never left the state and opted to play his college ball for the Hoosiers. There's a reason this kid spent an hour signing autographs for fans after his high school games.

He's going to be an even bigger star for the Hoosiers next season, who I think will be in the NCAA tournament. Langford, a 6-foot-5 scorer and big-time athlete with a 6-foot-10 wingspan, could end up averaging 18 points next season. "He's a bucket."
Jeff Goodman – Langford at No. 3
My projected Top 5 picks for the 2019 NBA Draft:
1. SG-SF R.J. Barrett (6-7, 210, Fr., Duke)
2. SG-SF Cam Reddish (6-9, 205, Fr., Duke)
3. SG Romeo Langford (6-6, 195, Fr., Indiana)
4. SG Quentin Grimes (6-4, 220, Fr., Kansas)
5. SF Nassir Little (6-7, 215, Fr., North Carolina)

— Jeff Goodman (@GoodmanHoops) June 22, 2018
Sporting News, Chris Stone – Langford at No. 7
Langford's staying in-state at Indiana for what will presumably be just a single year of college ball. He's a scorer through and through with the ability to get to the rim, knock down midrange jumpers and pull up from 3-point range.

Langford is another prospect who faces questions about the other ways he'll contribute, but he's an underrated athlete and has the potential to be a versatile defender.
SBNation.com, Ricky O'Donnell – Langford at No. 9
Langford is a long, smooth 6'5 shooting guard who put up historic scoring numbers as a high school player in Indiana. NBA teams will be looking to see just how efficient he is at the college level. Is he as good of a three-point shooter as his reputation suggests? Can he finish inside against length? Teams will also want to see him stay healthy after a prep career marred by injuries.
Others: BleacherReport – Langford at No. 7, NBADraft.net – Langford at No. 11
Filed to: Romeo Langford