Langford leads Big Ten signees in final RSCI rankings for class of 2018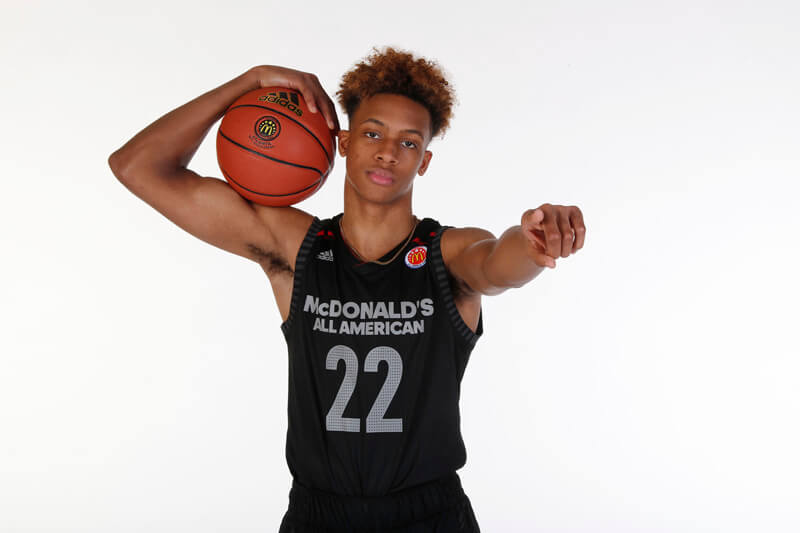 The final RSCI (Recruiting Services Consensus Index) ratings for the class of 2018 have been released and an Indiana signee is the highest ranked Big Ten recruit.
Romeo Langford, Indiana's Mr. Basketball and the state's fourth all-time leading scorer, is tied at No. 5 with Oregon signee Bol Bol in the final RSCI rankings for 2018.
The Recruiting Services Consensus Index (RSCI), which started in 1998, is a composite ranking that uses every national recruiting service ranking available.
The methodology used by the RSCI, which is pronounced "Risky," is available here.
The top four players in the final rankings are R.J. Barrett (Duke), Cameron Reddish (Duke), Nasir Little (North Carolina) and Zion Williamson (Duke).
Indiana's matchup with Duke in the 2018 Big Ten-ACC Challenge on Nov. 27 at Cameron Indoor Stadium will feature four of the nation's top five recruits in the class of 2018 in Barrett, Reddish, Williamson and Langford.
Langford is the highest ranked RSCI recruit to sign with a Big Ten school since Jared Sullinger inked with Ohio State in 2010. The New Albany product is Indiana's fourth top 10 RSCI recruit in the last 12 recruiting cycles joining Eric Gordon (No. 3, 2007), Cody Zeller (No. 10, 2011) and Noah Vonleh (No. 8, 2013).
Maryland signee and McDonald's All-American Jalen Smith is No. 14 in the final rankings.
Four other Big Ten signees – Ayo Dosunmu (Illinois, No. 30), Aaron Wiggins (Maryland, No. 38), Daniel Oturu (Minnesota, No. 48) and Joe Wieskamp (Iowa, No. 50) finished in the top 50.
The other Big Ten recruits in the top 100 include IU signee Jerome Hunter (No. 54), Michigan State signees Marcus Bingham Jr. (No. 59), Foster Loyer (No. 75) and Gabe Brown (No. 96), Michigan signees Brandon Johns (No. 64), Ignas Brazdeikis (No. 72) and Colin Castleton (No. 99), Ohio State signees Luther Muhammad (No. 65) and Jaedon LeDee (No. 73), Maryland signee Eric Ayala (No. 82) and Northwestern signees Pete Nance (No. 82) and Miller Kopp (No. 83).
In total, the Big Ten signed 18 top 100 RSCI recruits, which is up from 11 in the class of 2017.
Six Big Ten programs – Maryland, Indiana, Michigan, Michigan State, Illinois and Ohio State – finished in the top 30 of the 247Composite recruiting class team rankings for 2018.
Filed to: Jerome Hunter, Romeo Langford