Around the Hall: Oladipo named to NBA all-defensive first team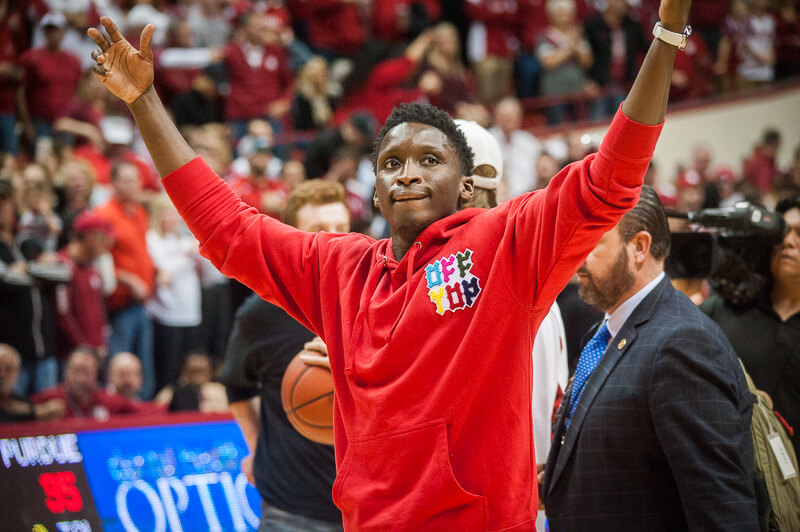 Around the Hall is recommended reading from the Inside the Hall staff.
· Former Indiana All-American and current Indiana Pacer Victor Oladipo was named to the NBA's all-defensive first team on Wednesday:
Indiana Pacers guard Victor Oladipo was named Wednesday to the 2017-18 NBA All-Defensive First Team.

Oladipo led the NBA in steals with 2.4 per game; and his 177 steals were the most in the NBA since Ricky Rubio recorded 191 steals for Minnesota during the 2013-14 season. He recorded a steal in 64 consecutive appearances to end the regular season, setting a new franchise record for most consecutive games with at least one steal, and tying the fourth-longest streak in NBA history.

Oladipo is the fourth Pacers' player to be named to the NBA All-Defensive First Team, joining Don Buse, Ron Artest, and Paul George.
· Sports Illustrated details how a rogue FBI agent could derail the investigation into corruption in college basketball:
The climactic scene started with a knock on the door of an expansive suite at the W Hotel in Manhattan's Times Square. It was Sept. 25, an unseasonably hot afternoon, and as tourists milled on the streets below Christian Dawkins entered the suite prepared to talk business. Yet what he thought would be a routine meeting with investors for his fledgling sports management agency ended with him leaving the room in handcuffs, soon to emerge as the central figure in one of the most sensational scandals in the history of college basketball.

The culminating moment of a years-long investigation into the seeping corruption in the sport featured most of the requisite elements of a true crime drama. Agents flashing badges. At least eight FBI heavies storming the room with brandished guns. A defendant caught off guard and so emotionally overheated—literally—that he stripped off his shirt.

Yet one critical actor was missing. The lead FBI operative, a veteran case agent who had played point guard, as it were, for a three-year operation designed to trace the flow of money through the recruiting underworld? He was mysteriously absent.
· At No. 12, Michigan State is the highest ranked Big Ten team in the latest NBC Sports preseason top 25 for the 2018-19 season:
I can't help but look at this roster and see all the same issues that they had this past season, only without their two most talented players. Turnovers. Lack of star power. Some defensive issues. Winston has a chance to be a first-team all-Big Ten player, but Langford and Ward are going to have to live up to their potential. It feels like this group has nice pieces, but that those pieces doesn't necessarily fit together.
· Mike Miller of The Herald-Times details Indiana's drop in the APR for men's basketball:
Excessive roster turnover and players leaving in poor academic standing can negatively affect a team's APR score.

According to the NCAA, programs must earn a four-year score of 930 to compete in the 2018-19 NCAA championships. So IU is not in danger of incurring any immediate penalties.

The only Big Ten men's basketball program to post a lower multi-year rate than Indiana was Ohio State, which scored a 936 for the period beginning with the start of the 2013-14 academic year and ending with the 2016-17 academic year.

Data that includes Archie Miller's first season as IU coach will be released next spring. Under the terms of his contract, Miller will receive a bonus of $125,000 if the most recently calculated multi-year score is greater than or equal to 950.
· Despite starting 62 games for Toronto, OG Anunoby was left off the NBA's all-rookie teams:
Among the most notable omissions are Sacramento Kings point guard De'Aaron Fox and Toronto Raptors forward OG Anunoby.

The 20-year-old rookie finished 13th in voting, including two first-team votes.

Anunoby ranked 25th among rookies in scoring (5.9 points per game), seventh in three-point shooting (37.1 per cent), and 14th in minutes played (20.0 minutes per game).

After coming off the bench for his first 12 games, Anunoby started 62 games and became a mainstay in the Raptors' starting lineup, helping Toronto to the No. 1 seed in the East.
· From last month, here's Thomas Bryant's exit interview discussing his first season in the NBA and the G-League:
Filed to: O.G. Anunoby, Thomas Bryant, Victor Oladipo