Romeo Langford is the highest ranked Big Ten recruit since Jared Sullinger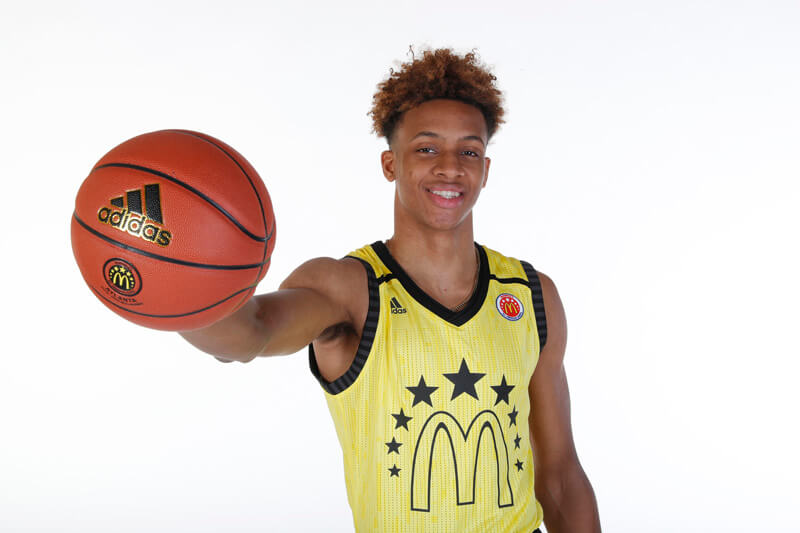 Romeo Langford's commitment to Indiana means that a top five ranked RSCI recruit will enter the Big Ten for the first time since 2010.
The Recruiting Services Consensus Index (RSCI), which started in 1998, is a composite ranking that uses every national recruiting service ranking available.
The methodology used by the RSCI, which is pronounced "Risky," is available here.
Prior to this year, only six incoming freshman in the Big Ten have been ranked in the RSCI top five since 1998: Zach Randolph (Michigan State), Kelvin Torbert (Michigan State), Shannon Brown (Michigan State), Greg Oden (Ohio State), Eric Gordon (Indiana) and Jared Sullinger (Ohio State).
The most recent RSCI rankings have Langford as the fifth best prospect in the country behind R.J. Barrett (Duke), Zion Williamson (Duke), Cameron Reddish (Duke) and Bol Bol (Oregon).
If that ranking holds when the final RSCI rankings are released later this spring, he would be the highest ranked prospect to enter the conference since Sullinger in 2010.
Here's a list of the highest ranked RSCI recruit to enter Big Ten each season since 1998:
– 1998: Joel Pryzbilla (8), Minnesota
– 1999: LaVell Blanchard (6), Michigan
– 2000: Zach Randolph (1), Michigan State
– 2001: Kelvin Torbert (2), Michigan State
– 2002: Paul Davis (7), Michigan State
– 2003: Shannon Brown (3), Michigan State
– 2004: D.J. White (13), Indiana
– 2005: Joe Krabbenhoft (28), Wisconsin
– 2006: Greg Oden (1), Ohio State
– 2007: Eric Gordon (3), Indiana
– 2008: B.J. Mullens (8), Ohio State
– 2009: Royce White (31), Minnesota
– 2010: Jared Sullinger (2), Ohio State
– 2011: Cody Zeller (10), Indiana
– 2012: Gary Harris (16), Michigan State
– 2013: Noah Vonleh (8), Indiana
– 2014: D'Angelo Russell (16), Ohio State
– 2015: Diamond Stone (7), Maryland
– 2016: Miles Bridges (10), Michigan State
– 2017: Jaren Jackson (9), Michigan State
– 2018: Romeo Langford (5), Indiana
Filed to: Romeo Langford