Announcement primer: 2018 five-star guard Romeo Langford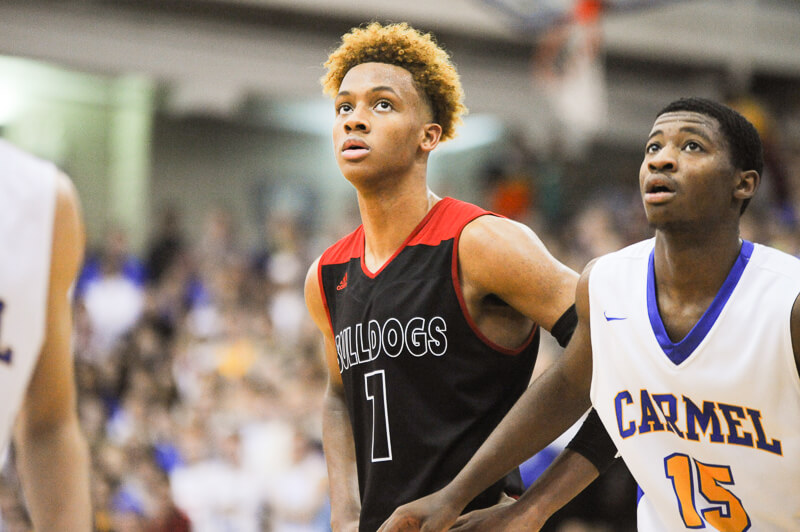 On Monday, April 30, class of 2018 New Albany guard Romeo Langford will announce his college decision at his high school. The announcement is scheduled for 7 p.m. ET in the school's gymnasium and is open to the public. Doors will open at 6 p.m. ET.
Here's our primer for the announcement with everything you need to know:
The essentials
Guard, 6-6, 201 pounds, New Albany, Twenty Two Vision
247Composite: 5-star (6); ESPN: 5-star (5); Rivals: 5-star (6); 247Sports: 5-star (5)
The primary contenders
In late August, Langford announced a list of seven finalists – Indiana, Vanderbilt, UCLA, Kansas, Kentucky, Louisville and North Carolina. The Cardinals were dropped from contention in September after being included in the FBI scandal that ultimately led to Rick Pitino's firing. Kentucky was on his list in late August, but the Wildcats didn't get an official visit and weren't involved after the summer. Langford took official visits to IU, Vanderbilt, UCLA, North Carolina and Kansas before trimming his list to three in November. His three finalists are Indiana, Kansas and Vanderbilt. Louisville attempted to make a late run after hiring Chris Mack, but Langford politely declined their overtures.
· The Indiana recruitment: Langford had a scholarship offer from Indiana under Tom Crean and made several unofficial visits to campus early in his prep career for Hoosier Hysteria and various games. But the Indiana recruitment was reset when Archie Miller took over in late March of 2017. The coaching staff immediately made him a priority by visiting him at school and then tracked him closely in both April evaluation periods. That pursuit continued into July as the staff kept close tabs on Langford even when it appeared that Louisville might be the favorite to land him. The persistence was rewarded as Langford took an official visit and put the Hoosiers in his final three. His most recent visit to campus was in January for the Northwestern game. It's been a total coaching staff effort from Indiana.
· The Kansas recruitment: Bill Self and assistant Jerrance Howard have put a lot of time into recruiting Langford. He's been to Kansas twice, once for an unofficial visit and then this past fall for an official visit. And the staff has made several trips to New Albany for open gyms, practices and games. His close friend from the AAU circuit, Quentin Grimes, signed with the Jayhawks. Kansas has been the most successful, in terms of wins and losses, of his three finalists in recent seasons. The Jayhawks are a popular pick to win the national championship next season despite losing a few key contributors to the NBA.
· The Vanderbilt recruitment: Vanderbilt has also done a very solid job of pursuing Langford with Bryce Drew and assistant Roger Powell leading the effort. Langford has stated several times that part of the Vanderbilt appeal is that Drew himself played in the NBA and that the program's practices reflect that fact. The Commodores have also assembled a very good recruiting class with Darius Garland, Simi Shittu and Aaron Nesmith. Garland and Langford have become friends from spending time together at various grassroots events.
The timing
Langford stayed with his original plan for a spring decision. He's the highest rated recruit in the class of 2018 still on the board. There was some talk initially of an announcement at the McDonald's All-American game, but Langford opted to announce in his hometown in front of the fans who have supported him for the last four years during his incredible run at New Albany.
How he fits
· At Indiana: The Hoosiers need a perimeter shooter and scorer and Langford can do both of those things and much, much more. He's already a legend in the state after finishing with more than 3,000 career points and selling out gyms across the state, but going to Indiana would solidify that status even more. If Langford comes to Bloomington, the timeline for Miller's retooling of the program accelerates. With Langford, Juwan Morgan (assuming he returns), Justin Smith and a very strong supporting cast, the Hoosiers could contend in the Big Ten next season and might even have a chance at a preseason top 25 ranking.
· At Kansas: The Jayhawks will already enter next season as one the favorites to win the national championship, but putting Langford on the wing opposite Grimes would cause nightmares for opposing teams. Langford might not get as many shots as he would at his other finalists, though, as Kansas is loaded with guards and wings on its roster even with Legerald Vick and Malik Newman turning pro. That said, adding Langford would only solidify the national status of the Jayhawks entering the 2018-19 season.
· At Vanderbilt: The Commodores struggled this past season, but should be able to make a leap in the SEC next season with an upgrade in talent. Garland is a potential one-and-done point guard and Shittu, who is coming off of ACL surgery, also has NBA potential. The question with Vanderbilt is, how good is the rest of the supporting cast? Nesmith is a top 75 recruit, returning guard Saben Lee was terrific as a freshman and Vanderbilt also welcomes Notre Dame transfer Matt Ryan for some wing shooting. Langford is going to get attention wherever he goes, but Vanderbilt is clearly the lowest profile program in his final three.
Highlights
How to follow the announcement
Inside the Hall will be on site covering the announcement (follow us on Twitter here).
In addition, WDRB in Louisville will be live streaming the announcement on this page. For an audio-only option of the announcement, navigate to this page and listen to Matt Denison's coverage on Big X Sports Radio. They'll be live throughout most of the day on Monday.
If you're in the area, you can attend the announcement as it is open the public.
In closing, please remember this is the college decision of a high school kid. Please adhere to the comment standards that have been set forth over the past 10 years here on Inside the Hall regardless of the outcome.
Filed to: Romeo Langford