Daryl Thomas, member of IU's 1987 national championship team, dies from heart attack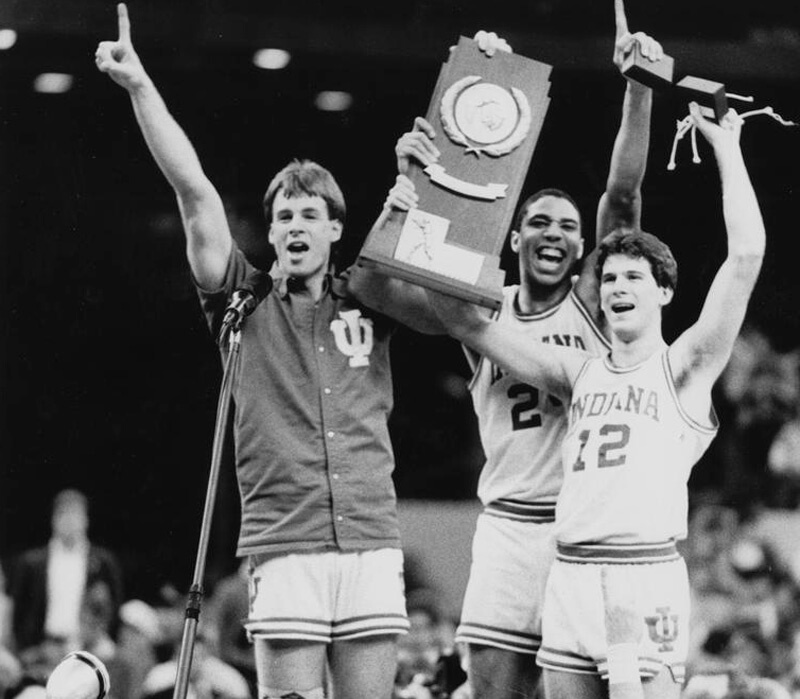 Daryl Thomas, who averaged 15.7 points for Indiana's 1987 NCAA championship team, died on Wednesday from a heart attack. Thomas was 52.
A 6-foot-7 forward who played in 106 games over four seasons in Bloomington, Thomas assisted Keith Smart's game-winning shot and scored 20 points in IU's 74-73 national championship win over Syracuse.
Thomas is survived by his wife, Marla and three children – Kayla, Kyle and Adam.
A native of Westchester, Illinois, Thomas was a captain on both the 1985-86 and 1986-87 Indiana teams. He was an All-Big Ten player as a junior and senior.
He signed with Indiana after a decorated prep career under Gene Pingatore at St. Joseph's High School. Thomas was a McDonald's All-American, a Parade All-American and a first team all-state player in Illinois.
At Indiana, he scored 1,095 points and is 47th on the school's all-time scoring list. Following his career at IU, Thomas was a sixth round pick by the Sacramento Kings in the 1987 NBA draft. He spent 13 years as a professional in Europe and South America.
A 1987 graduate of IU, he was drafted by the Sacramento Kings in the sixth round of the 1987 NBA Draft and played professionally in Europe and South America for 13 years.
Thomas had been the head coach at Montini Catholic High School since 2015.
"The Indiana University men's basketball family is devastated to learn of the passing of 1987 National Champion Daryl Thomas," IU basketball said in a statement. "Our prayers go out to his family, friends, teammates and coaches and all others who he had an impact on throughout his life."
"We are saddened to hear of the passing of Hoosier legend and National Champion Daryl Thomas," IU coach Archie Miller said in a statement. "He was beloved by his teammates and coaches. Our prayers go out to his wife, Marta, his children, and the Montini Catholic High School Community he served."
"Ever since that 1987 championship game, I've always called that the greatest single play I ever had a kid make: giving up the ball and setting the screen that got the man open for the shot that won a national championship," Bob Knight said in a statement. "That was Daryl — absolutely unselfish. His attitude and his play on the court are what I always remember about him — that and how really great a kid he was. He had wonderful parents. I just feel sick about hearing this and very bad for his family, his team and everyone around him."
It is with a heavy heart that we announce that our Head Basketball Coach, Daryl Thomas, passed away from a heart attack this morning. No details are available at this time. Please keep his family and loved ones in your prayers. pic.twitter.com/nSSY8Ww0FE

— Montini Catholic HS (@MontiniCatholic) March 28, 2018
Saddened to hear of the passing of Hoosier legend and National Champion Daryl Thomas. Beloved by his teammates and coaches, our prayers go out to his wife Marta, his children, and the Montini Catholic HS community he served. pic.twitter.com/acMYTfewsh

— Arch Miller (@Archie_Miller) March 28, 2018
The Indiana men's basketball family is devastated to learn of the passing of 1987 National Champion Daryl Thomas. Our prayers go out to his family, friends, teammates and coaches and all others who he had an impact on throughout his life. pic.twitter.com/kVvZeDLGLJ

— Indiana Basketball (@IndianaMBB) March 28, 2018
I've said for years Daryl Thomas was the most improved player physically and mentally that I ever witnessed at IU..also the most under appreciated player ever at IU..he and Garrett went toe to toe w Cuses Seikaly/Coleman ..RIP

— Dan Dakich (@dandakich) March 28, 2018
The Bulls/Sox Academy staff mourns the sudden passing of Daryl Thomas today. Daryl was a loving husband, father, mentor, friend to many, and valued co-worker and basketball staff member. Many thoughts and prayers go out to Daryl's family. pic.twitter.com/n5V70f1td2

— Bulls Sox Academy (@BullsSoxAcademy) March 28, 2018
R.I.P. Daryl Thomas
A high school All-american
Ncaa champion
St. Joe's high school… https://t.co/9OhGTwX2oH

— Evan Turner (@thekidet) March 28, 2018
Filed to: Daryl Thomas