Robert Johnson to compete in inaugural 3-on-3 national championship in San Antonio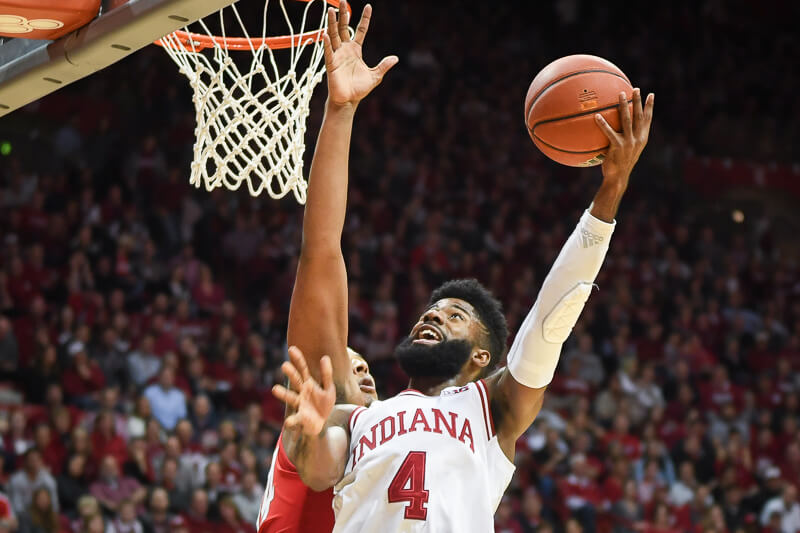 Indiana senior guard Robert Johnson will be one of four outgoing Big Ten players to compete in the inaugural Dos Equis 3X3U national championship in San Antonio.
There will be 32 four-man teams competing for a $100,000 prize pool in games played from March 30-April 1 at St. Mary's University during Final Four weekend.
Each Division I conference will be represented in the event. Additional details on the event are available below, via an IU media relations release:
The event will begin on Friday, March 30 with 24 pool play games streamed live on Twitter from 7 p.m.-12:30 a.m. EST and will continue on Saturday, March 31 with another 24 pool play games streamed live on Twitter from 11 a.m.-3:30 p.m. EST. The event will conclude on Sunday, April 1 with the quarterfinals broadcast live on Twitter from 1:35-3 p.m. EST, and the semifinals, third-place game and championship game broadcast live on ESPN2 from 3:30-5:30 p.m. EST.

"We are so excited to host these 128 players at this one-of-a-kind event," said Drew Russell, Intersport's Vice President of Sports Properties. "For fans, this will be an opportunity to see the nation's top seniors compete in the rapidly growing and faced-paced nature of 3-on-3 basketball. For players, it will be one last opportunity to showcase their skills on a national stage and give them the chance to earn a significant sum of money. It will also expose them to the 3-on-3 format which may lead to new opportunities as they take the next step in their professional careers."

Every game matters as money will be on the line at all times throughout the competition. Participants will compete for a $100,000 prize pool that will be distributed as follows:

– Each pool play win will earn the team $1,000.
– A quarterfinal win will earn the team $1,000.
– A semifinal win will earn the team $1,000.
– The team that wins the third-place game will earn $1,000.
– The team that wins the championship will earn $50,000.

Each team roster will be comprised of four eligible seniors from the same Division I college basketball conference. Teams will be organized into eight pools of four and each team will be guaranteed three pool play games. The Player Selection Committee consists of college basketball experts from a wide range of media outlets including ESPN, CBS Sports, The Athletic, USA Today, NBC Sports, The Ringer, and more. The Committee worked feverishly throughout the season to determine the nation's top senior college basketball players who have been selected to compete. The complete rosters for each conference will be revealed through a series of studio shows streamed live on Twitter once a day from Monday, March 26 through Thursday, March 29.
Filed to: Robert Johnson