2018 NCAA tournament: Previewing Big Ten matchups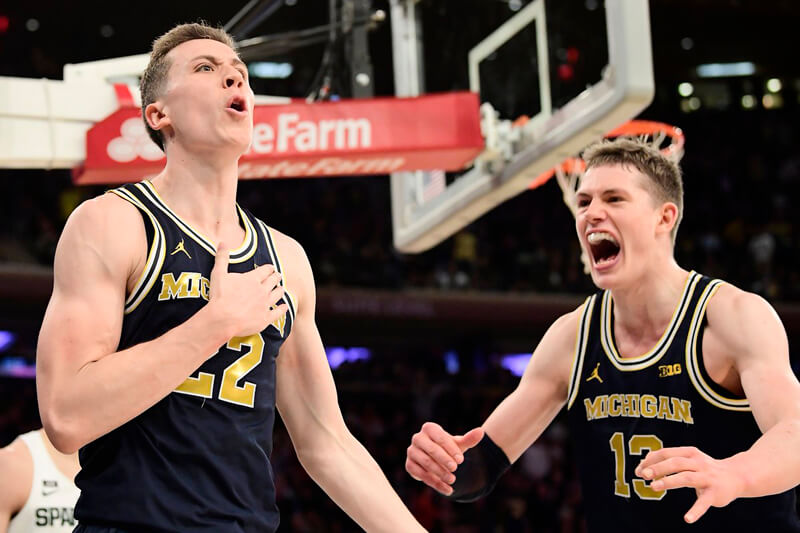 In a down season for the conference, the Big Ten is sending just four teams to the 2018 NCAA tournament.
The good news is that all four teams are seeded fifth or higher and each Big Ten participant will be a solid favorite in its first round game later this week.
Purdue is the highest seeded Big Ten team as the Boilermakers earned the No. 2 seed in the East region. Michigan and Michigan State are both No. 3 seeds. The Wolverines are in the West region and the Spartans are in the Midwest. Ohio State, which won 15 conference games in the regular season, is the No. 5 seed in the West region.
Here's a look at each Big Ten matchup in the NCAA tournament (all tip times ET):
No. 2 Purdue vs No. 15 Cal State Fullerton (Detroit, Friday, 12:40 p.m., truTV)
As a reward for a strong regular season, Purdue was shipped to the closest site to its campus, which is Detroit. The Boilermakers should have a strong fan presence at Little Caesars Arena and a decided advantage as Fullerton, the Big West champion, will have to travel east.
The Titans, a traditional college baseball power, are 153rd in the KenPom ratings and don't have much size on their roster. That's not conducive to pulling an upset over a Purdue team that boasts one of the nation's best frontcourts. Look for the Boilermakers to roll on Friday and meet the winner of Butler-Arkansas on Sunday.
KenPom prediction: Purdue 83, Cal State Fullerton 66 (94% chance of victory for Purdue)
Vegas line as of Tuesday morning: Purdue -20.5
No. 3 Michigan State vs No. 14 Bucknell (Detroit, Friday, 7:10 p.m., CBS)
The Spartans have one of the nation's most talented rosters, but simply didn't have the resume to warrant a higher seed. In fact, Michigan State might be seeded too high based on what it actually accomplished this season. Despite winning the Big Ten regular season title outright, Michigan State had just two wins all season over teams that made the NCAA tournament: North Carolina and Purdue.
Michigan State will open tournament play against Bucknell, the champion of the Patriot League. The Bison beat one KenPom top 100 team all season.
KenPom prediction: Michigan State 82, Bucknell 69 (89% chance of victory for Michigan State)
Vegas line as of Tuesday morning: Michigan State -14.5
No. 3 Michigan vs No. 14 Montana (Wichita, Thursday, 9:50 p.m., TBS)
The Wolverines have a legitimate gripe for being shipped to Wichita with Michigan State getting to stay close to home in Detroit. Michigan had a better resume than Michigan State. The Wolverines beat the Spartans twice and also beat UCLA, Texas, Purdue and Ohio State.
Instead of playing in Detroit, Michigan will travel 800 miles to Wichita to take on the champion of the Big Sky Conference, Montana. The Grizzlies are ranked No. 71 in KenPom.
KenPom prediction: Michigan 70, Montana 62 (76% chance of victory for Michigan)
Vegas line as of Tuesday morning: Michigan -11
No. 5 Ohio State vs No. 12 South Dakota State (Boise, Thursday, 4 p.m., TNT)
It's always trendy to pick 5/12 game upsets, but the Buckeyes are a solid favorite in this first round matchup on paper. Still, this could be a very tricky matchup for Ohio State, which has lost three of its last five games. And one of the wins in that stretch was CJ Jackson's buzzer beater to beat Indiana in Bloomington.
South Dakota State is very well coached by T.J. Otzelberger and are the nation's best team in terms of taking care of the ball despite playing an up-tempo pace. Mike Daum is a tough matchup as the 6-foot-9 junior uses the 9th most possessions of any player in the country and shoots 43 percent on 3s.
KenPom prediction: Ohio State 79, South Dakota State 71 (75% chance of victory for Ohio State)
Vegas line as of Tuesday morning: Ohio State -8
Filed to: 2018 NCAA tournament