Notebook: Hoosiers shocked by Rutgers in 2018 Big Ten tournament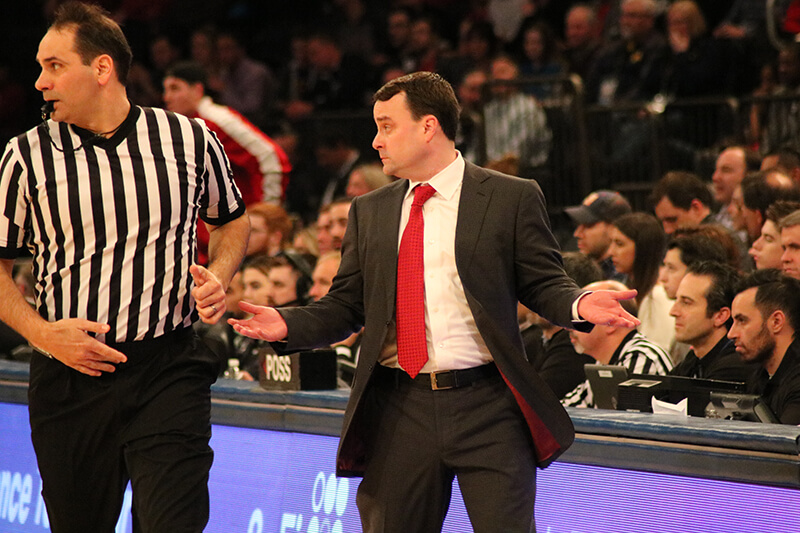 NEW YORK – Indiana had the game in hand early on Thursday night in the 2018 Big Ten tournament.
The Hoosiers (16-15) led by 16 points at the 12:09 mark of the first half and held all of the momentum. The sizeble Rutgers contingent in the crowd was silent, and Indiana seemed destined for a quarterfinal matchup with Purdue.
Then it all fell apart.
It started with a layup from DeShawn Freeman with 6:53 left in the first half and didn't end until well into the second half. In total, it was a 34-10 run from Rutgers over a 13-minute span, turning a 16-point Indiana lead into an eight-point deficit.
It was inexplicable, incomprehensible and surreal. It was an onslaught that had no end. Indiana knew what was happening, yet couldn't find a way to make it stop.
"I think we just died out," sophomore Devonte Green said after the game. "I think we just didn't stay consistent throughout the game, and we came out hot and just mentally didn't stay focused throughout the game."
Rutgers star junior Corey Sanders, held to nine points in their first meeting with Indiana, was almost unstoppable. Sanders scored 28 points, all of which came in the final 25 minutes, including 10 in the last 4:35 of the first half.
"(Sanders) was really good at getting to his right hand, and that's something we talked about," senior Robert Johnson said. "When we allowed him to do that, he really hurt us. I don't think us guards did a good enough job of taking that away."
The loss marks what is almost certainly the end of a season full of countless up-and-downs, of horrendous losses to sub-100 KenPom teams and close losses to the elites of college basketball.
Indiana's chance at an at-large NIT bid has assuredly gone out the window and Archie Miller dismissed the possibility of playing in a tertiary postseason tournament in his postgame press conference.
Offseason begins with plenty of questions
Archie Miller's inaugural campaign as Indiana's head coach is over. Now, the offseason begins.
With five seniors exiting, there will be no shortage of changeover throughout the next several months. Two open scholarships remain and as of today, the Hoosiers will welcome five new players to the roster next season. The likelihood of additional players being added is high.
At the moment, there are far more questions than answers when it comes to what the 2018-19 Hoosiers will look like. There's the potential of five-star guard, Romeo Langford, electing to join the cream and crimson. On the other side of things, there's a chance junior Juwan Morgan could decide to go pro.
Morgan had a breakout junior campaign as he went from being a key reserve that couldn't stay healthy to the Hoosiers' number-one option. He earned second team All-Big Ten honors and had a legitimate case for first team consideration
Morgan could test the NBA waters, as Robert Johnson did last year. Johnson eventually withdrew his name after being evaluated by NBA scouts and returned to Bloomington for his senior campaign.
In the locker room after the game, Morgan spoke of Thursday's loss fueling him until the summer, when team workouts resume. But he also said he has not made a decision on whether he'll return for one more year in Bloomington.
Filed to: 2018 Big Ten tournament