Hoosiers prep for Big Ten Tournament at Madison Square Garden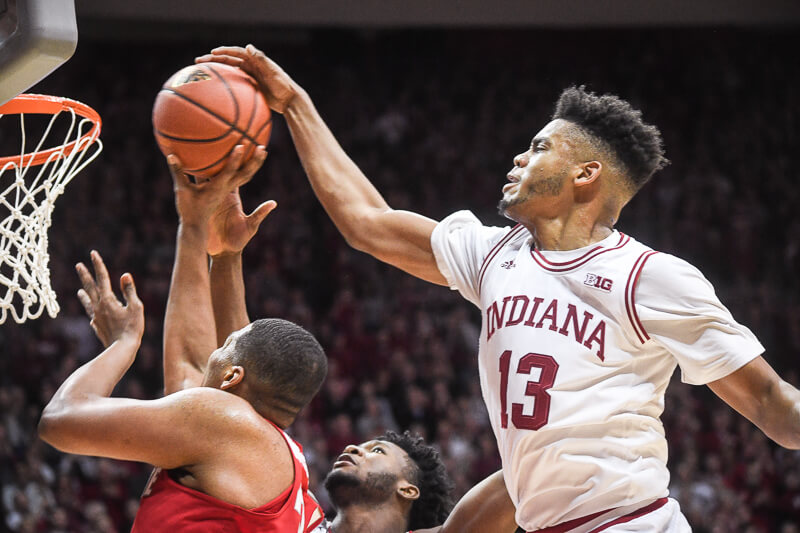 The compacted Big Ten season is over with. This week, march madness unofficially gets underway with the earlier-than-normal Big Ten Tournament at Madison Square Garden.
The No. 6 seeded Hoosiers have a first-round bye and will begin competition Thursday evening at around 9 p.m. against the winner of Wednesday's game between No. 11 Minnesota and No. 14 Rutgers.
Unlike both of those teams, Indiana will be well rested. The Hoosiers last game was on Friday against Ohio State, while Indiana's second-round opponent will have played on Sunday and Wednesday.
Meanwhile, Indiana took the weekend off before returning to practice on Monday.
"Watching us practice yesterday was kind of funny, we had a great balance," Archie Miller said on Tuesday. "We had guys that were excited to be in the gym working again, just amazing sometimes when you have a couple days off just to reboot physically and mentally."
Perhaps the biggest beneficiary of the off time is junior Juwan Morgan. The All-Big Ten second team forward has logged at least 30 minutes in all but one of the last 11 games.
"Everybody just had a lot of energy (in practice)" Morgan said. "Everybody is really getting after it on both sides of the ball and everything we did, and I think it really showed and it was infectious throughout the whole team."
Although Indiana won't know their second-round opponent until late Wednesday, the Hoosiers faced both Rutgers and Minnesota in early February, coming away with a pair of convincing wins.
"It isn't as if we caught them back in December, way back early when," Miller said. "So we have a pretty good feel of playing their personnel and their team. Both teams will give us problems. The good thing is I think with the late game, though, regardless of the circumstances, we'll have time to prepare our guys."
Miller comments on situation at Arizona
As Indiana's double-overtime matchup with Ohio State was nearing its conclusion on Friday night, a bombshell report dropped on ESPN.com alleging Arizona head coach Sean Miller discussed a $100,000 payment to DeAndre Ayton with agent Christian Dawkins, whose phone was being wiretapped by the FBI.
Although Sean Miller, the older brother of Archie, didn't coach in the Wildcats' game on Friday, DeAndre Ayton was cleared to play. In the days since the ESPN story has been corrected several times, but the network still stands by the crux of their reporting. Whether Sean Miller will remain as the head coach is unclear. On Tuesday, Archie Miller told the media he has spoken with Sean since, but not extensively about the investigation. His full comments are below:
"I've spoken to Sean quite a bit," Miller said. "Our conversations are about our family more than anything, and what's going on out at Arizona and what's going on in college basketball in general is something that really wasn't the topic of conversation for us.
"I don't think that you grew up at our house with our family and consume yourself with what's going on in the basketball perspective, when something like this is going on. It's been hard on a lot of people. Move on the best you can. You know, for me, I've got a job to do here, and that's sort of where I'm at. That's how I sort of go about my business. But when it comes to Sean, yeah, we'll communicate as much as we possibly can and it doesn't really revolve a whole lot around anything other than us.
Playing at Madison Square Garden
Only three current players on the IU roster have collegiate experience playing at Madison Square Garden.
Senior Josh Newkirk was there his freshman year at Pittsburgh in a non-conference game against Louisville, while Collin Hartman and Robert Johnson played a pair of games there in the 2014-15 season against Louisville and Georgetown.
"It was definitely a fun atmosphere," Johnson said. "I felt like we had a lot of IU fans in the building…I just feel like playing there in the Mecca of basketball is always fun as far as the atmosphere and everything surrounding the excitement of playing in New York."
Filed to: 2018 Big Ten tournament, Archie Miller