Big Ten Power Rankings: February 19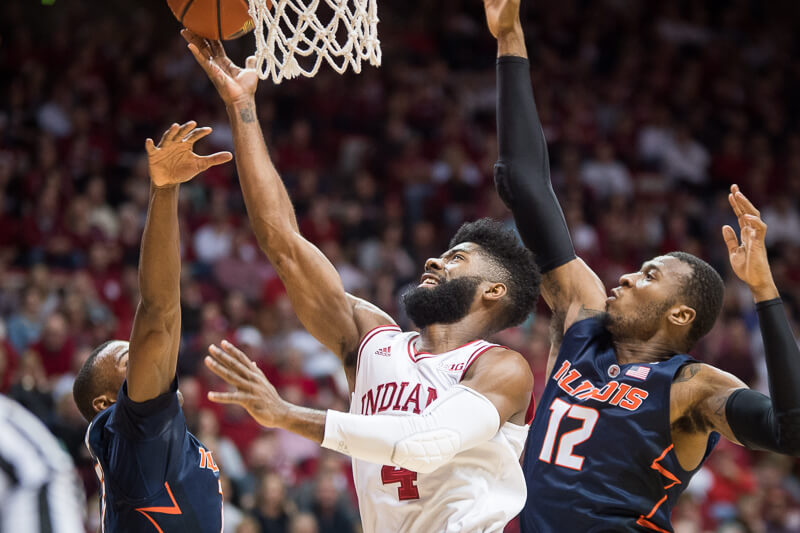 Only one week remains in the regular season, and every team still has plenty to play for. The four teams at the bottom are all within a half game, while Michigan State has found a bit of separation at the top.
Since this is the last week of the regular season, seeding scenarios for the Big Ten Tournament have been added. For more information on seeding possibilities, view this spreadsheet from The Only Colors.
14. Minnesota (14-14, 3-12 Big Ten; 0.99 points per possession in conference play, 1.12 PPP allowed; KenPom 102, Sagarin 79, RPI 140) (Last week: 12)
Seed range: 10-14
It was an eventful week for the Gophers, who have now lost 11 of 12. On Thursday, Reggie Lynch dropped his appeal and was expelled from the University. Two days later, Amir Coffey was ruled out for the rest of the season after trying to play through a shoulder injury. Meanwhile, the remaining players dropped a home game to Michigan State by a whopping 30 points.
13. Rutgers (13-16, 3-13; 0.87 PPP, 1.03 PPP allowed; KenPom 142, Sagarin 121, RPI 207) (Last week: 14)
Seed range: 10-14
The Scarlet Knights shocked Northwestern in overtime on Tuesday thanks to a 30-point night from Corey Sanders. Now they're one win away from avoiding a fourth consecutive last-place finish. Technically, that's progress.
12. Iowa (12-17, 3-13; 1.08 PPP, 1.19 PPP allowed; KenPom 100, Sagarin 85, RPI 154) (Last week: 11)
Seed range: 10-14
Iowa can score with anyone in the conference. The problem is on the other side of the ball, where the Hawkeyes remain on pace to end the season with the Big Ten's worst defense in the KenPom era.
11. Illinois (13-15, 3-12; 1.01 PPP, 1.09 PPP allowed; KenPom 105, Sagarin 89, RPI 179) (Last week: 13)
Seed range: 10-14
After coming close time and time again, the Illini finally pulled off the upset they had been searching for, shucking the Cornhuskers on Sunday. Junior Leron Black was superb in the victory, posting 28 points and seven rebounds.
10. Wisconsin (12-16, 5-10; 0.99 PPP, 1.08 PPP allowed; KenPom 90, Sagarin 69, RPI 134) (Last week: 10)
Seed range: 8-13
With Thursday's four-point win over Purdue, Wisconsin has likely avoided a Wednesday game in the Big Ten tournament. In the upset win, junior Ethan Happ received help from freshman Brad Davison, who scored 16 points and added three rebounds and two assists.
9. Northwestern (15-13, 6-9; 0.99 PPP, 1.03 PPP allowed; KenPom 78, Sagarin 65, RPI 117) (Last week: 9)
Seed range: 8-10
A disappointing campaign got worse last week as the Wildcats dropped a pair of close contests in befuddling fashion. Northwestern choked double-digit leads away in both and now are assured no better than a .500 conference season.
8. Maryland (18-11, 7-9; 1.09 PPP, 1.10 PPP allowed; KenPom 41, Sagarin 32, RPI 67) (Last week: 8)
Seed range: 8-10
Unlike Northwestern, the Terrapins were able to get the job done against Rutgers in a wire-to-wire triumph. It doesn't make up for the missed opportunity that was a close loss earlier in the week in Lincoln, but freshman Bruno Fernando's strong play was encouraging nonetheless.
7. Indiana (16-12, 9-7; 1.02 PPP, 1.00 PPP allowed; KenPom 72, Sagarin 56, RPI 101) (Last week: 7)
Seed range: 5-7
Indiana has now won a season-bet four straight after downing Illinois and Iowa. The Hoosiers have guaranteed themselves of a top-half regular season finish in the Big Ten. The upcoming week will provide more formidable challenges against Nebraska and Ohio State.
6. Penn State (19-10, 9-7; 1.08 PPP, 1.02 PPP allowed; KenPom 25, Sagarin 37, RPI 76) (Last week: 6)
Seed range: 4-7
Facing two of the Big Ten's best, the Nittany Lions more than held their own, dismantling Ohio State before losing a heartbreaker to Purdue. Penn State will have a pair of opportunities for quality wins this week, as they take on Michigan and Nebraska.
5. Nebraska (20-9, 11-5; 1.05 PPP, 1.01 PPP allowed; KenPom 56, Sagarin 64, RPI 60) (Last week: 4)
Seed range: 4-7
The Cornhuskers may have blown their chance at a double-bye in the Big Ten tournament after failing to leave Champaign with a win. Now, not only are they likely on the wrong side of the bubble, but their path to an automatic bid became significantly tougher.
4. Michigan (22-7, 11-5; 1.09 PPP, 1.02 PPP allowed; KenPom 23, Sagarin 16, RPI 28) (Last week: 5)
Seed range: 4-6
John Beilein's club is peaking at the right time. The Wolverines have won five of six, with the latest coming against Iowa and Ohio State. The second came on an emotional senior day that brought a tear to everyone in Crisler Center. That's because Austin Hatch was honored at center court before the game.
3. Ohio State (22-7, 13-3; 1.13 PPP, 0.99 PPP allowed; KenPom 17, Sagarin 25, RPI 20) (Last week: 1)
Seed range: 1-3
For the first time since November, the Buckeyes have dropped consecutive games. This time, Ohio State lost on the road to both Penn State and Michigan by double-digits. But the Buckeyes are still safely in the NCAA tournament, and as long as they handle business against Rutgers on Tuesday, there shouldn't be cause for concern.
2. Purdue (24-5, 13-3; 1.15 PPP, 1.00 PPP allowed; KenPom 6, Sagarin 5, RPI 12) (Last week: 2)
Seed range: 1-3
The suddenly freefalling Boilermakers threw away any chance at a second straight outright Big Ten title when they fell at Wisconsin on Thursday. Three days later, Purdue temporarily stopped the bleeding by scraping past Penn State at home. With star senior Vincent Edwards a late scratch after spraining his ankle in practice, sophomore Carsen Edwards took over, scoring 27 points and recording three steals.
1. Michigan State (26-3, 14-2; 1.14 PPP, 0.99 PPP allowed; KenPom 4, Sagarin 4, RPI 14) (Last week: 3)
Seed range: 1-3
Thanks to a miraculous comeback at Northwestern, the path for an outright Big Ten crown is clear for Michigan State, which has now won 10 in a row. All Michigan State has to do is beat Illinois at home and Wisconsin on the road. Sounds simple, but with the twists and turns this season has already provided, nothing should be taken for granted.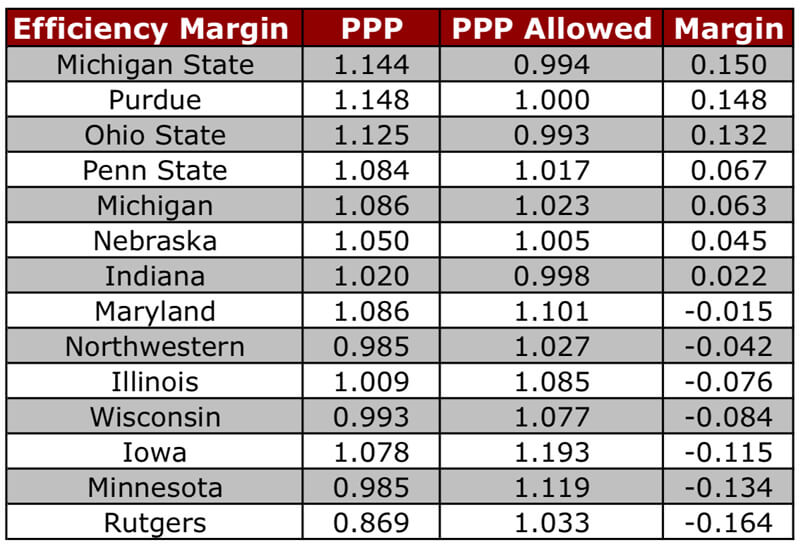 Filed to: Big Ten Power Rankings