The Minute After: Iowa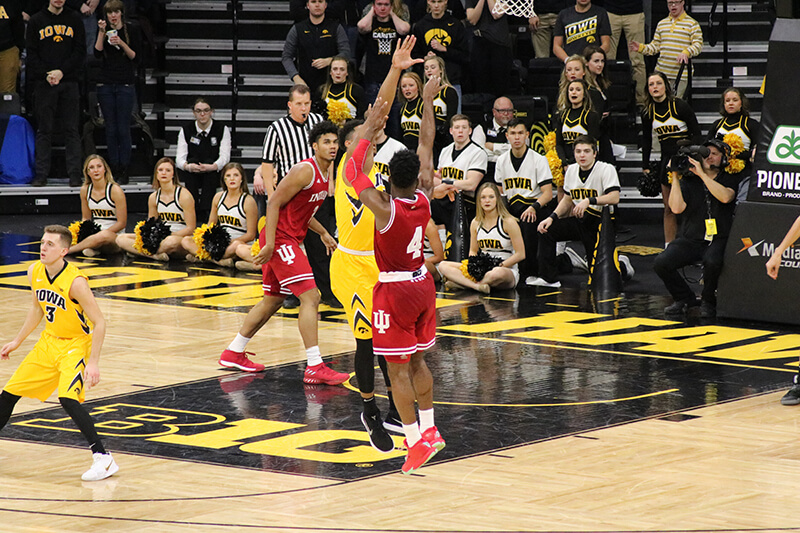 Thoughts on an 84-82 win over the Hawkeyes:
Robert Johnson was today's star. His nine 3-pointers — which tied an Indiana single-game record — saved the Hoosiers on a day their Big Ten best defense allowed 1.23 points per possession to the Hawkeyes.
But, late in the contest, as Juwan Morgan's four fouls left him more timid than usual defending Iowa's own star, Tyler Cook, Archie Miller made the decision to switch Freddie McSwain onto Cook. And McSwain came up huge.
With just over a minute to go and the game tied at 82-all after Cook had scored Iowa's last four points with Morgan on him, McSwain stayed strong against Cook near the right low post and forced him baseline. Cook's foot landed out of bounds. Indiana ball.
On the ensuing Hoosier possession, Devonte Green found McSwain rolling to the rim on a seriously nifty pass. McSwain scored to put the Hoosiers up 84-82. This nail-biter of a finish continued with Cook again getting the ball out past the right low post. McSwain stayed strong once more, muscled against Cook and forced him into a miss. Johnson missed the front of a 1-and-1 on Indiana's next possession, which allowed Iowa to either tie or take the lead in the final possession. The Hawkeyes failed to get anything good and so the Hoosiers escaped a snowy day in Iowa City with a victory.
It was not without struggle. Iowa couldn't and didn't miss from the field to start the contest. The Hawkeyes made their first 10 shots, knocking the Hoosiers back on their heels as they struggled to contain Iowa's high-low action. The Hoosiers trailed by 13 (23-10) at the 13:41 mark. But they stayed the course, started to make things harder on the Hawkeyes and slowly eroded the lead all the way down to three points at the break.
Indiana looked like it might win this win going away as it mounted a 13-point lead of its own in the second half as Johnson poured in 3-pointer after 3-pointer. But some slippage for a stretch on defense left the door open for the Hawkeyes, setting the stage for a close finish as the Hoosiers never led by more than four over the final 4:20 of the contest.
Iowa played a lot of zone in this one, which was part of the reason for Johnson's hot 3-point shooting (9-of-12) and 29 points, as he got looks over the top of it off because of ball movement. Devonte Green was a beneficiary at times as well, as he hit 4-of-5 from distance en route to 18 points of his own. For the contest, Indiana hit 14-of-24 (58.4 percent) from distance, a season-high.
Playing with a brace on his knee and a bandage on his thumb, Collin Hartman deserve a nod for his performance. The senior didn't score, but dished out five assists and played great defense as he recorded a block and two steals. Those steals helped the Hoosiers turn the Hawkeyes over on 25 percent of their possessions.
Today's win guarantees a .500 record in conference for Indiana as it heads to two tough tests to close out the season. Can the Hoosiers keep their improved play rolling and pick off an upset (or two?) against Nebraska and Ohio State next week?
Filed to: Iowa Hawkeyes