Notebook: Hoosiers get revenge on Illini in ugly affair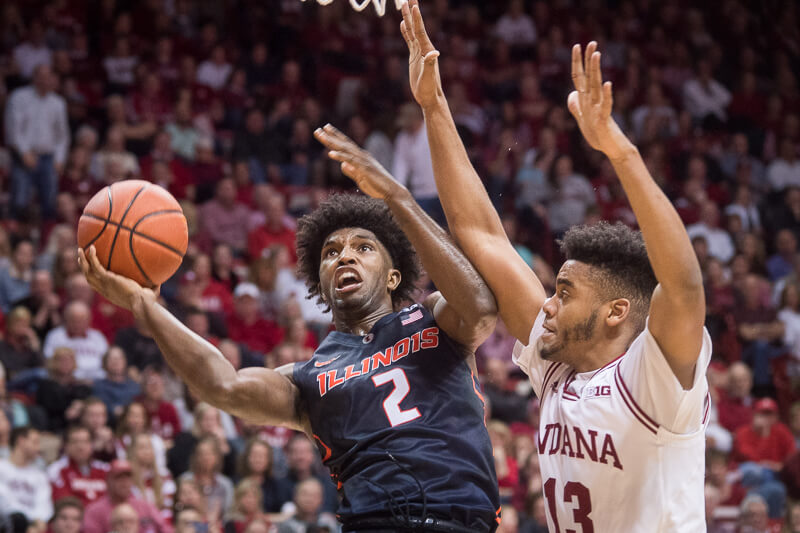 With 33 combined turnovers, 47 fouls and a whole lot of whistles, the crowd at Assembly Hall was treated to a slog of a contest on Valentine's Day.
Most importantly, however, was the result. Despite how hard it was to watch, what matters is that Indiana picked up a key win over Illinois, 78-68, in the late stages of Big Ten play.
The Hoosiers (15-12, 8-7 Big Ten) received an enormous boost from the reserves, particularly from freshmen Justin Smith and Al Durham. The duo scored 27 of Indiana's 38 bench points and were active on both ends of the floor.
"Now that we get game reps and practice reps, we are able to see how things are maneuvered throughout the defense," said Smith. "We're just getting more comfortable in the defense, we're knowing where to be at the right times, when to do it. It's just confidence building."
"Freshmen, they go through ups and downs and good starts, bad games," Archie Miller said. "That's what a freshman season is. But moments like tonight, hard-fought win where guys make winning plays, they stick with you — that's how you learn how to win. And these are experiences that will help them develop into really good Indiana players."
Both drove into the teeth of the Illini (12-15, 2-12) defense often, drawing fouls and hitting shots inside. Add to that Durham's 2-of-2 night from beyond the 3-point arc and Smith's two offensive boards, and it was enough to help lift the Hoosiers to their third straight win.
It wasn't just the pair of freshmen that were instrumental. Junior Juwan Morgan, like he's been in nearly every game this season, was phenomenal. Although he didn't have his best offensive performance of the season, putting up 14 points on 4-of-8 shooting, his defense was at an All-Big Ten level. In 37 minutes, Morgan collected five blocks and four steals. And those stats don't quite do justice to his impact on the defensive side of the floor.
"(Juwan is) out as reliable as you can get," Miller said. "He's been a stud for us all season, especially as you come through these February games, he's still playing really hard, really well. If he's not a first-team, all-conference member maybe it's because of our record. But I have a hard time imagining there's an impactful player on a team that's done as much as him for us."
Turnover woes
Indiana has shown significant improvement this season when it comes to taking care of the basketball. Tonight was an exception.
The Hoosiers turned the ball over a staggering 18 times, tied for the game at Illinois for most turnovers in Big Ten play.
Many of the turnovers weren't just unforced, they were inexplicable. Passes made way too late, failure to read the defense, and carelessness were the reasons for many.
"I thought we had some good possessions," Miller said. "I thought we did some good things, but I thought we had some sloppy turnovers. And both games (against Illinois) kind of played out a little bit the same way except I thought we were better on the glass tonight and we made our free throws."
Filed to: Illinois Fighting Illini