Five takeaways from Indiana's win over Illinois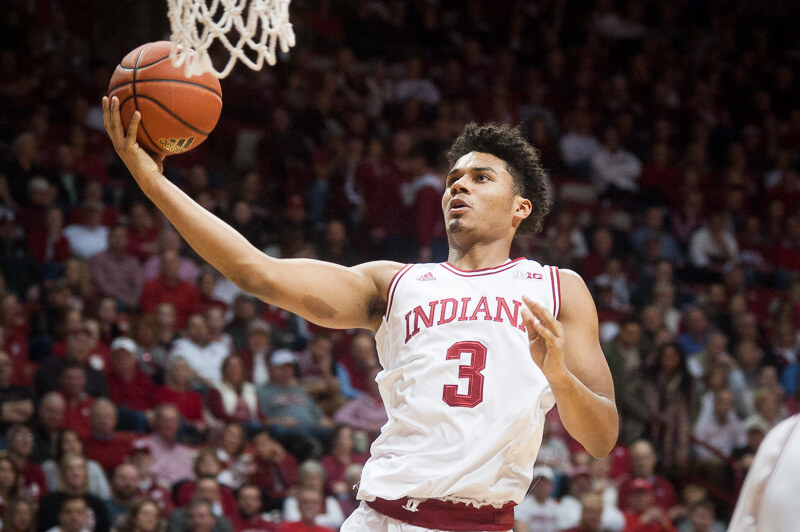 Indiana won its third straight game as the Hoosiers beat Illinois 78-68 at Simon Skjodt Assembly Hall on Wednesday night. The win improved Indiana to 15-12 overall and 8-7 in conference play.
Here's a look at five takeaways from the win over the Illini:
· Bench comes up big: Offensively, Wednesday's performance was one of Indiana's most balanced efforts of the season.
The Hoosiers had five players finish in double figures and Freddie McSwain wasn't far behind with nine points. Three of the five double figure scorers were reserves as 38 of the team's 78 points came from bench.
Al Durham Jr. tied for a team-high with 14 points, Justin Smith added 13 and Josh Newkirk had 11.
"Our coaches always tell us to be ready," Smith said postgame. "When our number was called, we were able to get in the game and make something happen, trying to get the juices flowing."
It was the first time Durham has scored in double figures in league play and just the third double figure effort in Big Ten play by Smith.
· Morgan dominates again: Although his 14 points were well below his scoring average in Big Ten play, Juwan Morgan was still dominant in the win over the Illini.
Beyond the scoring, Morgan stuffed the stat sheet with 10 rebounds, five blocked shots, four steals and three assists in 37 minutes. He was 4-of-8 from the field and 6-of-7 from the free throw line.
"He's doing it almost every game," Archie Miller said. "Doesn't get as much notice but blocks a lot of shots and defensive rebounds and steals the ball. He's a very good defender, a valuable defender on our team, not the biggest at times guarding in the post, but I think what he's done for our team on both ends of the floor has been really good."
· Indiana's turnaround defensively has been remarkable: Indiana has just three Big Ten games remaining, but has already surpassed its conference win total for last season.
The catalyst for Indiana's improve play in recent weeks has been evident: defense.
The Hoosiers are now ranked 50th nationally in Ken Pomeroy's adjusted defensive efficiency metric and have the second best defense in conference play at .98 points per possession allowed. Indiana had the league's worst defense last season in conference play.
In Wednesday's win, Indiana held a third straight Big Ten opponent below a point per possession as Illinois managed just .95 points per trip.
· Hoosiers make life harder for Trent Frazier: Illinois freshman guard Trent Frazier scored 19 points in the first meeting between the two teams last month in Champaign.
Indiana did a much better job on Frazier in the rematch as the 6-foot-1 guard finished with 12 points on 5-of-13 shooting from the field.
"I thought the defensive effort for the most part on Trent Frazier was pretty good," Miller said postgame. "He had really hurt us in the first one, and when he gets going they're hard to deal with."
· Free throw shooting didn't derail IU's chances for a win: Indiana lost the first meeting between the two teams in large part because it couldn't make free throws.
The Hoosiers went just 16-of-29 from the line in Champaign in a 73-71 loss on Jan. 24.
Illinois committed 24 fouls in Wednesday's game and Indiana again went to the line 29 times. But the Hoosiers knocked down 20 of their attempts in the win for 69 percent. While not a great percentage, it was significantly better than Indiana's numbers to date in Big Ten play (63.7 percent).
"I feel a lot of our struggles have been because one person wasn't making free throws and that escalated into everything," Smith said. "We're still working on it in practice, looking to get better."
Filed to: Aljami Durham, Illinois Fighting Illini, Justin Smith, Juwan Morgan