Big Ten Power rankings: February 12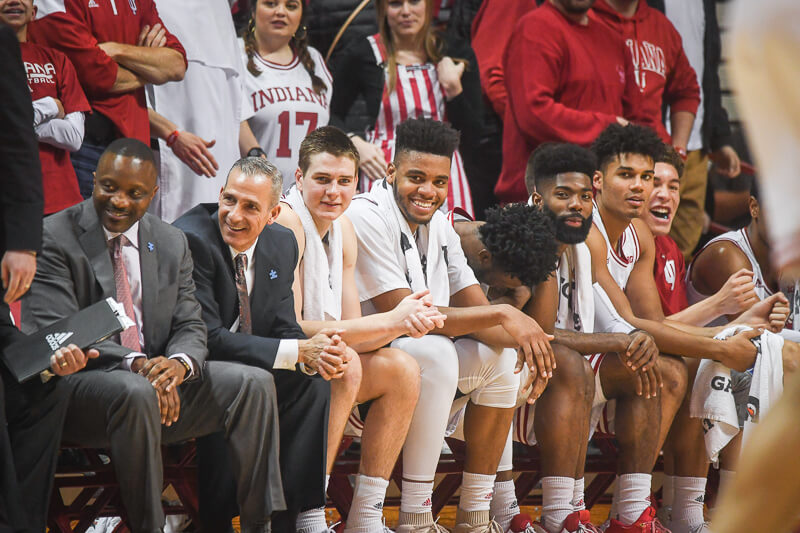 Only 16 days remain until the Big Ten Tournament, and the race at the top has suddenly heated up, with Purdue dropping two straight.
14. Rutgers (12-15, 2-12 Big Ten; 0.86 points per possession in conference play, 1.04 PPP allowed; 153 KenPom, 135 Sagarin, 208 RPI) (Last week: 14)
After a somewhat promising start to conference play, the Scarlet Knights have completely fallen off, losing seven in a row. In those losses, Rutgers cracked the 1.00 PPP mark on offense just once.
13. Illinois (12-14, 2-11; 1.01 PPP, 1.09 PPP allowed; 112 KenPom, 94 Sagarin, 183 RPI) (Last week: 13)
Illinois has dropped three straight after a promising two-game winning streak. The latest loss came on Sunday to Penn State, when they allowed a 12-0 run early in the second half that put the game out of reach.
12. Minnesota (14-13, 3-11; 0.99 PPP, 1.11 PPP allowed; 95 KenPom, 73 Sagarin, 134 RPI) (Last week: 10)
Not a single player on the roster even shot 50 percent in a 24-point loss at Indiana on Friday. The Golden Gophers have now lost 10 of 11, and the losing skid likely won't end soon. A home date Tuesday with Michigan State has the potential to get ugly.
11. Iowa (12-15, 3-11; 1.08 PPP, 1.20 PPP allowed; 96 KenPom, 81 Sagarin, 139 RPI) (Last week: 12)
Owners of the worst defense in the Big Ten, the Hawkeyes allowed both Michigan State and Ohio State to score over 1.2 PPP in their games this week. Despite that, Iowa still had a chance to down the Spartans, but a 12-of-19 night from the free throw line did them in. Iowa has assured their first losing season in conference since 2010.
10. Wisconsin (11-16, 4-10; 1.00 PPP, 1.10 PPP allowed; 93 KenPom, 72 Sagarin, 153 RPI) (Last week: 11)
The Badgers also secured a losing record and simply can't rely on Ethan Happ for everything. The redshirt junior scored 29 points on 23 shots against Michigan, but the defense couldn't keep up, allowing 83 points on 56 percent shooting.
9. Northwestern (15-11, 6-7; 0.99 PPP, 1.02 PPP allowed; 78 KenPom, 53 Sagarin, 96 RPI) (Last week: 7)
Any hope of an at-large bid likely went out the window last week when Northwestern fell in College Park by 16 points. Northwestern's offense was lifeless in the loss to Maryland, with the team shooting under 40 percent and only two players scoring in double figures.
8. Maryland (17-10, 6-8; 1.09 PPP, 1.12 PPP allowed; 39 KenPom, 33 Sagarin, 59 RPI) (Last week: 8)
The Terrapins postseason hopes are hanging by a thread after winning two-of-three. With Justin Jackson Jackson out for the season, Anthony Cowan has picked up the slack, reaching double figures scoring in all but one game.
7. Indiana (14-12, 7-7; 1.00 PPP, 0.99 PPP allowed; 76 KenPom, 60 Sagarin, 109 RPI) (Last week: 9)
Indiana has essentially secured a first-round bye in the Big Ten tournament after winning two straight to get back to .500. Sophomore Devonte Green has responded to a promotion into the starting lineup by playing the best basketball of his career, including a 19-point effort in a win over Minnesota.
6. Penn State (18-9, 8-6; 1.07 PPP, 1.02 PPP allowed; 41 KenPom, 44 Sagarin, 85 RPI) (Last week: 6)
The Nittany Lions have won five-of-six since getting key reserve Josh Reaves back from suspension. Tony Carr, the hero in the win at Ohio State, was fantastic on Sunday. Against Illinois, the sophomore recorded 15 points, six rebounds and six assists.
5. Michigan (20-7, 9-5; 1.08 PPP, 1.04 PPP allowed; 27 KenPom, 22 Sagarin, 38 RPI) (Last week: 4)
With a surprising loss at Northwestern on Tuesday, the Wolverines are now a game back of Nebraska for the final double-bye in the Big Ten tournament. Michigan bounced back on Sunday by downing Wisconsin, with junior Moritz Wagner scoring 20 points.
4. Nebraska (19-8, 10-4; 1.05 PPP, 1.00 PPP allowed; 52 KenPom, 58 Sagarin, 54 RPI) (Last week: 5)
If it weren't for Ohio State, the Cornhuskers would be the surprise of the Big Ten season. Nebraska has now won seven-of-eight and easily took care of business last week against Minnesota and Rutgers. Yet non-conference losses to St. John's and UCF might prevent the Cornhuskers from earning an at-large bid.
3. Michigan State (24-3, 12-2; 1.14 PPP, 1.00 PPP allowed; 6 KenPom, 4 Sagarin, 14 RPI) (Last week: 3)
The mid-January skid is now well in the past as the Spartans have won eight straight. Sophomore Miles Bridges provided the winning shot over Purdue on Saturday when he nailed a 3-pointer in the final seconds. With an incredibly favorable end-of-season schedule, Michigan State is back in the title hunt.
2. Purdue (23-4, 12-2; 1.17 PPP, 1.00 PPP allowed; 4 KenPom, 3 Sagarin, 11 RPI) (Last week: 1)
Dreams of an undefeated conference season came crashing down last week as the Boilermakers dropped a pair of games, both by a single possession. The NCAA tournament selection committee didn't seem to mind, though, as they were still named a No. 1 seed in the preview bracket released on Sunday.
1. Ohio State (22-5, 13-1; 1.16 PPP, 0.97 PPP allowed; 11 KenPom, 15 Sagarin, 16 RPI) (Last week: 2)
First-year coach Chris Holtmann is a lock for Big Ten coach of the year, and the Buckeyes are well within reach of a Big Ten title. After being held scoreless against Purdue, Kaleb Wesson was key in Sunday's win over Iowa. The freshman blocked a pair of shots and poured in 18 points, including an 8-of-11 effort from the foul line.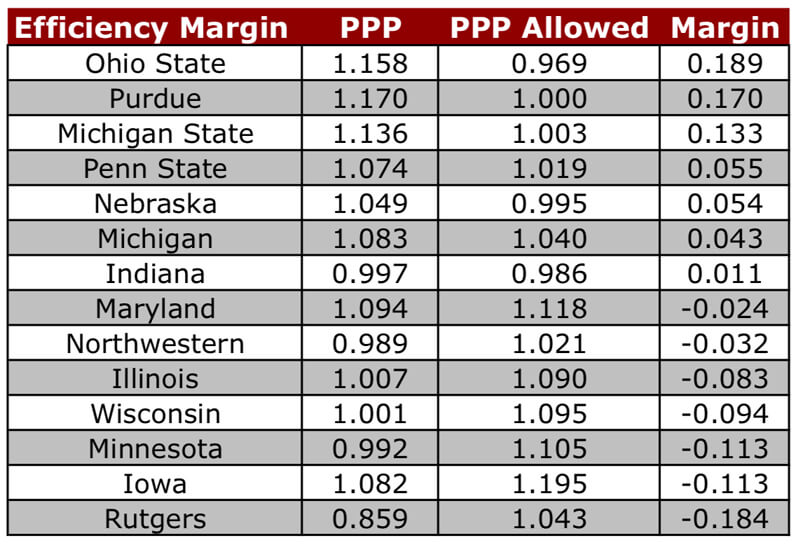 Filed to: Big Ten Power Rankings