Notebook: Green leads way for Hoosiers in wire-to-wire win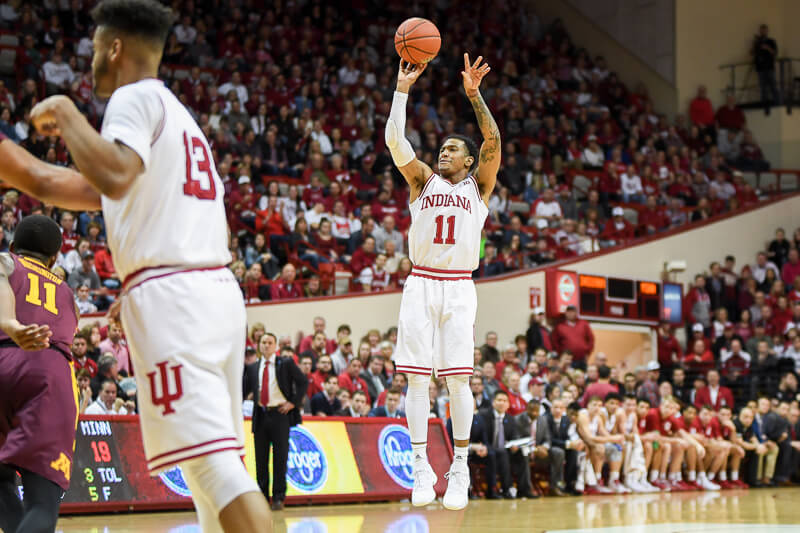 Led by sophomore Devonte Green, Indiana dominated Minnesota at Assembly Hall, 80-56, sweeping the season series in convincing fashion.
The Hoosiers (14-12, 7-7 Big Ten) got out to an early lead and never trailed en route to their second consecutive victory.
In his second straight start, Green was sensational. The sophomore put it all together – handles, passing perimeter shooting and defense – to record the best performance of his Indiana career. Green only needed seven shots to score 19 points and added seven assists, four rebounds, and three steals in 31 minutes.
Instead of the frantic and risky playmaking Green has reverted to at times this season, he was calm, cool and calculated on Friday night. When he did take chances, they were high-percentage ones, like the picture perfect one-hand outlet pass to a wide-open Juwan Morgan for a layup.
"It's not always a home run," Archie Miller said of Green after the game. "You can go for the single every once in a while, and I think he started to go for the singles. He's starting to make some really good decision on pick and roll situations. He's starting to be a guy that has his head up and is looking for people, and then every once in a while, you're going to see him make a couple plays that a lot of people can't make because he's really talented."
It's not just Green's offense that has been the catalyst for Indiana's two-game winning streak.
His on-ball defense, along with the rest of his team's, has been superb. The Gophers were held to 33 percent shooting as a team, and not a single Minnesota player shot even 50 percent.
"The energy level is up," Miller said. "Guys are really working on the ball, which is something we struggled with at times this year, just not tough enough on the ball. From a positioning standpoint, from an energy level off the ball, guys are really aware. You see a lot more deflections, a lot more blocked shots. I think defensively we've done a better job just understanding how we play. We've got more experience playing with one another now."
As Indiana continues to improve on defense, the advanced statistics have begun to make the difference measurable. According to KenPom, the Hoosiers now boast the second-best defense in Big Ten play, holding opponents to 0.99 points per possession. That number represents a complete turnaround from 2016-17 when Indiana allowed 1.11 points per possession in conference play, dead last in the conference.
If the Hoosiers defense remains on this trajectory, it could be a scary sight for the rest of the conference.
"It was just finally breaking through that door (defensively), and once we did that, we've just been on a roll now," Morgan said.
Johnson's louder leadership
Although reserved at times, senior Robert Johnson has grown into a leader Indiana can count on. Johnson scored in double-figures for the second game in a row and the 19th time this season, putting up 11 points on 5-of-9 shooting.
Johnson's 11 points bring his collegiate total to 1,325, good for 27th in program history.
Perhaps more consequential than Johnson's shooting was his ability to impact the game in a variety of facets. The senior has been a leader on the defensive end throughout the season, and that was the case again tonight, as he blocked a shot and recorded two steals.
"Rob guards the other guy's best player the whole game," Miller said. "He's locked in on that end, which is great to see. I think tonight if you look at him, he made a lot of really good passes — four assists, zero turnovers, he was unselfish, and he defensive rebounded for us."
Archie Miller said in his first days as the head coach of Indiana, he found Johnson to be more reserved. Now, he says the senior has blossomed into a true vocal leader.
"(Johnson is) way more vocal than he's ever been, just in terms of being able to talk to the players, being able to communicate in huddles, the practice reps that he gets, he's been a stud in that realm," Miller said.
Filed to: Devonte Green, Robert Johnson