Five takeaways from Indiana's win over Minnesota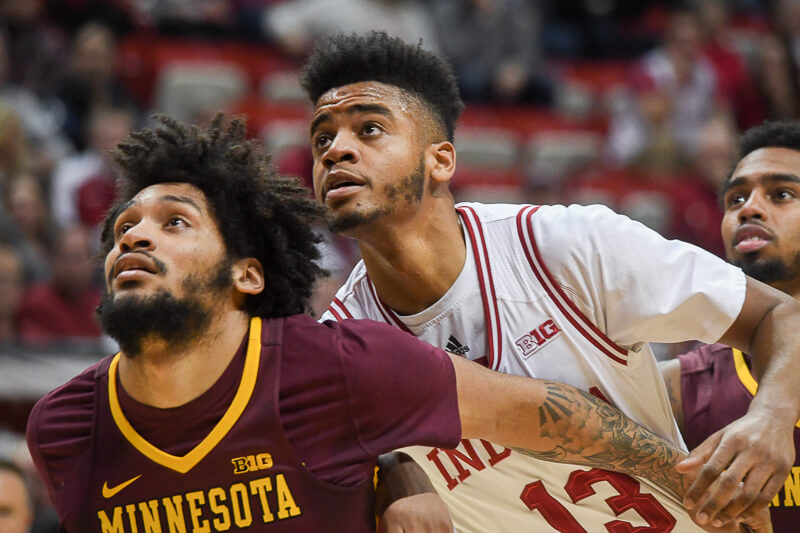 Indiana improved to .500 in Big Ten play with a 80-56 beatdown of Minnesota on Friday night at Simon Skjodt Assembly Hall. The win gave the Hoosiers a season sweep over the Gophers.
Here's a look at five takeaways from Indiana's seventh conference win:
· Defense continues to show improvement: Only four conference games remain and Indiana currently has the Big Ten's second best defense in league play.
After allowing Minnesota to score just .81 points per possession, Indiana is allowing just .99 points per possession overall against Big Ten opponents. Ohio State, which is allowing .97 points per trip, is currently first.
Early in the season the Hoosiers were shredded by Fort Wayne and Indiana State in Simon Skjodt Assembly Hall as they struggled to adjust to the packline defense. But as the season begins to hit the home stretch, Indiana is hitting its stride defensively.
"The energy level is up. Guys are really working on the ball, which is something we struggled with at times this year, just not tough enough on the ball," Archie Miller said. "From a positioning standpoint, from an energy level off the ball, guys are really aware. You see a lot more deflections, a lot more blocked shots. I think defensively we've done a better job just understanding how we play. We've got more experience playing with one another now."
· Green providing a major spark as a starter: Devonte Green earned his way back into the starting lineup with his strong play against Ohio State and Michigan State.
He rewarded Miller's decision to start him in Monday's win at Rutgers with nine points and four assists and the New York native was even better on Friday against Minnesota.
Green tied for a team-high with 19 points and added seven assists, four rebounds and three steals in 30 minutes.
"In his mind, I think he started to see to himself that his way wasn't working," Miller said of Green's improved play in recent weeks. "At the end of the day, he started to come with a little bit more humbleness in practice, a little bit more approach that we liked. And with that approach, he got opportunity. Once he got his opportunity, he took advantage of it."
Over his last four games, Green has 19 assists and five turnovers.
· Morgan outplays Murphy again: One of the major reasons why Indiana beat Minnesota in Minneapolis was the production of Juwan Morgan, who finished with 20 points and 12 rebounds.
Morgan again outplayed Minnesota's double-double machine, Jordan Murphy, in the rematch. Morgan just missed a double-double with 19 points and nine rebounds.
Murphy finished with 12 points and nine rebounds.
"Really just trying to take away all easy angles for him to score, making every shot as tough as possible, and not letting him get anything easy," Morgan said. "I think that kind of took him out of his game and didn't let him get too good of a rhythm."
· Have the Hoosiers found their best five? Miller hasn't changed the starting lineup often this season, but the most recent change might be here to stay.
Miller inserted Freddie McSwain into the lineup for the Michigan State game and he responded with 16 rebounds. Green, who has started the last two games in place of Josh Newkirk, has provided a major boost with his playmaking ability.
Is it Indiana's best five?
"I would say that's our best five right now in the season," Miller said. "That's why they're in there together. Freddie's brought a rebounding mentality. He's brought another blue collar guy that's playing hard right now. I think you're starting to see him be a little bit more confident offensively. He's an athlete on the glass. That's been big.
"Devonte clearly has established the play-making ability here recently that's given us a little different dimension. To me, that five gives us the best chance. That's why we're working with that five right now to start the game."
· Minnesota is the Big Ten's biggest disappointment: With Northwestern's mini-surge as of late, Minnesota has replaced the Wildcats as the league's biggest disappointment.
Picked by many to finish third in the conference and ranked as high 12th in the Associated Press poll in late November, the Golden Gophers have now lost 11 of 12.
Injuries and off the court issues have derailed Richard Pitino's fifth season in Minneapolis. Minnesota is likely headed for a Wednesday game later this month when the Big Ten tournament tips off in New York City.
Filed to: Minnesota Golden Gophers