Five takeaways from Indiana's win at Rutgers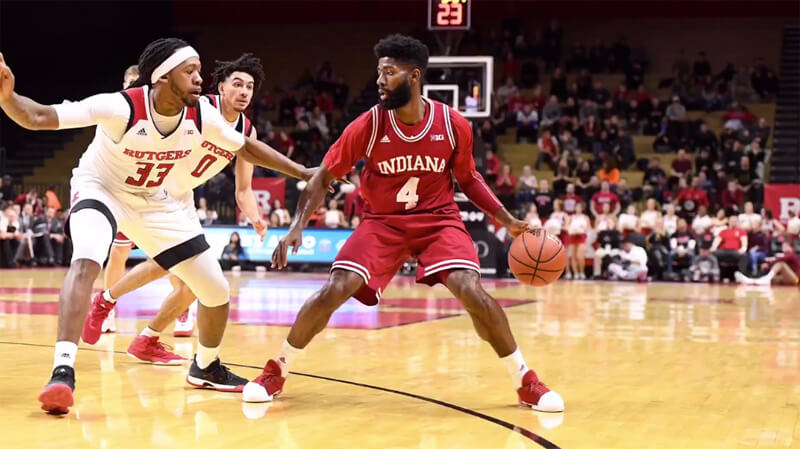 Indiana won its second road game of the season on Monday night with a 65-43 victory over Rutgers at the Louis Brown Athletic Center. The win improved the Hoosiers to 13-12 overall and 6-7 in Big Ten play.
Here's a look at five takeaways from the win over the Scarlet Knights:
· Indiana locks down on defense: Rutgers entered Monday's game against Indiana with the Big Ten's worst offense at .87 points per possession.
In its best defensive performance of the season, Indiana held Rutgers well below its Big Ten average. The Scarlet Knights managed just .67 points per possession after scoring 76 against No. 3 Purdue on Saturday. Rutgers was a dreadful 9-of-40 on 2s and its leading scorer, Corey Sanders, was just 1-of-11 from the floor.
With just five games to go in the regular season, Indiana's adjusted defensive efficiency ranks 76th nationally.
"I thought defensively we were pretty good, especially early," Archie Miller said. "That gave us a chance to get out in transition and do some things. That good start, I thought, gave us some confidence."
· Another dominant performance by Juwan Morgan: Morgan continues to cement his place as an All-Big Ten player as he scored over 20 points for the fifth time in the last six games.
Morgan finished Monday's win with 24 points on an efficient shooting performance (10-of-14). Through 13 league games, Morgan ranks among the league's best in several key categories.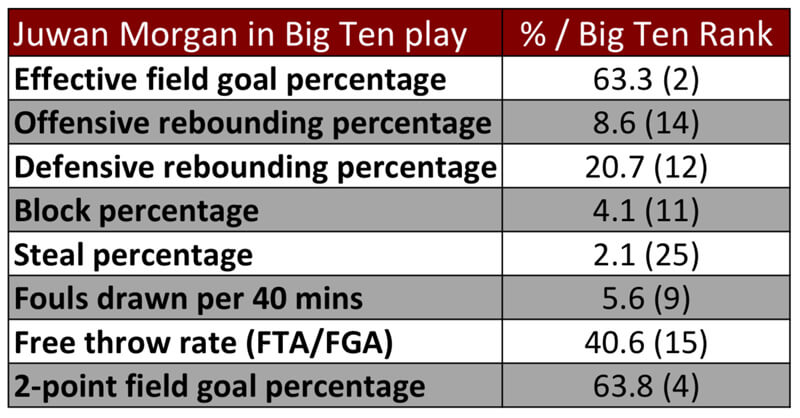 "We had two keys in the game, and they were Morgan and (Robert) Johnson," Rutgers coach Steve Pikiell said. "We obviously didn't do a good job on either of them."
· Green earns start and delivers another strong performance: Devonte Green was a non-factor in Indiana's narrow home loss to Purdue.
But Green didn't let that performance carry over to last Tuesday's loss at Ohio State. Green played well in Columbus and was also effective in Saturday's loss at home to Michigan State. Miller rewarded Green's stellar play by inserting him into the starting lineup on Monday night in Piscataway.
And he delivered.
In 30 minutes, Green locked down Sanders defensively and added nine points and four assists. He did have a pair of turnovers, but a look at Green's Big Ten only numbers shows significant improvement this season with his decision making.
As a freshman, Green had an assist rate of just 10.3 percent and a turnover percentage of 25 in conference play. Through 13 Big Ten games as a sophomore, his assist rate of 21.8 ranks 16th in the Big Ten. And his turnover percentage (16.8) is much improved.
"That lineup deserved to be in the lineup to start the game from a productivity standpoint," Miller said. "Just coming through here the last three weeks, studying some things and looking at it. I definitely wanted to go with that lineup as we come on the road here.We got off to a pretty good start. The play making ability I think was missing."
· IU overcomes another poor free throw shooting performance: Free throw shooting and 3-point shooting percentage have been a problem all season for the Hoosiers.
Indiana again shot poorly from the line on Monday night (8-of-18), but were able to overcome it because of strong shooting game from the perimeter.
The Hoosiers hit 9-of-20 from distance in the win, which was their best 3-point shooting performance to-date in league play. Morgan and Johnson were the catalysts as the duo combined to shoot 6-of-10 from deep.
· Schedule favorable for a strong finish: After playing a brutal schedule in recent weeks, Indiana has a shot to finish .500 in Big Ten play.
The Hoosiers have three games remaining against teams currently in the bottom five of the league standings and also have some time to prepare for Friday's game against Minnesota.
"This is the first time in about 17 days that we've had some time to get some space in between what we're doing," Miller said. "We've gotta get back, regroup and take advantage of the rest. We've also got an opportunity to get on the floor and work on a couple of things."
(Photo credit: IU basketball on Twitter)
Filed to: Rutgers Scarlet Knights