What to expect: Rutgers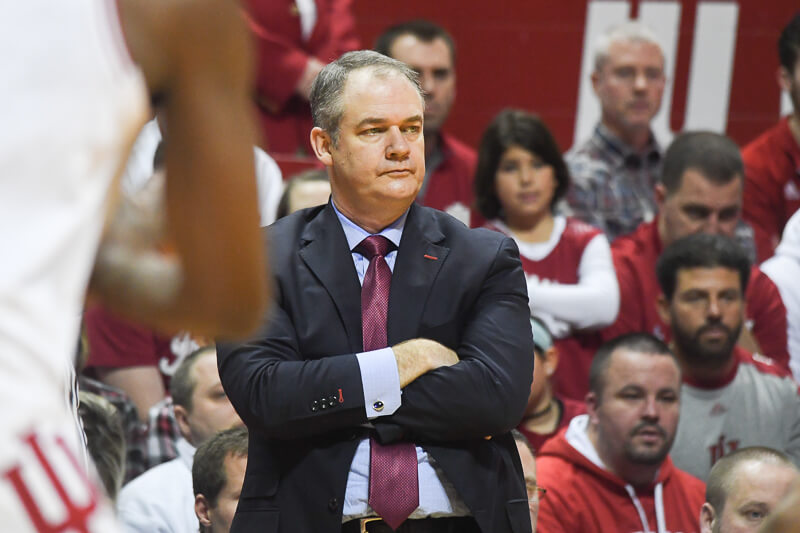 It's another quick turnaround for Indiana as the Hoosiers hit the road to battle Rutgers tonight at the Louis Brown Athletic Center. The Scarlet Knights have lost five straight and are 12-13 overall.
The game will be broadcast at 7 p.m. ET on BTN with Brandon Gaudin and Robbie Hummel on the call:
Two weeks ago, Indiana was 5-3 in the Big Ten after a hard fought win over Maryland at Simon Skjodt Assembly Hall. That now seems like an eternity ago as the Hoosiers have lost four straight games with three of the losses coming against the Big Ten's elite.
Fortunately for Indiana, the final third of the Big Ten schedule eases up significantly.
The Hoosiers have four games remaining against teams currently in the bottom five of the league standings, including tonight's game at Rutgers.
MEET THE SCARLET KNIGHTS
Rutgers has been the Big Ten's bottom dweller since joining the conference in 2014, but the Scarlet Knights are slowly showing signs of improvement.
In year two under Steve Pikiell, Rutgers has been competitive and owns home wins this season over Seton Hall, Wisconsin and Iowa. The Scarlet Knights have a top 20 defense nationally, but are a woeful 283rd in Ken Pomeroy's adjusted offensive efficiency ratings.
Junior point guard Corey Sanders is once again the team's best player and is averaging a team-best 14.2 points in 32.4 minutes per game. The 6-foot-2 point guard is a high usage, low efficiency player who shoots just 42.3 percent on 2s and 22.5 percent on 3s.
He's joined in the backcourt by freshman Geo Baker, who appears to have a bright future. The 6-foot-4 guard is second on the team in scoring at 11.6 points per game and is the team's most reliable 3-point shooter. Baker is shooting 37.9 percent on 3s and had 16 points in Saturday's narrow loss to Purdue.
Matt Bullock, a 6-foot-4 sophomore, comes off the bench and is playing well in the absence of senior guard Mike Williams, who has missed the last seven games with a severely sprained ankle. Bullock had six points in 17 minutes against Purdue, but has appeared in just five games this season.
The Scarlet Knights are also depleted in the frontcourt as Eugene Omoruyi is out indefinitely with a dislocated patella. Pikiell is starting 6-foot-7 senior Deshawn Freeman, 6-foot-10 sophomore Issa Thiam and 6-foot-9 Mamadou Doucoure, so the Hoosiers will be dealing with a lot of size.
Freeman is the standout of the group and averages 11.3 points and 7.5 rebounds in 26 minutes per game. Freeman is 13th in the conference in offensive rebounding percentage and 10th in defensive rebounding percentage.
Thiam is a capable 3-point shooter (38.8 percent) and averages 7.6 points and 4.1 rebounds per game. Doucore averages 3.2 points and 3.6 rebounds, but is shooting just 38.7 percent. Shaquille Doorson, a 7-foot junior, comes off the bench and is making 66.7 percent of his 2s.
TEMPO-FREE PREVIEW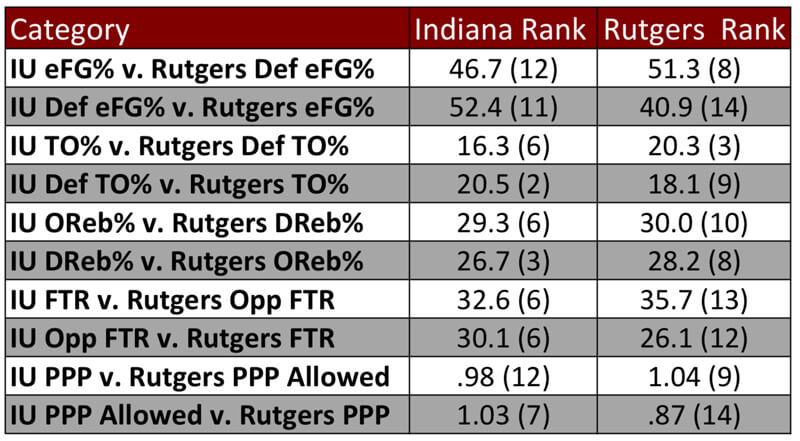 Tonight's game could be a low scoring, grind it out affair as both teams have struggled offensively. Rutgers is the Big Ten's worst offense by a significant margin and the Hoosiers are 12th in league play in points per possession.
Both teams are top three in the conference in terms of forcing turnovers, but Indiana has a few key areas where it must excel to win on the road. Rutgers is in the bottom three in both free throw rate (FTA/FGA) and opponent free throw rate. The Hoosiers need to establish a distinct advantage at the foul line, which has been a struggle this season. Indiana is shooting just 64.9 percent from the line in league play.
Additionally, Indiana is the superior rebounding team and needs to follow up Saturday's effort on the glass against Michigan State with another strong effort.
WHAT IT COMES DOWN TO
The Vegas line favors Indiana by two as of this morning, but Ken Pomeroy likes Rutgers by one with a 49 percent chance of an Indiana victory. The Sagarin ratings like Indiana by just under two points.
Indiana is 5-0 all-time against Rutgers, but the Scarlet Knights are a much more competitive this season than they've been since joining the Big Ten, particularly at home. Simply put, Indiana must exhibit a much stronger effort to begin the game than the one put forth in Columbus on Tuesday.
"Rutgers plays very hard," Archie Miller said Saturday. "They're a tough out any single time that you play and we've got our work cut out for us getting up there. Biggest deal is no excuses. It is what it is. We have to get off this floor, up, ready to go and find a way Monday night to play well."
Filed to: Rutgers Scarlet Knights