Big Ten Power Rankings: February 5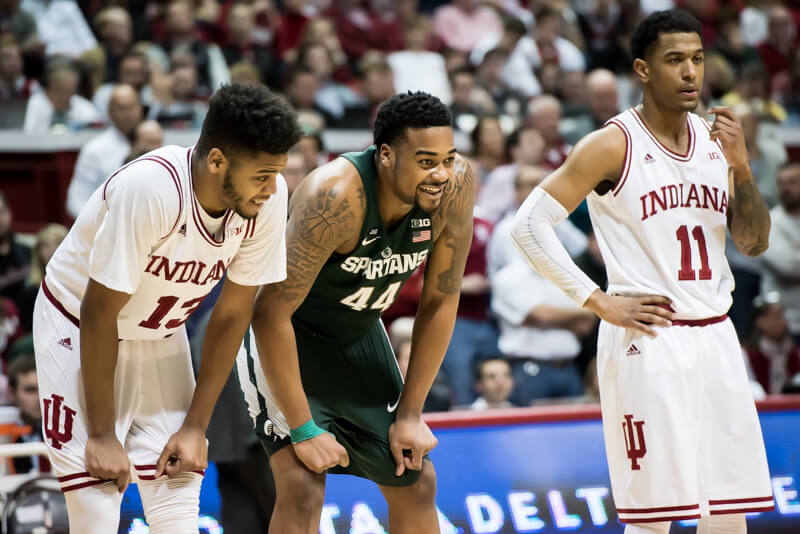 The Big Ten regular season is heading into the final stretch, with every team already having played at least 11 conference games. While the Big Ten's elite look like potential NCAA title contenders, the dropoff after is steep. Six teams are ranked sub-90 in KenPom, and five of those have an overall record at or below .500.
14. Rutgers (12-13, 2-10 Big Ten; 0.87 Points Per Possession in conference play, 1.04 PPP allowed; KenPom – 138, Sagarin – 123, RPI – 195) (Last week: 13)
The Scarlet Knights nearly pulled off the upset of the Big Ten season, but ultimately fell two points short of a victory over Purdue. Corey Sanders finished with 31 points in the loss. Unless they turn things around fast, they'll be playing on Wednesday of the Big Ten tournament for the fourth straight year.
13. Illinois (12-12, 2-9; 1.01 PPP, 1.07 PPP allowed; KenPom – 94, Sagarin – 75, RPI – 159) (Last week: 14)
Illinois picked up their second win in two weeks, dispatching Rutgers by 31 points on Tuesday. Five days later in Columbus, the Illini were within one possession of Ohio State late before fading down the stretch. Freshman guard Trent Frazier has shined over the past few months, scoring in double figures in 13 of the last 14 games.
12. Iowa (12-13, 3-9; 1.08 PPP, 1.18 PPP allowed; KenPom – 103, Sagarin – 81, RPI – 148) (Last week: 12)
Fran McCaffery seemingly had his Hawkeyes moving in the right direction after a 14-point home win over Minnesota, but the follow-up act was a brutal 24-point defeat in State College on Saturday. The Nittany Lions shredded Iowa's bottom of the Big Ten defense to the tune of 1.21 points per possession.
11. Wisconsin (10-15, 3-9; 0.97 PPP, 1.08 PPP allowed; KenPom – 95, Sagarin – 79, RPI – 157) (Last week: 11)
Time has run out on the Badgers, who almost certainly won't be making their 20th consecutive NCAA tournament appearance. Wisconsin has lost eight of their last nine and Ethan Happ was invisible down the stretch in Sunday's loss to Maryland.
10. Minnesota (14-11, 3-9; 0.99 PPP, 1.08 PPP allowed; KenPom – 90, Sagarin – 64, RPI – 118) (Last week: 10)
Severely depleted, the Gophers used just seven players in Ann Arbor on Saturday and still nearly toppled Michigan. A lack of late game execution, however, once again proved costly. In the game's final minutes, Minnesota looked clueless on defense and seemed confused by Michigan's zone on the other end.
9. Indiana (12-12, 5-7; 0.98 PPP, 1.03 PPP allowed; KenPom – 92, Sagarin – 72, RPI – 119) (Last week: 9)
Close isn't good enough for the Hoosiers, who dropped a contentious home contest to a top five team late for the third time this year. Indiana's senior backcourt was a non-factor offensively in the defeat to Michigan State as Josh Newkirk and Robert Johnson combined to shoot 2-of-21 from the floor.
8. Maryland (16-9, 5-7; 1.09 PPP, 1.13 PPP allowed; KenPom – 39, Sagarin –35, RPI – 55) (Last week: 7)
The Terrapins three-game skid came to an end as they managed to hold off Wisconsin to secure a much-needed home victory. Maryland doesn't have many chances left for resume-building wins, but they do have a favorable late-season schedule, with only one game left against a KenPom top-50 team (Michigan).
7. Northwestern (14-10, 5-6; 0.99 PPP, 1.02 PPP allowed; KenPom –76, Sagarin – 53, RPI – 96) (Last week: 8)
After a series of poor performances in the first half of the season, the Wildcats are doing their best to try to pick up the pieces, having won three of their last four. Junior Dererk Pardon connected on all eight of his field goal attempts in a Thursday night win over Wisconsin and is now shooting 63 percent from the floor for the season.
6. Penn State (16-9, 6-6; 1.05 PPP, 1.02 PPP allowed; KenPom – 44, Sagarin – 46, RPI – 103) (Last week: 6)
Pat Chambers' club blew a golden opportunity to pick up a second road win over an elite team in as many weeks but choked away a 12-point second half lead to Michigan State. Sophomore Tony Carr, the hero against Ohio State, was just 9-of-24 from the field in the loss.
5. Nebraska (17-8, 8-4; 1.03 PPP, 0.98 PPP allowed; KenPom – 61, Sagarin – 60, RPI – 57) (Last week: 5)
Junior James Palmer continues to play at an All-Big Ten level as the Cornhuskers have now won three straight. The sharpshooter is averaging 24.7 points, 5.3 rebounds, three assists, a steal and a block per contest over the streak. Upcoming matchups against Minnesota and Rutgers will provide Palmer to continue to display his offensive arsenal.
4. Michigan (19-6, 8-4; 1.08 PPP, 1.03 PPP allowed; KenPom – 24, Sagarin – 21, RPI – 31) (Last week: 4)
A 12-of-28 afternoon from the foul line nearly doomed the Wolverines, but they still managed to survive an upset bid from Minnesota. Michigan is comfortably in the NCAA tournament field but will likely have to avoid slip-ups on the road this week at Northwestern and Wisconsin if they don't want to fall into bubble territory.
3. Michigan State (22-3, 10-2; 1.13 PPP, 0.98 PPP allowed; KenPom – 6, Sagarin – 4, RPI – 21) (Last week: 3)
The Spartans thwarted a pair of potential upsets, holding off Penn State and Indiana. Michigan State has now won three straight, but there are signs of concern in East Lansing. A 25-to-3 disadvantage to Indiana on the offensive glass had Tom Izzo furious at his team's lack of effort.
2. Ohio State (20-5, 11-1; 1.17 PPP, 0.97 PPP allowed; KenPom – 14, Sagarin – 24, RPI – 20) (Last week: 2)
Keita Bates-Diop has continued his remarkable junior campaign and looks to be the odds-on favorite to take home conference Player of the Year honors. In a Sunday win over Illinois, Bates-Diop collected 35 points, 13 rebounds and an assist. The other development on Sunday wasn't as postive, as senior Kam Williams was suspended indefinitely for a violation of team rules.
1. Purdue (23-2, 12-0; 1.20 PPP, 1.00 PPP allowed; KenPom – 3, Sagarin – 2, RPI – 7) (Last week: 1)
The Boilermakers are still undefeated in Big Ten play after skirting by the Scarlet Knights. Purdue's next two challenges should prove to be the toughest of the conference season, with dates looming against Ohio State (Wednesday) and at Michigan State (Saturday).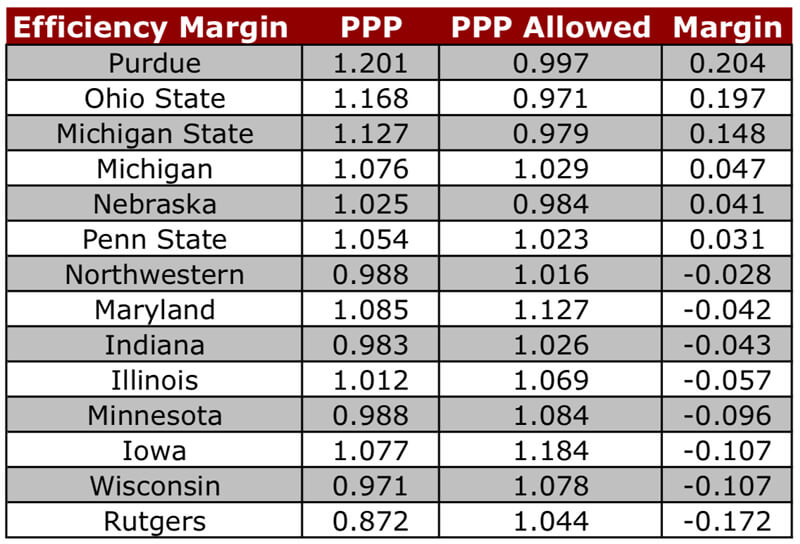 Filed to: Big Ten Power Rankings