Five takeaways from Indiana's loss to Michigan State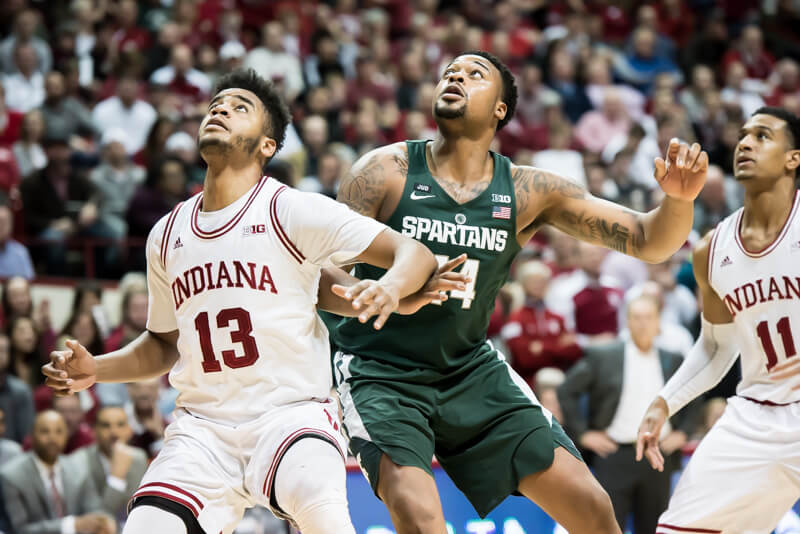 Indiana dropped its fourth straight game on Saturday night as the Hoosiers fell 63-60 to Michigan State at Simon Skjodt Assembly Hall.
Here's a look at five takeaways from the loss to the Spartans:
· Indiana responds after getting "punked": Juwan Morgan spoke without hesitation when asked Indiana's ferociousness on the glass against Michigan State.
"In East Lansing, they punked us," Morgan said. "In a few words, that's what happened."
How good was Indiana on the glass in Saturday's rematch?
Good enough that Tom Izzo said postgame that he considered his team's performance on the boards an insult to him, his players and anybody who has ever played at Michigan State.
Indiana's rebounding was the main reason the Hoosiers were able to hang tough against a top five opponent despite shooting just 28.8 percent from the field. Indiana rebounded 49 percent of its missed shots and scored 14 second chance points.
· Late rally falls short: When Michigan State opened a 10-point lead with a little over 12 minutes to play, it looked like the Spartans might win going away.
But Indiana didn't cave. In fact, in a game that had some similarities to earlier losses to Duke and Purdue, the Hoosiers had chances late, but just couldn't get over the hump.
The backbreaker for the Hoosiers was three missed free throws in the final three minutes. Morgan split a pair from the line with 2:22 remaining to draw Indiana to within one.
And then with a chance to take the lead, Freddie McSwain missed two free throws. Michigan State capitalized on the misses as Matt McQuaid drained a 3-pointer to extend the Spartan lead to four with 1:09 to play.
"Down the stretch, they just made a couple more winning basketball plays than us," Morgan said. "And those are just things we can't give up if we want to get over the hump."
· McSwain shines in second career start: There was a surprise addition to Saturday's starting lineup: Freddie McSwain.
In his best performance since arriving in Bloomington as a junior college transfer, McSwain finished with eight points and 16 rebounds in a career-high 29 minutes.
"Just going out every day and just playing my hardest," McSwain said. "Every time an opportunity is called, start or coming off the bench, I say just come in help the team do whatever to help the team win, really."
· Another turnover-free performance for Devonte Green: As Josh Newkirk continues to struggle down the stretch of his senior season, the door has opened for Devonte Green to claim a bigger role.
And over the last two games, Green is capitalizing. The sophomore from New York scored 20 points in Tuesday's loss at Ohio State and followed it up with seven points, six assists and no turnovers in 31 minutes on Saturday.
"He's the guy that when he wants to distribute, he's the best guy on our team at that," Miller said of Green. "And he got with it at Ohio State. He carried it over a little bit today. And it's good.
"We need guys that are hunt and assists rather than shots, and six assists tonight, I think he had five or whatever he had at Ohio State. Even at Illinois he made some good passes. He's starting to come around a little bit for us, which is a good sign."
· Izzo gives credit to Indiana fans: There's no denying that these are trying times at Michigan State. The heinous acts of Larry Nassar, a former physician at the university, have been in the national headlines for weeks and aren't going away anytime soon.
Tom Izzo has also taken criticism after a recent Outside the Lines story that questioned how he handled sexual assault allegations against several former players.
Indiana, to its credit, was proactive in asking fans to avoid derogatory comments at the game. And postgame, Izzo expressed his appreciation for that.
"I'm probably going to sound a little bit like an IU fan but I do want to publicly thank IU," he said. "I want to thank their president, A.D., coach, players, fans, and students. Whatever they sent out was very classy and well done, and very much appreciated, handling themselves without some of the things that needed to be said. I take my hat off to them."
Filed to: Michigan State Spartans