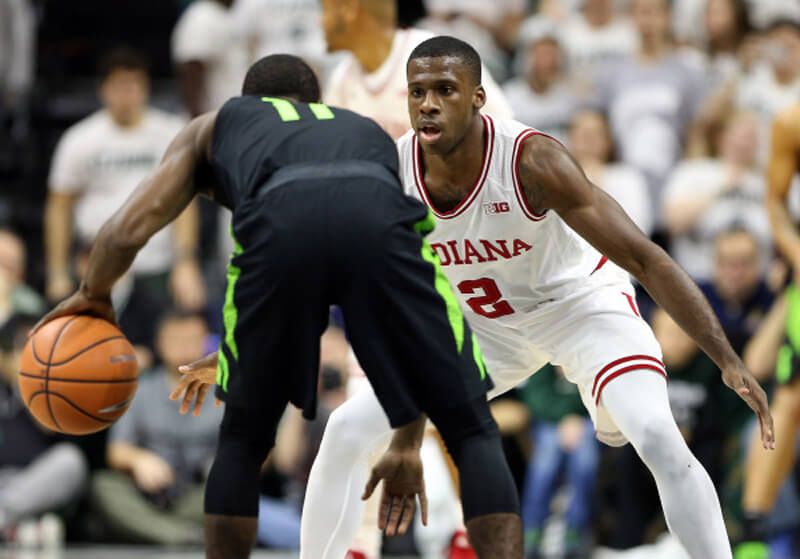 With Indiana facing Michigan State for the second time in 15 days, we're taking a look at three things to watch for in lieu of our traditional game preview.
Saturday's game will be broadcast on ESPN at 8:15 p.m. ET with Dave Flemming, Dan Dakich and Jeff Goodman on the call:
· Which Indiana team will show up? Indiana was beaten soundly in the first meeting between the two teams back on Jan. 19 and the Hoosiers are coming off a shaky performance on Tuesday at Ohio State.
Indiana has proven it can play with the nation's elite, but coming off three straight losses, will the Hoosiers be ready for the challenges Michigan State presents?
On his Thursday radio show, Archie Miller acknowledged that Indiana will need to be much better this time against the Spartans to compete.
"The first time we played Michigan State, they made it difficult on us in a lot of areas," Miller explained. "Our players remember that. They know what it's gonna take to compete. We're gonna have to have a tough mindset."
The key for Indiana will be getting off to a solid start and getting the Simon Skjodt Assembly Hall crowd engaged. The Hoosiers started out very well against Duke and Purdue and kept the crowd in the game. If IU can't make the home court advantage a significant factor, it faces an uphill battle against the Big Ten's most talented team.
· Can Juwan Morgan make an impact? One of the major takeaways from the first meeting between the two teams was the lack of production from Juwan Morgan.
Indiana's junior forward played most of the first half in East Lansing before leaving the game with an ankle injury. In 16 minutes, Morgan scored just two points on 1-of-4 shooting from the field and was 0-of-2 from the free throw line.
Over the four games since IU's loss to the Spartans, Morgan has averaged 23 points per game.
And against a Michigan State frontline that is among the nation's best, the Hoosiers won't be able to afford another less than stellar performance from its best player.
· Can Michigan State avoid a letdown in the midst of distractions around the program? There's no questioning what Tom Izzo has been able to accomplish at Michigan State.
He's one of the best to ever roam the sidelines in the Big Ten, but Izzo is now in the crosshairs of ESPN after a recent Outside the Lines story. The World Wild Leader has been following the Michigan State program and asking Izzo questions that he continues to sidestep.
So far, the distractions haven't made a major impact on the Spartans, who have won five straight. But as the calendar turns to February, it's clear that Izzo and Michigan State will be one of the biggest storylines in the country over the season's final two months.
"It's been crazy," sophomore Cassius Winston said following Michigan State's win at Maryland. "Anytime something happens where there's a lot happening around us, we just keep it tight. This is just really a family. We've got Coach Izzo's back, and he has ours. Out there, that was just us proving it. We've had a little adversity. We were in their place. A lot of things could have happened, but we found a way to stick together and fight through this."
Filed to: Michigan State Spartans