News and notes from Archie Miller's radio show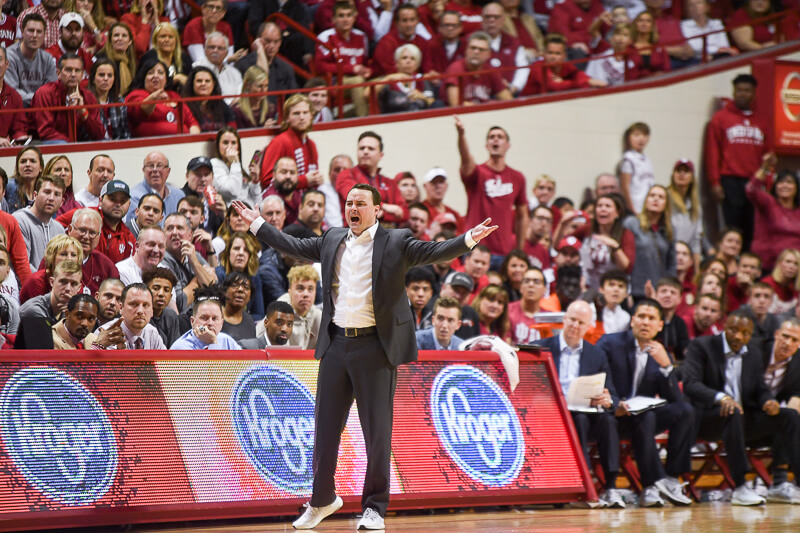 Inside IU basketball with Archie Miller was live on Thursday evening at the Holiday Inn in Bloomington. Zach McRoberts was the special guest in the show's final segment.
Below are news and notes from the show (all quotes from Miller unless noted otherwise):
· Miller said the biggest disappointment in the Purdue game wasn't that the ball got into the post, but it was what happened once it got in there.
· Miller said that McRoberts doesn't need to score a point to impact Indiana winning. "I would put him up against anybody in the league right now just in terms of being an all-defense selection."
· Miller said he thought Devonte Green had his best game of the season against Ohio State after only playing four minutes against Purdue. "He took it to heart. He was engaged when he started the game at Ohio State."
· Indiana will depart for Rutgers on Sunday at noon following Saturday night's game against Michigan State. The Hoosiers will workout in New Jersey on Sunday afternoon before playing again on Monday night.
· Miller said the Hoosiers had a strong practice on Thursday and that he believes the team will remember how difficult Michigan State made it for them in their first meeting in East Lansing. "We're going to have to have a tough mindset."
· Miller said the expectation is that Collin Hartman will be a gametime decision for Saturday's game against Michigan State. Hartman dressed but did not play on Tuesday at Ohio State.
· Miller was asked what brings him the most satisfaction with this season's team: "I don't think you're ever satisfied in anything you're doing. You're always on a quest to be at your best. The one thing our staff is pleased with is our team has improved. I don't think there's been a moment in the season where we haven't improved. Our guys in February are better than they were in December. The quest is, for another month, can we keep climbing the ladder slowly but surely."
· Miller said that he's "very rarely" offered a scholarship to a high school freshman.
· When asked which players on the current IU team could be coaches, Miller mentioned Hartman and Al Durham Jr.
· Miller said that key areas for improvement for Justin Smith moving forward are his ability to grab 50-50 balls and also rebounding.
· On Victor Oladipo being at the Purdue game and the time he spent with the staff before the game: "I don't think, from top to bottom on our staff, did we ever anticipate a guy investing his time that much for coming back for a ceremony. He was in the office with coaches for 20 minutes talking. You can tell how vibrant he is."
· Miller on comparisons to him and Bob Knight: "First of all, I can't coach an ounce of how Coach Knight did it. He, to me — and I study the game and have a father who studies the game — when you start to talk about a Mount Rushmore, he's on it. The ability to coach the game on offense and how he did it over the course of time, most people will tell you he's the best tactician to ever coach college basketball."
· McRoberts said that his primary focus is defense and playing hard. "Just being around it so long and always watching it growing up, that's been something that stuck with me is always playing hard."
· McRoberts said he grew up going to Butler games as his father and grandfather both played there.
· McRoberts said one of the funniest guys on the team is Johnny Jager.
· McRoberts will graduate in May (economics), but plans to return to Indiana's team next season. "I'll graduate in May, but plan to come back."
Filed to: Archie Miller, Zach McRoberts