Notebook: Purdue too much for Hoosiers to handle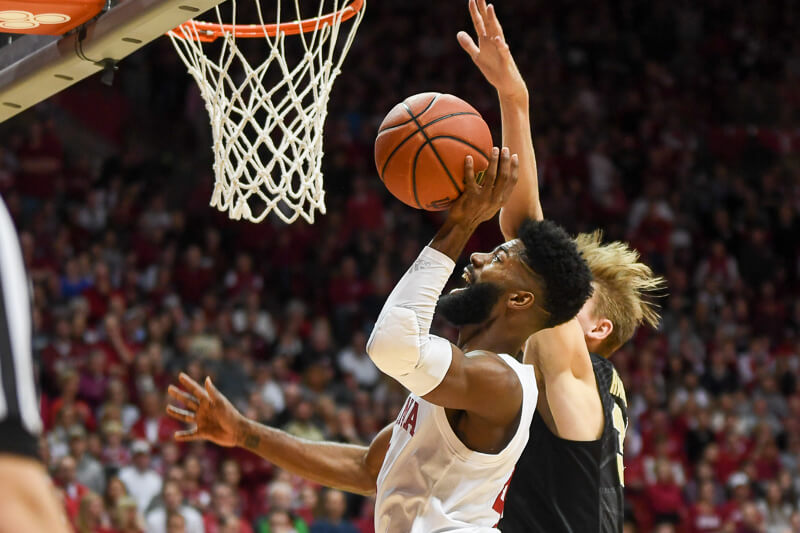 Despite Juwan Morgan's heroics, Indiana dropped its second consecutive game, falling 74-67 to rival Purdue at Simon Skjodt Assembly Hall.
The Hoosiers (12-10, 5-5 Big Ten) took an early advantage as the Boilermakers (21-2, 10-0) began the game ice cold from the perimeter. Purdue missed their first six 3-point attempts, which allowed Indiana to pull ahead by as many as 10 in the opening minutes.
The veteran Boilermakers didn't take long to recover, taking their first lead off a three from sophomore Carsen Edwards with 5:15 left in the first half. From there, the game remained within two possessions until the final minute, with neither team able to take control.
Each time Purdue attempted to pull away in the second half, Morgan would will the Hoosiers back. Despite Morgan's significant height disadvantage against 7-foot-2 Isaac Haas, the junior used nifty footwork and tenacity on the offensive glass to provide the Hoosiers with a frontcourt presence.
"(Morgan is) the focal point of what they do and he's a mismatch nightmare," said Purdue head coach Matt Painter. "Everybody always thinks ultimate size. Isaac Haas was an advantage for us tonight, but Morgan was still an advantage offensively. He gave our two big guys fits. When you get that combo forward to go against seven footers, that's a tough matchup on both ends."
During a stretch that started at the 17:50 mark of the final half and ended at the 5:51 mark, Morgan recorded 11 of his 24 points, five of his seven rebounds (three offensive) and both of his blocks. But 67 seconds after his last basket of that span, Morgan picked up his fourth foul, forcing him to sit. His absence stunted IU's momentum.
Morgan eventually came back into the game with 3:09 left on the clock, but Indiana failed to feed him the ball on all but one of the final six possessions. Instead, Indiana made a series of ill-advised decisions. Of the last six Indiana offensive possessions, four ended in either turnovers or bricked threes and one resulted in a 1-of-2 trip to the line from Justin Smith with just 19 seconds to play. The lone successful offensive trip in the waning moments was a made Morgan layup.
"Those plays, you could put those maybe on me," Archie Miller said after the game. "I should have had our guys maybe a little more organized in the last couple minutes. Call a timeout, just make sure we get a shot. We didn't do that. That killed us."
Hartman out indefinitely
Indiana was dealt a significant blow on Saturday, as fifth-year senior Collin Hartman went down with a lower leg injury in practice.
"(Hartman) had an awkward landing in practice yesterday towards the end," Miller said. "Really wasn't a foul or anything, just an awkward landing on a catch.
"I think more than anything he got nervous. Just going through the docs and the checkups and whatnot. We'll leave it is as a lower-leg injury that's probably going to take him some time here. Hopefully (he's not out) more than a couple weeks."
The injury was not made public until Sunday, when Hartman sat on the bench in a suit during warm-ups and Don Fischer noted on the radio that Hartman would not play.
Hartman has appeared in 15 of Indiana's 22 games this season, averaging six points and 3.6 rebounds in 19.3 minutes per game.
Oladipo returns to Assembly Hall
For the first time since the conclusion of his collegiate career, former All-American Victor Oladipo returned to Simon Skjodt Assembly Hall, where he was honored before the game.
The current member of the Indiana Pacers was named an NBA All-Star on Tuesday, IU's first former player to receive that distinction since Isiah Thomas earned his 12th All-Star nod in 1993. Oladipo received a standing ovation prior to Sunday's game and gave a brief speech to the sold-out crowd.
"I'm a Hoosier. I'll always be a Hoosier," Oladipo said. "I just want to thank y'all for the three amazing years I spent here, unforgettable moments in this arena. I'm just glad to be back."
Filed to: Juwan Morgan, Purdue Boilermakers