Five takeaways from Indiana's loss to Purdue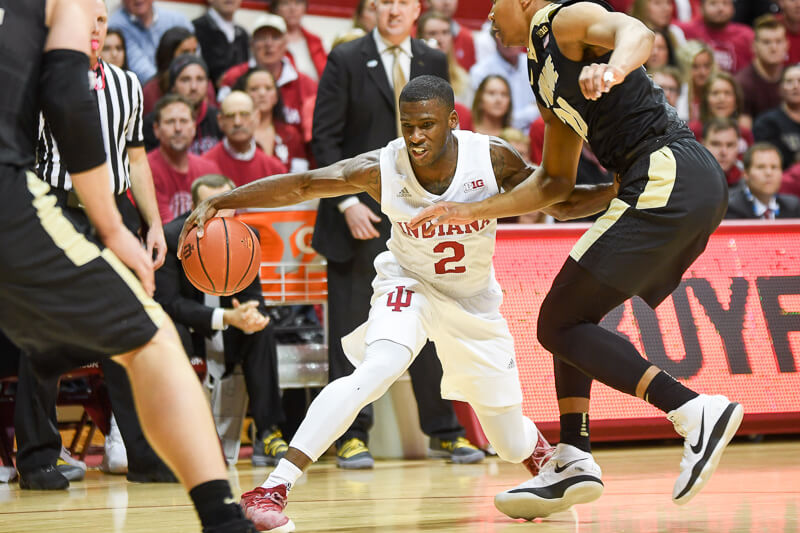 Indiana fell to .500 in Big Ten play as the Hoosiers lost 74-67 to Purdue on Sunday afternoon at Simon Skjodt Assembly Hall. The loss dropped Indiana to 12-10 overall and 5-5 in the conference.
Here's a look at five takeaways from the loss to the Boilermakers:
· Indiana's lack of late game execution proves costly: For close to 37 minutes, Indiana stood toe-to-toe with one of the nation's best teams and a likely No. 1 seed in the NCAA tournament.
But the Hoosiers execution waned down the stretch and Purdue took advantage. In many ways, it was similar to Indiana's loss to Duke in which the Hoosiers played the Blue Devils tight for 36 minutes and then faltered in the game's closing minutes.
As Indiana made careless plays and couldn't generate clean looks down the stretch, Purdue kept its composure in a hostile environment and showed why it now has a 17-game winning streak.
"I think we just never got that one stop that we needed to try to make a run and get a 4-or 5-point lead," Robert Johnson said postgame. "That's what it comes down to at the end of the game."
· Morgan and Johnson rise to the occasion: Indiana's two best players came to play on Sunday afternoon on Branch McCracken Court.
Robert Johnson and Juwan Morgan each played 36 minutes and both turned in memorable performances. Johnson was a bulldog defensively and lit up Purdue for 21 points on 8-of-16 shooting. The Richmond (Va.) native added six rebounds and three assists.
"I thought he really set the tone very early about how aggressive he was going to be," Archie Miller said. "He made big shots, tough shots for us throughout the game. His defense for 36 minutes was really, really good. I thought he really battled defensively."
Morgan, meanwhile had his third game this week with 20 or more points. The junior forward poured in a team-high 24 points on 10-of-18 shooting and added seven rebounds.
· Poor perimeter, free throw shooting continues: Only eight regular season games remain and while Indiana may be improving as a team, perimeter and free throw shooting remain major deficiencies.
After missing 13 free throws in Wednesday's loss at Illinois, Indiana missed seven free throws on Sunday afternoon.
"Just got to keep working on it," Miller explained. "It's cost us. I mean, it really hurt us at Illinois, and again even tonight. You're in a 1-point game with about two minutes to go and you leave 7 at the board. We just have to keep working at it."
The Hoosiers were even worse from the perimeter. IU finished the game just 3-of-16 on 3s and missed all seven of its attempts in the second half.
Through ten conference games, Indiana is 11th in the league in 3-point shooting (31 percent) and last in free throw shooting (64.8 percent).
· Indiana had no answer for Isaac Haas: Give Isaac Haas credit. His game has grown tremendously since he arrived in West Lafayette in the summer of 2014.
Haas played a career-high 30 minutes in Sunday's win and Indiana had no answer for him in the post. Haas scored a game-high 26 points on 10-of-17 shooting and made all six of his free throw attempts.
Indiana tried everything it could to slow him down, but he didn't commit a turnover and handled several different defensive coverages almost flawlessly.
"Going into the game we just knew that with the size disadvantage we knew that we couldn't panic," Morgan said. "We couldn't just foul them; didn't want to give them 3-point plays. We just knew that if we could just wall up between him and the basket and try to get as many as we can rebounded, and then we just tightened up as far as everywhere else. That's what we tried to do."
· Indiana's guard play remains inconsistent: With the exception of Johnson, Indiana's guards didn't play particularly well on Sunday.
Josh Newkirk scored just four points on 2-of-7 shooting. Al Durham played just 11 minutes and had just three points. And Devonte Green played just four minutes and didn't score.
In the second half, Indiana played just seven players as Durham logged just four minutes and Green didn't get off the bench.
"No question: consistency and productivity from our guards, that's been something that when we've had it we've been good," Miller said. "Obviously Rob answered the bell today. We didn't get much scoring from anyone else. Hopefully as the games continue to come, we'll get some guy that can give us better minutes."
Filed to: Purdue Boilermakers