What to expect: Purdue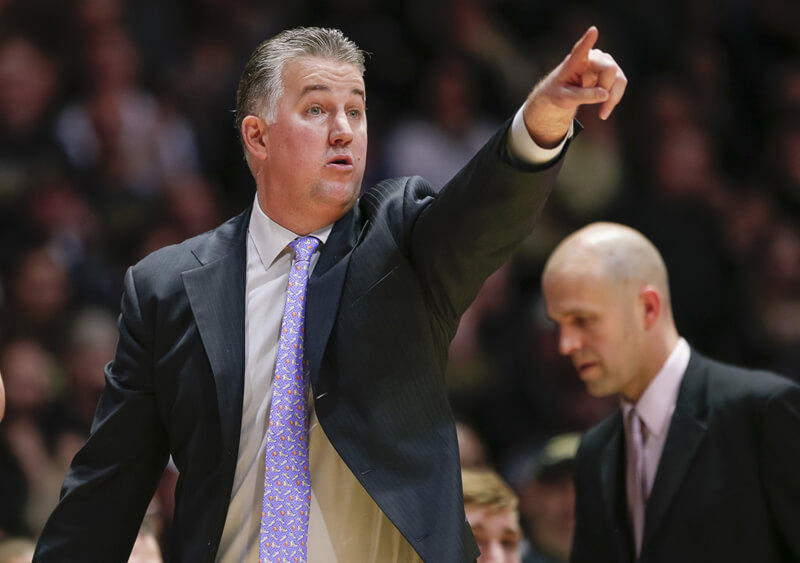 Indiana returns to Simon Skjodt Assembly Hall for a Sunday afternoon matchup with the nation's hottest team, Purdue. The Boilermakers have won 16 in a row and are in the driver's seat for a second consecutive outright Big Ten regular season title.
Sunday's matchup will be broadcast at 3:30 p.m. ET on Fox with Tim Brando, Jim Jackson and Lisa Byington on the call:
Four years ago, the Purdue program appeared to moving in the wrong direction. The Boilermakers were in the midst of their second straight losing season and things got ugly down the stretch as Purdue lost its final seven games to close out the 2013-14 season.
Matt Painter had gotten away from recruiting the type of player that fit his style of play and Boilermaker fans had to question if a turnaround was coming. Fast forward to today and Purdue is in pole position for a second straight outright Big Ten regular season title.
Painter's 2014 recruiting class – nationally unheralded at the time – is a major reason why. All five recruits in that class are still in West Lafayette and four of them – Isaac Haas, Dakota Mathias, Vincent Edwards and P.J. Thompson – have made major impacts on the program.
In a lot of ways, what Painter accomplished with that 2014 class is something Tom Crean never did in Bloomington. Indiana had some great recruiting classes under Crean, but players never stuck around long enough to develop the consistency needed to win at a high level year in and out. With his 2014 class, Painter got his mojo back and now Purdue has been the best team in the Big Ten for two straight years.
MEET THE BOILERMAKERS
It's not often that you see a program get better after losing the conference player of the year, but Purdue has accomplished just that. Caleb Swanigan left after his sophomore season and was the 26th pick in last June's NBA draft.
But with all four members of the 2014 class back for their senior campaigns and an offseason leap by sophomore Carsen Edwards, the Boilermakers are a legitimate Final Four contender.
Purdue has as balanced of an offense that you'll find with four players averaging in double figures. Edwards, a 6-foot-1 guard, is the team's leading scorer at 17 points per game. He's shooting an efficient 40.6 percent on 3s and would be a lock for first team All-Big Ten honors if the season ended today.
He's joined in the backcourt by Thompson, a senior point guard who is shooting even better from behind the 3-point line (51.6 percent) and makes winning plays. A member of the Spiece Indy Heat team in 2014 that also featured Trevon Bluiett, Trey Lyles, JaQuan Lyle and James Blackmon Jr., Thompson was unheralded coming out of Brebeuf but has put together a tremendous four-year career.
Dakota Mathias, another senior, starts on the wing and is another elite 3-point shooter who is a great defender. Mathias is shooting 45.6 percent on 3s and has the best assist rate on the team at 24.2 percent.
Junior Ryan Cline, a Carmel product, comes off the bench and makes 41.3 percent of his shots from deep. Freshman guard Nojel Eastern is also in the rotation and the former top 100 recruit should see his role grow substantially next season.
Purdue's frontcourt is anchored by seniors Vincent Edwards and Isaac Haas. Edwards is the Big Ten's best 3-point shooter in league play at 54.1 percent and his 15.6 points per game are second on the team. Haas is impossible to guard because of his size (7-foot-2, 290 pounds) and ability to finish. He's shooting 62.7 percent from the field and 77.2 percent from the free throw line on 127 attempts.
Freshman Matt Haarms, who is 7-foot-3, comes off the bench and is an elite shot blocker. Haarms, who is from Amsterdam, is seventh nationally in block percentage (15) and is making 65.4 percent of his 2s.
TEMPO-FREE PREVIEW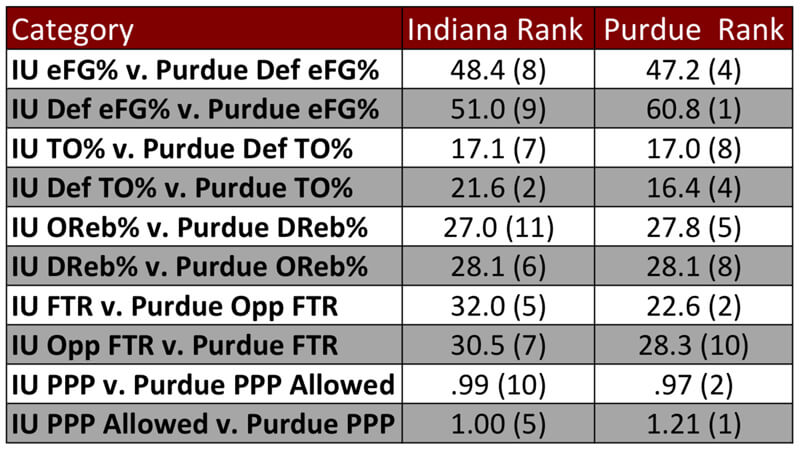 Purdue is elite on both ends of the floor and it's no stretch to say Indiana will have to play its best game of the season to win.
The Boilermakers are scoring a Big Ten best 1.21 points per possession in league play. Purdue's 3-point field goal percentage is 47.9 in conference play and it broke the league record for 3-pointers made in a game with 20 at Iowa back on Jan. 20.
The only areas where Purdue hasn't been well above average in league play is on the offensive glass and in getting to the free throw line. But it hasn't mattered as Purdue has the size to score in the paint and shooters to make opponents pay from the perimeter.
WHAT IT COMES DOWN TO
Pomeroy likes Purdue by 13 with just a 13 percent chance for an IU victory. Sagarin likes Purdue by 11.5 and the Vegas line opened with Purdue as an 11-point favorite.
The atmosphere should be electric for this game, but Purdue is experienced and won't be rattled even if Indiana has a strong start. The Hoosiers are going to need a strong shooting game from the perimeter to pull off the upset and it would also help if Haarms or Haas got into foul trouble.
After drubbing Purdue twice back in the 2012-2013 season, the Hoosiers are just 1-5 against the Boilermakers over their last six meetings.
(Photo credit: Getty Images)
Filed to: Purdue Boilermakers