News and notes from Archie Miller's radio show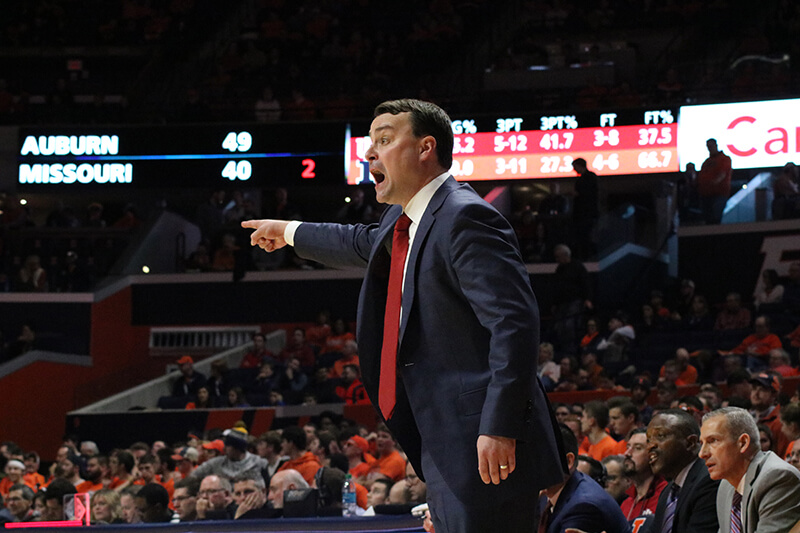 Inside IU basketball with Archie Miller was live on Thursday evening at the Holiday Inn in Bloomington. Team and recruitment analyst Ben Sander was the special guest in the show's final segment.
Below are news and notes from the show (all quotes from Miller unless noted otherwise:
· Miller on Michigan State: "Timing is everything…we caught those guys on the wrong night, at the wrong time of the year, for sure. They did an excellent job of imposing all the things you could tell they were emphasizing coming into that week."
· On the win over Maryland: "To be able to come off a tough one on Friday and rebound and get back into the game against Maryland and to watch our guys have to grind it out, grit it out and make a lot of winning plays in the second half to come away with a victory, it was really rewarding."
· Miller credited Robert Johnson, Juwan Morgan, and Zach McRoberts with making "winning plays" down the stretch against Maryland.
· On free throw woes: "Four games in a row now, we're below 60 percent as a team. The free throw line becomes contagious. When that first guy goes up there nervous and he misses, I think the next guy goes up there nervous. We've got a little bit of that going on."
· On the team's growth: "It's a group that's learned how to play through mistakes, it's a group that's more tough-minded now. Even in our game against Illinois, although things were uncomfortable in the second half, we still were right there."
· On defense versus Illinois: "In the first half we were excellent, in the second half we weren't good. The difference was in the first half our scoring happened a lot in transition. We didn't have to deal with all the pressure and (Illinois') denials. We had numbers a lot because of stops. Second half, we weren't getting stops and were also fouling, putting them on the free throw line a ton. It just kept us bogged down and I think we had 11 turnovers because of it."
· On adjusting to officiating: "Anyone who watched our game in East Lansing on Friday night and then watched our game against Maryland on Monday, I definitely think the style of the game was a lot different on (Wednesday). It was a game we had to adjust a little bit and figure out how they were calling it. I didn't think we did a good job of that with them shooting that many free throws in the second half. But we weren't as good defensively in the second half. We were slow, we had some fatigue, on the ball we weren't as good. Sometimes the more aggressive team is able to draw a lot of fouls. On the road, we weren't able to absorb that."
· Miller on Morgan's play this week: "(He's) done it not just in scoring, but defense. He's done it blocking shots at times, offensive and defensive rebounding. He's a guy (that's) been accountable in a lot of different categories for us. The scoring is a byproduct of confidence, it's a byproduct of our team trusting him, and I think getting him involved has obviously become the primary option of how we want to play."
· The team arrived in Bloomington at 3 a.m. on Thursday and took the day off: "At this time of year, you're balancing physical versus mental. When you play a lot of games in a (short) period of time, the one thing that can get away from you as you're preparing… sometimes, you're just worrying about play the game… sometimes, it's good to just go out there for 45 minutes and practice really hard just to get the competitive stuff flowing, the reps going. So you're balancing that. But at this time of year, you know, as well as I do, that you can't recreate your team every game. You have to be good at what you're doing. Just staying with those things, keep trying to improve on those little things, getting better as we keep playing different types of teams."
· Growth of McRoberts: "Everybody knows he's earned his way onto the floor, but also he's earned more minutes as the season has progressed. He's a guy that's probably as trusted as anyone out there, regardless of if (opponents) don't guard him or if he's not shooting the ball particularly well just because of how active he is, how many hustle plays he makes."
· Miller said the team has to go back to making free throws shooting in practice a competition where the players are ranked and the standings change each day. Miller added: "It gets them concentrating a little more on competing to make them, where you want to make them a little bit more. But we've tried a lot of different things. It's a little bit, I don't want to say it's disheartening, but we have good shooters going to the line not making them right now. That's more along the lines of confidence, guys going up there and going to the line with confidence and making them."
· Thursday marked the 30th anniversary of the Jerome Lane dunk that shattered the backboard. Miller's older brother, Sean, dished the assist to Lane and Archie, nine years old at the time, was in attendance.
"I was a Pitt ballboy. I was sitting under the basket on the floor getting ready to do a dribbler halftime show. (Lane) smashed the basket and I grabbed as much glass as I possibly could. I remember that. I had the glass after the game and Jerome was a good guy. I always used to be able to go to the locker room after the games. To be able to walk in there with a handful of glass was the highlight of the night. 30 years later, it's still probably one of the most incredible college basketball plays…I don't have any more (of the) glass. I wish I still had the glass."
· On the possibility of adding a graduate transfer next season: "You're always on the quest to add important pieces to your program, whether that's high school kids, junior college kids. Whatever it is, it's gotta be the right fit. Sometimes with those graduate guys, they fill an immediate need and they don't hurt you in scholarship restrictions the next year when you're recruiting. If there's a guy 0ut there we feel can come in and jump into the fray and it makes sense in terms of who he is as a kid, a student, a player. Because those guys have to fit if they come in there for one year. They have to be there in the mix of the rotation."
· On Indiana high school basketball: "It's big. Well-coached, very well attended. You can tell how much it means to the communities that they're in. High school games are always very intense and I think as you get into the state tournament… it really becomes what you would probably hope for being here at Indiana. Which is unbelievable pageantry, great coaching and also long-time traditional matchups. So it's been very, very cool to see."
· On Purdue: "They're old, they're hungry, they have great purpose in what they're trying to do. Very rarely do they beat themselves. To me, I would single them out as being a No. 1 team in the tournament if the season ended today."
· Miller said his Dayton team held a pre-season scrimmage with Purdue two years ago, and said this of the Purdue players that were on the roster two years ago: "They've evolved. They're so tough-minded. They've played together for so long you know you're dealing with a team that's not going to panic very much. They have that Purdue toughness, but the one thing that's really scary about them is the way they shoot the ball. I don't think anyone can really account for some of the numbers that they've put up this year shooting the ball from three. It's been really an incredible thing to watch in how in sync they are and the shots they make."
· Asked about whether coaches should bench starters if they play poorly: "We've done that in the past. One of the things I've always been big in is not creating additional drama to a team when you don't have to. Sometimes it's just as much as when you take a guy out of the lineup, maybe the change is for a positive, maybe a guy has earned it. If a guy hasn't earned it and hasn't played well and you sit him, in many ways, as a coach, you play that game where 'Do I lose that guy for a longer period of time?' Because the quest is to get (guys) to always play their best basketball. Sometimes starting is irrelevant, but also a negative impact, a negative vibe around a team with change can sometimes maybe help, but sometimes can also hurt. So I think it's all feel with that kid or with that team at that time of year."
· Sander a student manager at Arizona from, 2011-2015, working for Sean Miller. Sander was then a graduate assistant for the next two seasons under Archie Miller at Dayton. "When this offseason, Archie took this job at Indiana, I was fortunate enough to come along for the ride."
· Sander works on preparing film of Indiana, opponents and potential recruits. When recruits are on campus, Sander prepares edits that portray how they would be utilized at Indiana. Sander also handles all details regarding travel.
Filed to: